FYI: If you buy something through a link on this site I may earn a commission - at NO extra cost to you.
The Dog Rainbow Bridge
Your dog memorials, dog loss tributes & stories.
Losing your precious dog is a heart-wrenching experience and sometimes your friends/family just don't understand how sad you are, or how much you miss your pet.
Now you can share your grief with others who understand.
I created this Rainbow Bridge page so that you can share those feelings with people who DO understand, and you don't have to feel 'silly' or 'over-emotional'.
You can use the form on this page (scroll down to below the Rainbow Bridge Poem & image) to submit personal memorials, dog loss stories, and loving tributes to your best friend.
Sharing and expressing the grief you feel at your loss will help your heart to heal, and your contribution can also help to comfort and inspire others who are experiencing the same pain and sadness.
The Rainbow Bridge

Just this side of heaven is a beautiful place called "The Rainbow Bridge".

When a beloved pet dies, that pet goes to the Rainbow Bridge.
It is a land of meadows, hills and colorful
valleys with lush green grass.
There is always plenty of food, water and sunshine
and our little friends are warm and comfortable.

There all the animals who had been ill and old
are young again, restored to health and vigor.
Those who have been hurt or maimed are made whole and strong.
The animals play all day and are happy and content
but there is one thing missing.
They each miss someone who they left behind.

Someone very special who loved and cared for them on earth.
Then the day comes when one suddenly stops playing and looks up.
The bright eyes are intent and the body quivers with excitement.
Suddenly that one runs away from the group
flying over the green grass, running faster and faster.

You have been spotted.
And when you and your special friend meet again,
you take them in your arms and embrace.
Happy kisses rain upon your face. Your hands caress your beloved friend.
You look once more into the trusting eyes of your faithful pet.

And then together you cross over "The Rainbow Bridge" into heaven

..... Never to be separated again.

Author Unknown


It's so hard when we lose someone we love, and of course it's never possible to replace that person/pet. They were unique individuals, special and perfect in their own way. 
Although loving someone means leaving yourself open to being hurt, choosing not to love again leaves us with only loneliness. 
Alfred Lord Tennyson wrote... 'It is better to have loved and lost, than never to have loved at all.' And that's so true.
So, if you've lost a beloved dog, give yourself time to grieve and just remember, but one day, when your heart is stronger, don't forget to open your heart to loving another.
And if you can give a lonely, abandoned, neglected or abused dog a chance to know love - what better way to honor your boy/girl who is waiting for you at the Rainbow Bridge.
This graphic says it so well.....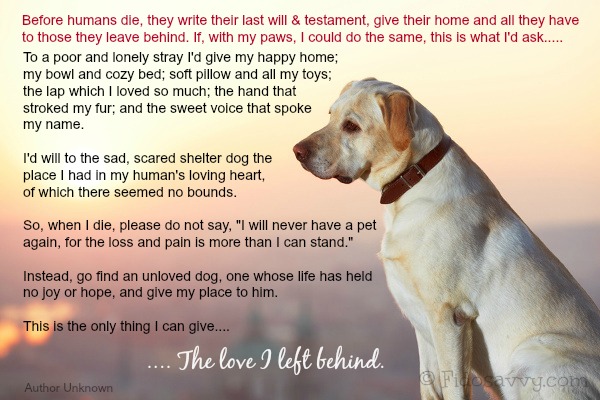 Our pets are priceless to us, and they live in our hearts and memories even after they've left this world.
But it's also nice to have a physical reminder of them with us.
From memorial stones and urns, to photo frames,  jewelry or just about anything else which warms your heart and makes you feel closer to your best friend.
Submit Your Dog Memorial, Story or Tribute Here
Let the world know how special your dog was by sharing his/her story in a Memorial or Tribute that will be live on this site.
Other Dog Loss Stories, Memorials and Tributes
Click below to see the touching Memorials and Tributes other visitors have created....

FTC Disclosure: Some pages on this site contain affiliate links. I may earn on qualified purchases.