FYI: If you buy something through a link on this site I may earn a commission - at NO extra cost to you.
A Complete Dog Care Guide
Whether your best friend is a puppy, a mature dog, or a golden oldie he's your #1 fan, and you're the most important person in his life... and that means dog care is a big part of yours!
Being lucky enough to share your life with a dog, or dogs, is one of life's beautiful blessings, one I've enjoyed for decades, but it can feel pretty challenging at times, right?

Whether it's teaching the right potty-training habits, choosing the best food, figuring out whether or not Fido needs a vet visit, or wondering why (after all your hard work) you seem to be the proud owner of a canine juvenile delinquent… it can be a lot!
But don't worry. Taking care of your dog can be fun, and I'll help you find the answers you're looking for!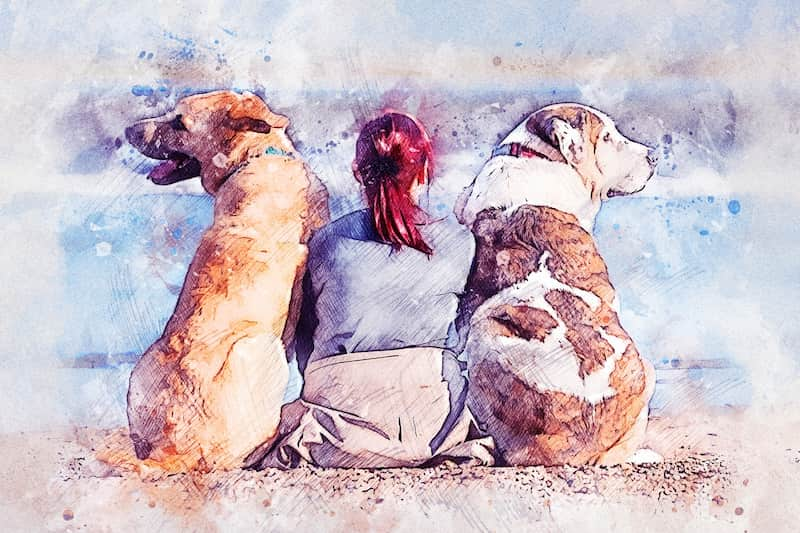 Welcome to Fidosavvy's dog care guide, I'm so happy you're here!
What you can find on my site
There's something for owners of dog of all ages, from newborn right through to the oldies.
If you're a new puppy owner, my Puppy Care pages are what you need.
Got an adult dog? Check out my Dog Care pages.
For owners of senior dogs, or what I like to call the 'Golden Oldies', check out my Senior Dog Care section.
Of course, some of the things you do to take care of your dog are pretty much the same no matter what age he is! There's a mixed bag of topics to choose from right HERE.
It's all about the puppies!
Puppies are irresistible, and those early months with your pup are precious and magical.
Over the years I've learned a lot about caring for puppies, sometimes the hard way. These articles will help you avoid the trickier areas and get a head start on the learning curve...
Dogs rule!
Taking care of an adult dog isn't as hard work as raising a puppy, but there are still a ton of hats you need to wear.
Nutritionist, health worker, trainer, groomer... are all important roles for you to play.
These articles can help you keep on top of it all...
Old dogs are golden!
Old dogs are like old people... sweet, sassy, grumpy, playful, you never know what you're going to get from day to day. 
These years are bitter-sweet and so precious, and my Senior Dog Care guide can help you both make the most of them.
It's a mixed bag!
The articles I've linked to above are designed to answer many of the questions I get asked the most.
But of course there's also loads more stuff you might want (or need) to know!
Perhaps one, or more, of these catches your eye...
How To Keep In Touch
Keeping up to date with all the latest news, submissions, photos and articles on my site (and there are lots!) is easy when you check out my Dog Care Blog..... you can also find the most up-to-date changes in the 'Recent Articles' block.
When you subscribe to my RSS feed (small yellow square, top right hand corner of 'Recent Articles' block) you'll get regular updates right to your PC or laptop!
You can sign up to receive my monthly newsletter 'Wags & Woofs' (use the pop up that appears briefly as you scroll each page) which keeps you up to date with new pages, updates, bonus content and more.
There's a new feature on my site recently, you'll find it towards the bottom right corner of each page. Clicking on the little teal heart just lets me know you enjoyed an article, or found it useful, hopefully both! 
You can also get a totally FREE Grow.me account by clicking on the little '+' sign to the right of the heart. This lets you save and collate content you've enjoyed from any site using Grow across the web (and more and more sites will be doing just that over the coming months). I love it!
Of course, please feel free to share/pin/tweet/ articles from this site! You'll also find me here on Facebook.
Thank you for visiting my site, and please stop by and visit again, we'll always be happy to see you!
FTC Disclosure: Some pages on this site contain affiliate links. I may earn on qualified purchases.