My boy Stinky
by biegit koch
(tarzana,ca)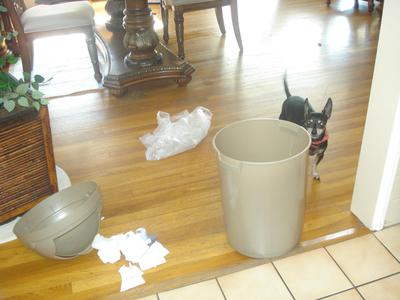 i got stinky in april 2000.

he was a chihuahua ,a little dog, with his own mind!

he only let me pick him up,or my son steffen, no-one else could get that close to him.

he played hide and seek with me ,played with my other dog mickey. when i got mickey, stinky
kind of trained him, mickey is a big mix,while stinky was very small, he showed him around,now mickey actually thinks he is a chihuahua,lol.

but stinky was the boss,mickey listened, did what stinky wanted,eating first and get his morning snacks first,then came mickey
his favorite pastime was the trashcan in the kitchen,when noone looked,her threw it downand got the scraps from it,sometimes getting caught my me or a family member, he ran so fast under the bed,and ate as fast as he could,then tried to get into the trash again.

or another pastime was, when girls, my friends left their purses open,he used to steal their money,not just a dollarbill,no the biggest they had on them,of course,went under the bed and ripped it to shred. it was funny!or he got on the dining-room table,when people ate,as soon they got up,he was on the table stealing what was left.

he was a riot, but a dog full of love and life.
sadley,i lost him 10 days ago,after almost 15 years of joy and love. it was the most heart-breaking decision i have ever had to make. i broke down,and i miss him every day of my life,i will never forget him or let my memories go with him ever.

this morning i got up and actually seen him in front of me,all young and painless again. i couldnt believe my eyes,he just looked at me,like saying, I AM OK NOW,MOM!
then he vanished. i know with all my heart and soul that i will see him again at the rainbow bridge,and can kiss, hug and love him again.