FYI: If you buy something through a link on this site I may earn a commission - at NO extra cost to you.
" MY BELOVED HARLEY RAY"
by Lisa
(Michigan)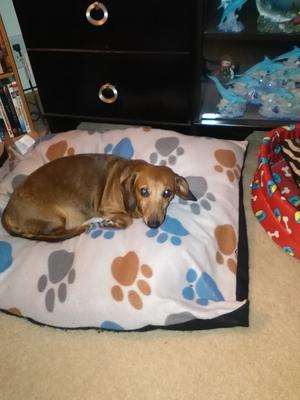 On October 12th, 2017 was and always will be the worst day of my life because it was the night that I lost my "MY BELOVED HARLEY RAY", forever.

Even though I knew that it was his time to go and rest, it still didn't make it any easier. As I stood there feeling as helpless as I have never ever felt before ever in my life and I had to watch my baby boy take his last breath as he lay there in my arms.

I didn't want to let him go even though deep in my heart I knew that it was the best for him because he was so sick and frail but you see he was my baby boy and I could never ever imagine my life without him in it or apart of it.

You see he was the most precious beautiful miniature dachshund that I ever seen and I am not just saying it because he was mine.

He was always so gentle and loving. He had such a spirit about him that lit up the room and he always had a way to put a smile on anyone's face that ever had the pleasure to meet him or be around him. He was so loved by just me his Mommy but by everyone.

I will not only cherish him but the 13 1/2 years that I was so honored to have had with him.

As I sit here writing this, I can still see his beautiful face staring back at me. I will forever and Always hold you my HARLEY RAY in my heart forever and Always. I LOVE AND MISS YOU SO MUCH MY PRECIOUS BOY!!. Mommy thinks about you always as I sit here with your baby brother Maxx, who also misses you oh so very much. He plays with all of your favorite toys that you always loved to play with with so much joy on his little face because he knows as long as he has those toys, he still has his big brother HARLEY RAY, watching over him always!!.

Sleep well my precious boy and Mommy looks forward to the day when we will meet up at the Rainbow Bridge to be reunited once again for all eternity, AMEN.

🐶🐾💔🐶🐾💔🐶🐾💔😢❤️😢❤️. As you can see by the pictures below, you can see how much he was loved. I wanted to share the photos of the frames that I made for my baby boy for his certificate of cremation and his paw print so we could cherish them forever.


Lisa, I am so sorry for the heartbreak you are still feeling. Harley Ray was clearly loved very, very much and I am sure his spirit is still with you and you hold it in your heart. God Bless
Join in and write your own page! It's easy to do. How? Simply click here to return to Woof Rainbow Bridge.
FTC Disclosure: Some pages on this site contain affiliate links. I may earn on qualified purchases.