FYI: If you buy something through a link on this site I may earn a commission - at NO extra cost to you.
Bella
by Connie Binion
(Reynoldsburg, Ohio ,usa)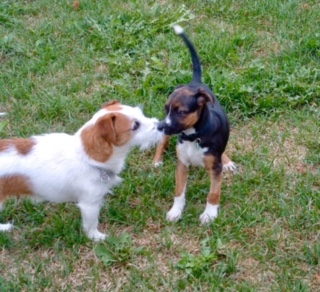 Bella was my baby . I rescued her on August 19,2005, At 4 weeks of age. She went on her journey to the Rainbow Bridge on August 14 2017

I took her to an emergency vet as ours was not open,they did a X-ray and found cancer in her lungs, that had spread from what our vet thought was a fatty tumor. There was nothing that could be done for this little dog with her tippy tail.

Bella was spoiled extra spoiled in her final days . I miss her so much. she was my best friend,my constant companion.

Her sissy whom is older than her actually has cried tears for Bella, and is grieving just like I am.

God Bless you Bella aka Tippy Tail, Pumpkin, Baby Girl.

I hope you greet us when it is our time to cross the bridge.

So sorry for your loss Connie. It's tragic and I know how much you must miss your Bella. You and her sister can take comfort from each other, and this extreme pain will ease over time. She was loved and one of the lucky ones, hopefully you can find some peace in knowing that.

I am certain that she will be waiting for you all. God Bless.
Join in and write your own page! It's easy to do. How? Simply click here to return to Woof Rainbow Bridge.
FTC Disclosure: Some pages on this site contain affiliate links. I may earn on qualified purchases.