FYI: If you buy something through a link on this site I may earn a commission - at NO extra cost to you.
For my loving Junior aka Junie Bug
by Judith Clark
(Jonesboro, AR)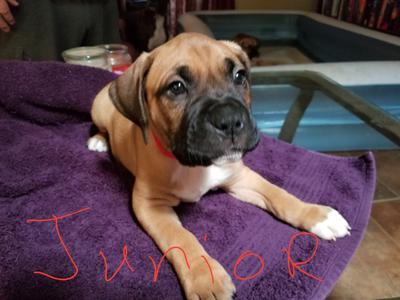 Junior at 3 weeks
Junie was born a week before Christmas in 2017. He was one of 8 puppies that were products of my male boxer Mongo and my female boxer/pitbull Tippy. One of the puppies died right after birth, so 7 remained. At 3 weeks Tippy stopped nursing them, so I literally was up all hours caring for 7 puppies.

We found wonderful homes for 5 of the babies at 7 weeks old and decided to keep 2. Junior and George. Junior was named so, because he looked just like his Daddy. Junie Bug was carefree and loving and free spirited...always running around and chasing anything that moved....he loved life and nature. He romped through his first snow storm in January of 2019. Never was there a dull moment for our Junie Bug...so full of life.

Junie recently became lethargic(so unlike him). Took him to the vet on Wednesday, February 13th where they ran numerous tests and xrays trying to diagnose our Junie Bug. They never could pinpoint the issue and Junie worsened with each passing hour, despite the medical treatment he received.

Junie passed away today, February 15th at 3:00 pm, central time. He took a piece of my heart with him when he left to cross over the Rainbow Bridge. He was just 2 days shy of being 14 months old.

I will miss that free spirited pup I came to love so much in a very short time.

Judith. I am so sorry for your loss. What a beautiful boy your Junie Bug was. I know that he had a very happy life and was very loved. He was a lucky boy. RIP Junior
Join in and write your own page! It's easy to do. How? Simply click here to return to Woof Rainbow Bridge.
For my loving Junior aka Junie Bug
FTC Disclosure: Some pages on this site contain affiliate links. I may earn on qualified purchases.