FYI: If you buy something through a link on this site I may earn a commission - at NO extra cost to you.
Dog Supplies Index

Buying stuff for Fido is just one of the fun parts of dog ownership.
There's such a huge range of wonderful dog supplies out there, with more coming onto the market every day.
Use these quick links to jump straight to the category you want, or simply scroll down to browse them all....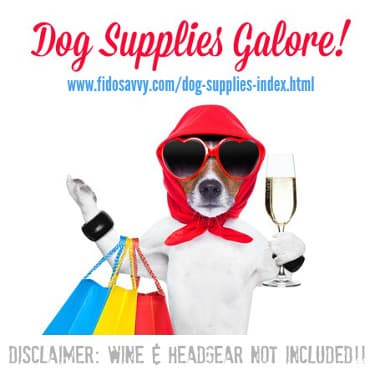 Food & Treats

There are so many food choices that it can be challenging to figure out what's right for your dog. This page narrows it down and you're bound to find one that works right here.
For some dogs, a grain-free diet is best. Learn more about this and then see some of the best formulas from one of the market leaders. 
A healthy diet for Fido doesn't just mean choosing a premium food. Making sure to pick healthy treats is important too. Here's a great selection of the best choices on the market, all packed full of healthy ingredients.
Training Equipment 

Plastic crates are affordable, durable and easy to clean making them a great choice for puppies as well as dogs of all ages/breeds.
If Fido doesn't want to feel left out of the family action, but you need a place to keep him contained and out from underfoot, a wire crate makes the perfect choice. 
Soft sided dog crates are a good choice for road trips or getting out and about with your small dog. They can also be a good choice for short-term use for dogs of all sizes if you're going on vacation or to visit relatives.
These are at the 'top end' when it comes to style and price and are literally crate 'furniture'. If you want Fido's crate to blend in with your decor, this is the way to go.


Urine & Odor Removing Products
Even a fully housetrained dog can have an accident now and then. A urinary tract infection, old age, a tummy upset.... all can lead to piles or puddles. These products will have your home clean and sweet-smelling again in no time.
Dog training pads aren't my favorite choice for housetraining, but can be useful for some situations or for tiny breeds or older dogs who have 'iffy' bladder control. 
A good instruction book is worth it's weight in gold - no matter what it is you're trying to learn. See the books I have in my home and find out why I think they're the best choices out there (and if you'd rather watch than read, there are DVD's too!)
Puppies and dogs don't come with an instruction manual, and they can be confusing, frustrating and worrying. A good book that can walk you through the basics is essential. You'll find this and more here.


Toys & Accessories

Most dogs LOVE to chew, and they love toys, but not all toys can stand up to a sharp set of adult-sized teeth. See the absolute best range of super-tough toys here.. updated regularly.


Every dog is unique and special, so when you want to choose a gift for him/her, why not make that gift a personalized one? See tons of unique, handmade and personalized gifts here.


Protect your puppy or dog if he gets lost or wanders off by making sure he wears an id tag at all times. Learn more about the benefits and styles of dog collar id here.
Dog hair gets everywhere! If you share your home with one, or several, dogs it's probably something you battle with regularly. I know I do. So, I test-drove some pet hair removal tools (which didn't include those irritating sticky sheet rollers) and featured the best three on this page.
Health Supplies
Keeping your little guy clean and well-groomed is good for his skin and coat, and it keeps your home a little more fur-free and sweeter smelling too.
Keeping your pup flea-and-tick-free is very important for his health. There are lots of flea and tick products out there, so picking the right one can be a challenge. Get the info you need to make the right choice here.
Although very effective, and often essential, many flea control products contain strong chemicals and for young puppies or tiny breeds this can be a lot for them to handle. Natural flea repellents and treatments can be a good alternative option.
Puppies are full of energy, curious and fearless... this can end badly at times. Be prepared to help your pup in an emergency by making sure you have a well-stocked dog first aid kit.

Dog Separation Anxiety Medications
Dogs who get hysterical when left alone need a bit of extra help to relax during their 'down time'. Here are some great choices for dogs who are suffering from over-anxiety or nervousness... no matter what the cause. Natural products and advice on prescription options.
Music can work wonders to calm an anxious, stressed-out or fearful dog. Check out this selection of wonderfully relaxing music, specifically designed for dogs.


When Fido hurts, you hurt too. Whether it's a short term problem, or a more chronic condition, you want to choose a pain medication that's effective and safe. From over-the-counter products to prescription meds, this page has what you need.
No matter what type of problem your dog has, there's likely to be a natural remedy that can help. Obviously they can't always replace conventional veterinary medicine, but can be a great option for minor issues and often be used in combination with main-stream meds for more serious conditions.