About Me
Hi, my name is Sue and I'm the voice (and now the face!) behind Fidosavvy.com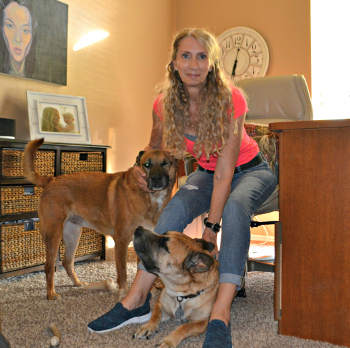 Me with two of my dogs.... you can see that none of us are used to being in front of the camera!
So, what can I tell you about me? What do you even want to know?
I'm not sure, but here's a quick peek at who I am and why I created this website, and perhaps you'll even see why it's become a never ending labor-of-love as well as a profitable online business..........
Although you probably don't need to be told this.... I adore puppies!
And of course, I love dogs who aren't puppies anymore too, in fact I'm a complete 'softie' when it comes to canines of all ages, sizes and descriptions.
I'm a life-long dog lover and I've raised and trained dogs for more years than I care to remember!
Rottweilers are my favorite breed of all, but we have all sizes and breeds in our 'pack'... and we love every single one of them.
Right now our 'menagerie' consists of 6 dogs, 3 cats and a Quaker parrot. Many of our pets are 'rescues' and we have dogs both big and small, old and young, crazy and cranky.
There's never a dull moment in our home I can tell you :)
I'm also a divorced mom with 6 amazing kids ranging in age from 16 to 26 (that's them in the pic immediately below). I'm also a stay-at-home mom and an entrepreneur.
In fact this website is just part of my own small business 'empire' - well, it may not exactly be an empire just yet, but I'm getting there.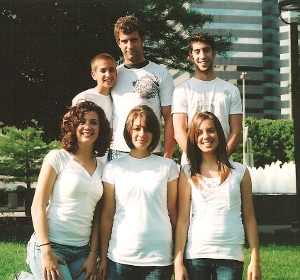 My children, circa 2003
Although currently our family lives in the United States, I'm actually Scottish by birth (born in Glasgow Scotland), and have also lived in England and Canada. In fact, my eldest daughter was born in Ontario.
I'm used to moving around, and I don't necessarily expect to stay in the same city for a whole lot longer, but I'm pretty sure that we'll stay here in the USA because we love it!
My favorite things to do are spend time with my children, take care of the menagerie, read, go to the movies... oh, and I LOVE chocolate!!
I also love working on my websites (yes, I have 3 sites now, and another one still in the planning stages) and I absolutely adore helping other dog lovers and new puppy owners to take better care of their four-legged best friends.
I'm earning money doing something I truly enjoy - what more could I ask for?
Update as of 2017....
I originally wrote this About Me page several years ago, so figured it was time for an update.
Luckily for me I still LOVE working on my (now 4) SBI websites every day, and am bringing in a healthy five-figure income.
I now have a proper home office, which is usually shared by at least 2 dogs and 2 cats :)

Over the past few years I've added 3 kids-in-law to my family and 3 precious grand-daughters just came along in 2016. My heart is full.
Here's the latest family portrait taken before grand-daughter #1 made her appearance - quite a change right?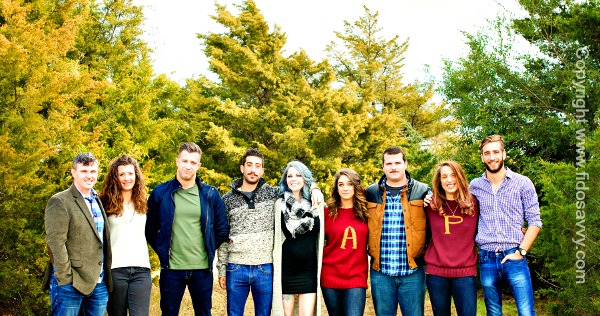 The center of my world!
Why & How I Built This Website

After my divorce, with 3 children still at home, money was tight and I needed to find a way to earn money and still be there for them as we adjusted to our new lives.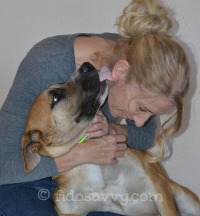 Me with my most recent rescue dog, Ivan.
After a lot of research, and a few false starts, I found Sitesell (Solo Build It!) and it was exactly what I'd been searching for.

Having been a stay-at-home mom for over 20 years, my workplace skills were pretty much non-existent, but I loved the idea of building my own business and basing it on a subject that I enjoyed and knew a lot about... and that's how Fidosavvy was born.
Every morning I sit down in my home-office and I spend my days helping other dog lovers take better care of their four-legged best friends.
Nothing feels better than knowing that what I do has helped someone... and their puppy/dog.
When I get an email saying "thanks..." it makes my day.
Thank you for visiting my website!

I really hope you've enjoyed your time here, and that now you know the person behind the pages perhaps you'll come back and see me again soon.
Until we meet again... enjoy your puppy or dog and make sure he/she knows just how much you love them, every day.

YOU Can Build Your Own Website Too!

We all have hobbies, skills, passions and knowledge and if you'd like to share yours with the world, and earn money doing something you truly enjoy.. then why not join in?
Check out my SBI! Review which tells you about my website and e-biz building experience and why Solo Build It! is the all-around best choice for anyone who wants to build a website which isn't just nice to look at, but which gets plenty of visitors too.
Why not find out more, there is no obligation and today IS the first day of the rest of your life right?.....



Home
› About Me