FYI: If you buy something through a link on this site I may earn a commission - at NO extra cost to you.
How To Throw A GREAT Dog Party

If you're planning a dog party there are loads of quick and easy ways to make it a howling success.
Throwing a party for your pooch is a lot like throwing one for your child.... noise, excitement, party games, food, cake, the occasional squabble or temper tantrum and, of course, a pile of gifts!
To help you make sure your pup's big day is a big success, I've put together a whole host of ideas, tips, recipes, games and more to get the party started.
Just scroll down to find all the tips, advice and help you need - all in one place, the fun starts here!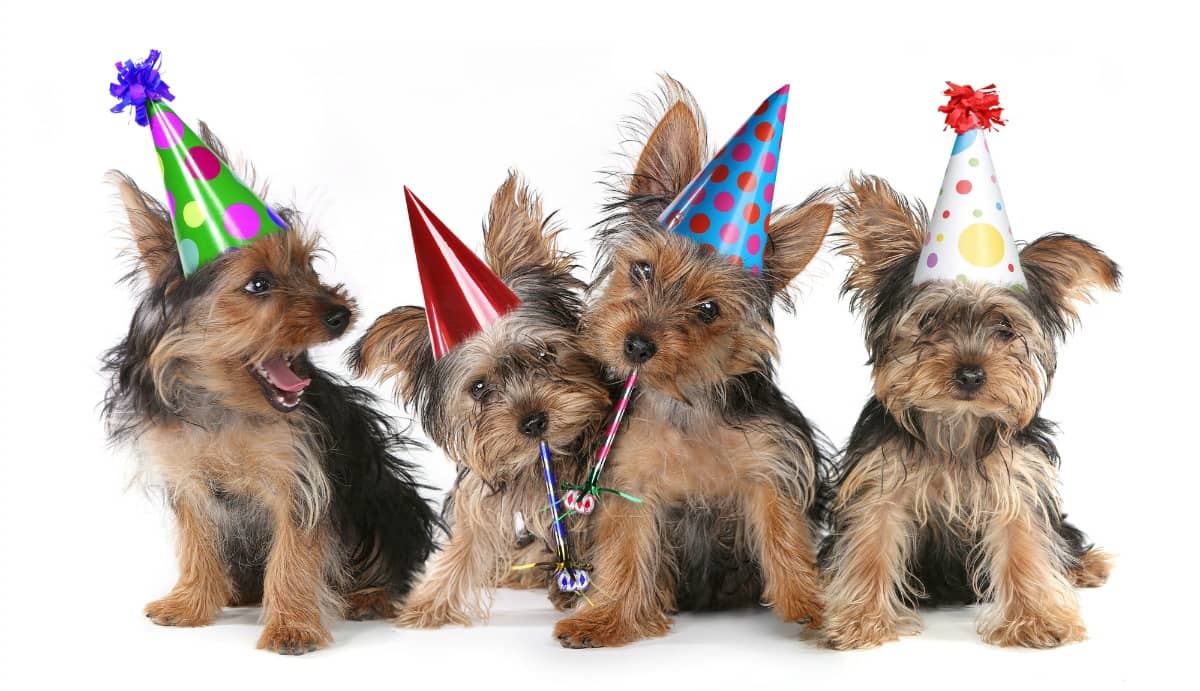 Where's The Dog Party?

Where you decide to hold your dog's party depends on several different things including:
Time of year
How many guests there will be
Size of your home
Whether you have a safely fenced yard
Your budget
If you're inviting every fur-friend little Fido has ever met and your apartment is only big enough for the two of you it's a good idea to consider an outdoor party or one held in a public place such as a park or doggie daycare facility.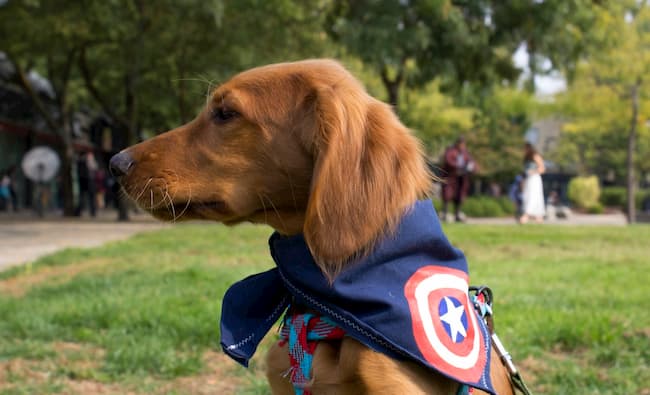 Other possibilities are dog-friendly beaches, dog-only parks and obedience/training schools.

If you choose an outdoor venue make sure there's plenty of shade and water available. If you're going to be indoors check that there's easy access to an outdoor space for the inevitable 'potty trips'.
What Are You Celebrating?

There are lots of reasons for throwing a dog party. Pick one of these or make up your own!
A Birthday Party
A Costume/Theme Party
A Halloween Party
A Christmas or New Year Party
A St. Patrick's Day bash
A Valentine's Day Party
A Puppy Class/Obedience School Graduation celebration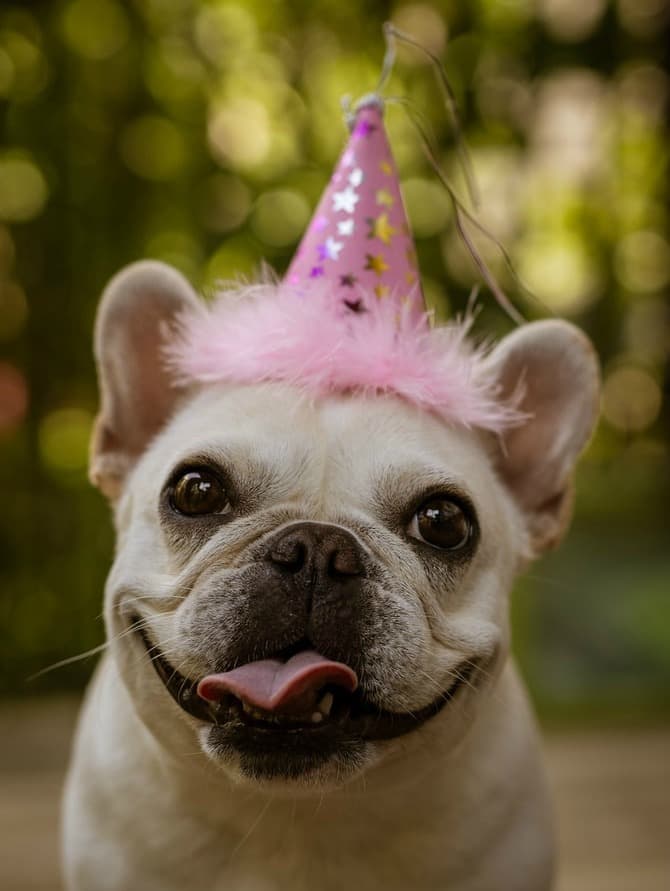 If you're thinking of a costume or theme party you can be as creative as you want thanks to the huge selection of accessories and decor available. It's easy to find tons of decorations and ideas for just about anything you can dream up.
A Hawaiian theme allows lots of scope for costumes and decorations, or how about a Hollywood Diva theme, or Scooby Doo, Super-Pets, Paw Patrol... there are loads of option. 
Or how about a surf party if you're going to the beach? The ideas are endless, see what you can come up with.
If you're having trouble being creative, check out the local party store, or browse Amazon, you'll soon have it figured out!

If you're short of time or prefer a more minimalist approach you can also just go simple, pick a couple of colors and base everything on those.
Here are a few ideas to get you started...
The options are amazing, and so much fun.
Extras such as Dachshund shaped string lights, Poodle shaped string lights, 3-tier Fire Hydrant pupcake holders (check out some delicious homemade pupcake recipes on this site), dog-face pupcake toppers, dog-shaped cake candles, pawprint floor/wall clings, a doggie pinata and SO MUCH MORE!
There are way too many adorable choices to feature here, but you can see all the dog party themed decor and accessories HERE on Amazon.
Who's Invited To Your Dog's Party?

Although it may be tempting to invite every 4-legged friend little Fido has, take a minute to think about your guest list before you mail those cute invitations.
It's best to invite dogs and puppies that Fido knows and likes - you don't want the dog party atmosphere ruined by two quarreling canines.
Try to get a fairly even balance of male to female pups as dogs of opposite sexes tend to get along better. Although if they're young puppies this isn't generally too much of an issue.
Remember that Fido's doggie pals come with human puppy-parents so take that into consideration. It helps if the 2-legged party-goers get along with other too!
If you need help thinking of guests, how about -
Pups that live in your neighborhood and rub noses with Fido on his daily walks
Dogs that you meet and greet regularly at the park
Pups that attend Puppy Class/Obedience School/Agility class with Fido
The furbabies belonging to family members or close friends
Fido's litter mates or mom and dad (if you've kept in touch)
You can make your own dog party invitations at home, or choose from the great selection of ready-made dog party invitations like these...
Shop all dog party invitations on Amazon HERE.
In addition to all the usual info. on the invitation, make sure you make a note of any special requirements you may have.
For example, a B.Y.O.B. stipulation (no...not beer, it's Bring Your Own Ball!) or a request for all puppy parents to bring their pup's leash should be clearly indicated.
Keeping everyone safe and happy is your goal as host. Find tips and suggestions to ensure success HERE.
Dog Party Food & Games
No party is complete without lots of yummy food, and fun games will keep your pup and his friends happy and out of mischief.
Make sure that all the food is safe for dogs to eat (see this page for info. on every day foodstuffs and household products that are poisonous to dogs), and choose a dog-appropriate birthday cake or recipe such as this Cashew butter and banana cake created especially for our four-legged best buds.
Ice cream is always a hit at parties, but as dog's are often can't digest dairy well, so it's best to choose a dog friendly ice cream.
An dog-friendly ice cream mix is super easy, and your canine guests will love it. You simply add water to the ice cream mix and pop it in the freezer for a few hours. It'll stay fresh and delicious for up to six weeks too, so left overs won't go to waste! 
You can check out Puppy Scoops Maple Bacon ice cream mix for dogs (am I weird to think that sounds good??) or their sample pack (Maple Bacon, Peanut Butter, Vanilla and Carob)
Or Hoggin Dogs Ice Cream Mix  sample pack gives you four choices (Bacon, Cheese, Peanut, Banana).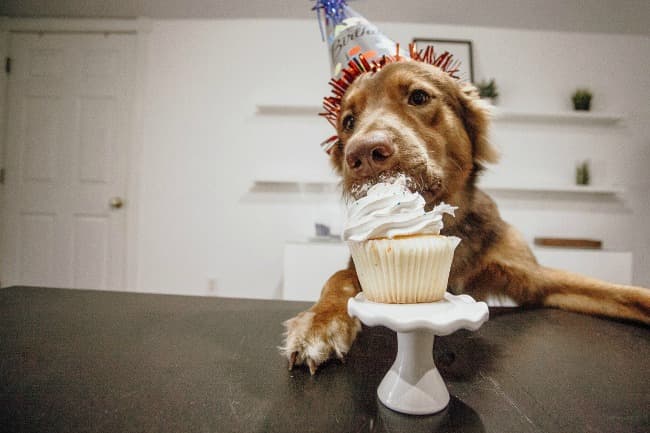 There are tons of fun games your dog and his friends can play, and they're fun for the human party-goers as well.
If you want to add some extra flair and make your dog party that little bit different why not consider inviting a 'dog professional' to come along and give a demonstration of some sort.
Here's a few ideas to get you thinking
Professional Photos
You could have a photographer come and take portrait or candid shots of the party host and guests (the furry ones that is!). Guests could choose from the proofs at a later date.


Dog Training
Invite a dog trainer to give a short lesson in basic obedience or manners


Grooming Demo
Ask a professional dog groomer to give a demonstration and perhaps one of the guests could volunteer to be groomed
Birthday outfits for Fido or FIFI...
Every birthday boy or girl should have the chance to look a bit 'extra' at their party!
Small dogs fare better here as there are way more choices in terms of clothes and outfits for them, but even the bigger dogs have some options and can always have a snazzy bandana, birthday crown/hat or glasses (even if they only wear them for their paparazzi photo ops!
Keeping Your Party Animals Safe!

Whenever you've got a bunch of puppies or dogs together, in an excited atmosphere there's the potential for trouble.
You're going to want to make sure you puppy proof your home or yard and do your best to eliminate any possible hazards or reasons for conflict, well ahead of time.


you might also like...
FTC Disclosure: Some pages on this site contain affiliate links. I may earn on qualified purchases.