FYI: If you buy something through a link on this site I may earn a commission - at NO extra cost to you.
Traveling With Your Dog
Traveling with your dog can be wonderful.... but if you're not properly prepared it could potentially be stressful, frustrating or even disappointing.
The good news is that a pinch of forward-planning, and a few simple safety precautions, can make the whole trip a lot more fun, for everyone!
Perhaps you're going on a family vacation - and your dog is a family member, right? Or maybe you're making a cross-country move, or have to take a business trip at really short notice.
No matter why Fido is along for the ride (or flight), this page has all the tips, advice and info. you need to make your joint trip safe and fun... and memorable for all the right reasons. 

Preparation is Key!
The idea of heading down the highway at a moments notice, while Fido sits happily in the passenger seat, is appealing but not very realistic. 
Lots of different things can affect how your trip turns out. Some of the most important ones include:
Your dog's personality & travel history
The length of the trip
Your organizational skills & level of preparedness
How flexible you are (emotionally and logistically)
Your sense of humor
If you have children you're ahead of the game, because taking a road trip with your dog involves pretty much the same process as traveling with child.
And if you don't have kids yet, let me give you a clue - it's preparation, preparation and more preparation!! 
Having access to an up-to-date list of dog travel resources and knowing how to handle dog travel anxiety and/or motion sickness will make traveling with your dog easier because you'll be ready for anything.
Dog Car Travel 
When traveling with your dog you could take an airplane, or a train, or even a bus, but I'm going to start this guide with the humble road-trip, because it's the easiest route to take.
On a road trip you're in control of your vehicle, schedule, route, stops etc. and can tailor the journey to meet the unexpected - which could (and probably will) include motion sickness, potty breaks or stir-crazy behavior.
Here's how to get ahead of the curve and minimize problems by being prepared:



Practice
If you have a new puppy it's important to make sure he's familiar with the car and has been on several short trips before you embark on that marathon drive to Tuscon.
If your older dog hasn't had many opportunities for car travel the same thing applies.

A few practice runs will give you the heads-up on any potential problems and give you the chance to adjust your plans accordingly.


Accommodation
If staying at a hotel is in your plans, be sure to pick dog-friendly accommodation and remember to double-check their requirements and regulations by calling ahead.
Some hotels have weight limits on the dogs they allow to stay in their rooms, pet deposits, higher room rates etc., and it helps to know what's expected ahead of time.
Spending the night in your car with Fido on your lap is no way to start a relaxing vacation!


Supplies
When you're traveling with your dog taking certain items with you can make the trip easier, and keep Fido safer too...
Dog Car Safety & Restraints
It's just not safe to let Fido travel unrestrained in your car. Depending on his size and personality there are several different options available.
Smaller dogs can use dog-carriers (pretty much padded, lined open-topped boxes) that are especially designed to be used with car seatbelts. For medium and large breeds a proper dog seat-belt is the safest option.
If Fido is familar with his crate and happy to be crated, this can be a safe way for him to travel. Of course, for any dog that's bigger than a toy/small breed, a crate can take up a lot of luggage space, so make sure you have room for it before you decide to take this route!
Taking along your dog's crate has the added benefit of giving your him a safe and familiar place to sleep when you reach your destination, this is especially useful if you're staying in a hotel.
One caveat! A trip is not the time to introduce your dog to a crate, or to being crated, For this to work he needs to be used to the process and feel safe and secure in his little den. 
The PupSaver Car Seat.... Crash Tested for Safety!
If you own a small dog (less than 30lbs) and you're looking for a car-seat for Fido , the PupSaver could be just what you need! It has passed safety testing similar to FMVSS 213 crash tests used to evaluate child car seats.
Unique Design



Fits all vehicles
Can be used in front/back
Lightweight & easy to install
Veterinarian endorsed
Investigate Your Destination
When traveling with a canine companion, it really helps to plan ahead and find out as much as you can about the area you're staying in. Look for dog-friendly attractions, restaurants, parks and beaches.
Your hotel will most likely have lots of information and don't be afraid to ask other people you see out and about with their dogs - locals will know the best spots and other vacationers may have already had a chance to get 'the lie of the land'. 
Dog Airline Travel
Traveling with your dog by air is obviously more complicated than taking him on a car trip. There's paperwork, scheduling, safety, health and other concerns that you'll need to get taken care of both in advance, and at the time of travel.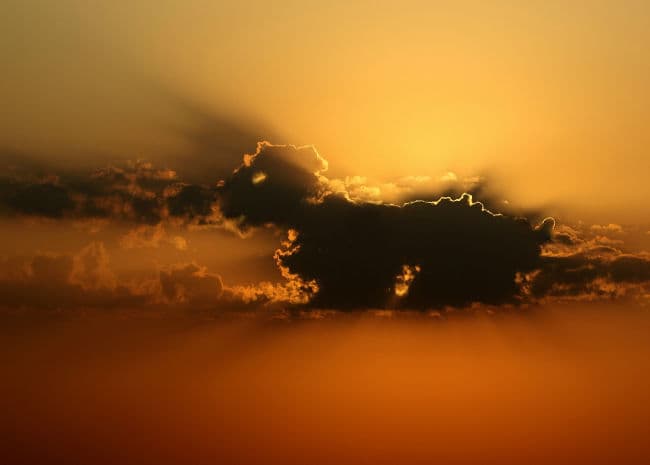 Small dogs and puppies over 8 weeks old may be allowed to travel in the cabin with you, providing:

The combined weight of puppy and crate is a maximum of 20lbs
The rate fits under the seat in front of  you (approx. dimensions 19"x13"x9")
Puppy stays in his crate for the duration of the flight
The airline is aware that your pet will be traveling in the cabin (do this when you book)
You've met any/all health/safety/travel documentation requirements
Larger puppies and dogs can often travel in the baggage compartment but this isn't ideal and can sometimes be dangerous, and is usually not comfortable, for Fido.
Strict guidelines are enforced for pets traveling in this way, including proper health/safety/travel documentation, breed restrictions, limited availability and more.


Dog Breeds (Generally) Not Allowed To Travel By Air
Brachycephalic (ie short-muzzled breeds such as bulldogs, pugs etc.) are generally not allowed to fly in the cargo hold.
Adult dogs from certain breeds may not be allowed to travel with some/many airlines including:
Affenpinscher
American Staffordshire Terrier
Belgian Malinois
Boston Terrier
Boxer
Brussels Griffon
Cane Corso
Cavalier King Charles Spaniel
Chow Chow
Dogo Argentino
Dogue de Bordeaux
English Bulldog
English Toy Spaniel
French Bulldog
Japanese Chin
Lhasa Apso
Mastiff (all types)
Pekingese
Pit Bull
Presa Canario
Pug
Puggle
Shar Pei
Shih Tzu
Staffordshire Bull Terrier
Tibetan Spaniel
Tosa
Dogs who are of mixed heritage which includes any of the above breeds are also restricted.
Puppies between the ages of 8 weeks and 6 months (and who weight less than 60lbs) may be accepted, if other criteria is met, such as temperature and crate design.
If your dog is a senior, overweight, or is generally anxious or nervous I personally wouldn't recommend putting him through the stress of a plane flight, whether he's in cargo or in the hold.
If you're traveling with your dog by air and you really want/need to take your dog with you it's vital to check everything with the airline you are using BEFORE you book your tickets, so that there are no surprises on the day.
Whichever route you take (in cabin or in cargo hold) make sure your dog is totally familiar with his crate and that you've met all the necessary requirements.
Don't be tempted to sedate your dog for air travel, even if he seems anxious, without explicit veterinary instructions and fully informing the airline staff as to what he has taken and when. 
Sedation can be dangerous for dogs during air travel, especially if Fido's traveling in the cargo area and it is strongly advised against by the AMVA (Animal Medical Veterinary Association).
You can find out more about individual airline travel policies for traveling with dogs here... BringFido: Airline Pet Policies.
Other Restrictions for Dog Air Travel
As well as the restrictions each airline imposes, if you're traveling internationally you also need to be aware of any laws or restrictions on dogs entering the destination country.
Fido may need his very own doggie passport, will definitely need a full and up-to-date vaccination status, appropriate health check paperwork and more.
Some countries which have very specific pet policies for incoming travelers include:
Australia
Greece
India 
Italy
New Zealand
United Kingdom
There are many more, each with their own individual requirements.
You can get a detailed look at country-specific rules and regulations for traveling with your dog here USDA Animal & Plant Health Inspection Service - Dog Air Travel.


Dog Air Travel Safety & Comfort 
If you're traveling by air with your dog there are a few simple tips that can make the experience safer and more comfortable for him.

Dog Crates for Air Travel
If your dog is small enough to be traveling in the cabin with you there's more flexibility on the style and type of crate you can use.

Hard sided dog travel crates with adequate ventilation (on at least two sides plus the door), which are airline approved, and don't exceed 19"x13"x9" in size are one choice.

You can also choose to use a soft-sided dog travel carrier which is padded, made from water-resistant material, and has mesh ventilation panels on at least two sides.
The size restrictions on these is not as strict as they're 'squishable' to some extent, but obviously you can't squash your dog while fitting them under the seat!


Comfort & Safety
Whenever possible choose non-stop flights with the shortest flying time possible.
This reduces stress on all of you and is especially important for dogs traveling in the cargo area because of the possibility of an injury or misplacement during the layover and obviously also increases the stress levels due to the amount of time your dog will be in his crate.
Make sure your dog is familiar and comfortable with his travel crate or carrier well before you're due to travel.
Take Fido a walk a couple of hours before you're due to travel and a potty trip right before you check in, and immediately after you land.
All airports are required to have designated potty/rest areas for service dogs and most of these are now open to any dog who is traveling, whether they are a service animal or not.
You can find out what's available at your local airport and around the country here PetFriendly Travel - Pet Air Travel 
Have current ID tags securely attached to your dogs collar and be sure that your name, address and phone number is prominent on all paperwork attached to his crate. 
It's a good idea to use a permanent marker to print your name and phone number directly onto the crate itself too.
Even the most reliably housebroken dog may have an accident in his crate due to being in there for an extended period, or because of anxiety, so make sure it's lined with something absorbent.
Newspaper works okay, so does shredded paper. Puppy pee pads aren't a great idea, even though they may appear to be at first.
I feel that they actually encourage a pup/dog to pee, plus the plastic backing keeps the pad damp and your dog has to lie on it for hours. Not fun.
The best option is to buy either DryFur Pet Carrier Travel Pads which can be folded to fit a variety of crate sizes.
These are super-absorbent and breathable, and also have sticky adhesive strips to help keep them in place during the journey.
OR for a more luxurious and comfortable experience, try DryFur Pet Carrier Inserts.
These are cloth-like, air-cushioned pads which are insulated against heat/cold, have a rigid shape and stable surface for your dog to stand and move around on without slipping.
They dry instantly and lock moisture away keeping Fido dry and comfortable for the long haul.
Dog Health Travel Tips
When you're traveling with your dog it's always better to be safe than sorry and to keep things running smoothly here are a few simple safety precautions worth following...
Vaccinations & Parasite Prevention
Make sure that your puppy or dog is up-to-date on all his vaccinations and current deworming medications before you set off on your trip.
On your journey Fido is likely to come into contact with lots of new people and pets, and be in unfamiliar places.
Not everyone is vigilant about making sure their dog is vaccinated, or healthy, and rest-stops and other public places can be a hot-bed of bacteria and viruses.
If your dog is protected at least he should be safe from the most serious illnesses diseases, but even then it's still a good idea to choose quieter, more out-of-the-way spots for your dog's potty breaks if you can.
The application of an effective flea and tick product product is highly recommended, and don't forget the monthly heartworm preventative (heartworm is spread by mosquitoes).


Regular Medications
If Fido takes any medications regularly, don't forget to take them with you! I suggest collecting everything up and putting it in a strong, ziploc bag clearly labeled with your dogs name and the medication and dosages.
It's no fun to spend the first part of your vacation running around trying to find a veterinarian in a strange town.


Heatstroke Danger
Too many dogs die of heatstroke every year and in the majority it's due to owners leaving their pets in a car "for just a few minutes".
NEVER, EVER leave your puppy or dog in a car during warm weather. Even in cool weather it's not advisable because the temperature inside your car will rise dramatically.
A study done by Stanford University determined that even on relatively cool days (eg. outside temp is 72 F) the temperature inside a car can rise to 117 F in less than an hour). That's deadly.
Short nosed breeds such as Pugs and Bulldogs are especially at risk.
Heatstroke is very dangerous and often fatal. Don't ever take the chance with your puppy's life.


Dogs Can Get Sunburned Too!
If you're traveling with your dog to a destination where there's lots of lovely sunshine, you need to know that dogs can also suffer from sunburn.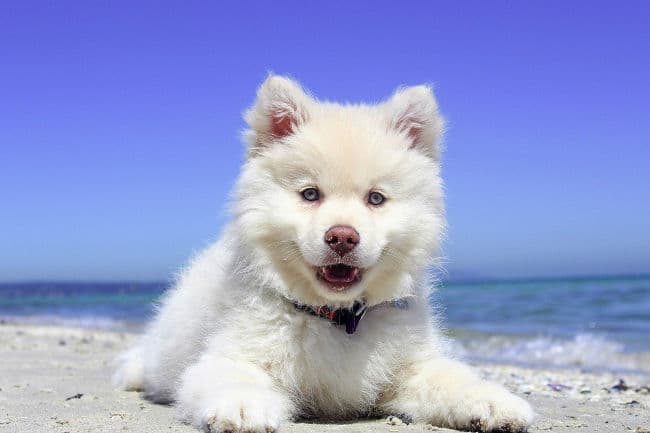 Surprising isn't it? 

White dogs, those with thin coats and/or white/pink noses and skin are at risk of sunburn.
Hairless breeds are obviously high-risk in this regard.
In general for both protection from heat and the sun's rays it's a good idea to keep Fido in the shade as much as possible.
If your dog is going to be out in the sun for extended periods/on a boat/on the beach etc,  and he's in an 'at risk of sunburn' category, you can apply dog-safe sunscreen such as FDA-approved EpiPet Sun Protector Spray or Beach & Dog Co. Canine Sunscreen (Zinc and Titanium Oxide free).
Don't use a human sunscreen, even a gentle one designed for babies, because unlike humans Fido is likely to try to lick it off!
Looking For Info. On Dog Friendly Vacations?
If you want general tips and advice on taking a dog-friendly vacation, I've got that covered too!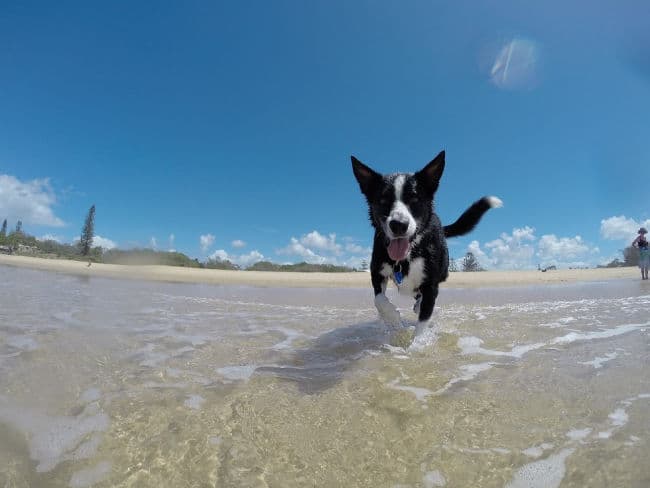 Want to know which hotel chains are dog-friendly?
A list of dog-friendly beaches organized by state?
Resources to help you pick accommodation in the US, Canada or the UK?
Visit this page for all this and much more... Dog Friendly Vacations
you might also like...
FTC Disclosure: Some pages on this site contain affiliate links. I may earn on qualified purchases.