FYI: If you buy something through a link on this site I may earn a commission - at NO extra cost to you.
Best Dog Urine Cleaning Products

Reliable dog urine cleaning products & odor removers are a necessity if you have a puppy in your home... because housebreaking accidents are going to happen!
Housebreaking a puppy can take a little while, even when you do everything right. If you're very vigilant, you may only have a couple of puddles to deal with during that 'learning curve'. But even a few little puddles and poopy-piles can take a toll on your carpets and flooring.
Luckily there are several urine and stain removal products that really stand out in the market, including some eco friendly options.
I'm a proud mom to several dogs, and I've raised many puppies over the years, so pretty much all of the pet stain and odor removers featured on this page have been 'tested' in our home at one time or another. 
These are the ones I rely on to keep my home smelling fresh!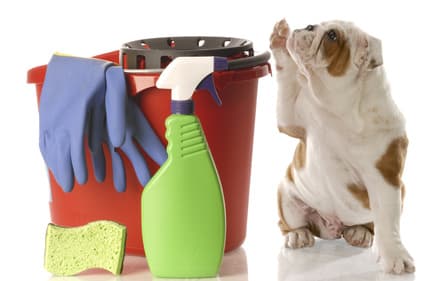 Once you've picked the product/s you want, it's a good idea to know how to use them so that they will be have the maximum impact on those pet odors and stains!
Check out my Dog Urine Cleaning Tips page for all the help you need to get that mess cleaned up quickly and completely.

Popular Dog Urine Cleaners & Odor-Removers

You may need to clean and deodorize a dog crate, carpets, hard flooring, furniture or a patio, deck or garage.
Some products can tackle all of these situations, but others are specifically formulated for one task.
No matter what your situation, or how many dogs/puppies you call family, I'm pretty sure you'll find something that fits your needs in this selection....
There's a new kid on the block...
Well, a new urine odor/stain remover on my favorite's list anyway!
Nature's Miracle has been my go-to for years, and #1 on my list, but Trinova Pet Stain & Odor Remover is giving my old faithful a run for it's money.
So far it's proven itself to be very effective, and as it's also enzymatic I know that it's breaking down that urine/feces/vomit completely so that the odor will disappear.
I also actually prefer the scent of Trinova, and as I'm super sensitive to chemicals and chemical scents, the fact that essential oils are the base for the scent is a plus.
Another good thing about Trinova is that it's equally effective on cat urine as it is on dog urine. I recently fostered six kittens for my local Animal Welfare Dept. and it coped with their occasional accident (in their defense, they were tiny babies when I got them!) perfectly.
If you want to put Trinova Stain & Odor remover through it's paces at your house, you can order it HERE :)
Nature's Miracle Advanced Pet Spray
From my favorite range of dog urine cleaning products, this oxygen-infused, bio-enzymatic formula deep cleans to eliminate organic stains and odors including urine, feces, vomit, food, blood, dirt and grass.
Discourages the growth of bacteria and germs, removes pheromones to prevent re-soiling, works on both new and old (embedded) stains. Quick drying formula.
---
Urine Off Odor& Stain Remover For Dogs
This products' bio-enzymatic formula actually breaks down the uric acid salt crystals in dog urine and helps to PERMANENTLY remove urine odors and stains.
Approved "as safe" by the Carpet & Rug Institute. Number 1 vet-recommended product.
Safe around pets and people.
---
NaturVet Yard Odor Eliminator Concentrate Hose Spray
This powerful, concentrated stool and urine deodorizer attaches directly to your garden hose and eliminates odors instantly.
Safe around children and pets and can be used on Dog Runs, Grass, Plants, Shrubs, Kennels, Swing Sets, Tree Trunks, Patio and Fences.
---
Pet Odor Exterminator Candle, Clothesline Fresh
Odor fighting candle to eliminate even stubborn pet smells - and leave clean, fresh air (a variety of great scents to choose from)

Doesn't just cover up smells.... it removes them entirely!
Each 13 oz candle gives you a minimum of 70 hours of odor-fighting power.
Recommended by veterinarians.
---
BISSELL SpotBot Pet Hands-Free Compact Deep Cleaner
Offers maximum cleaning with minimum effort on your part!
Hands free, deep down spot cleaning from SpotBot's unique Automatic Smart System.
Can be used in manual mode if needed. Compact design for easy storage.
---
Urine Off Urine Finder Mini LED Light
This battery operated Ultraviolet Urine Detector uses 'black light' to reveal hidden urine spots that can't be seen by the human eye.
Works on any surface including carpet, upholstery, concrete, tile, sheet rock, and more.
The average life of the blacklight bulb is up to 5000 hours.
Natural & Eco-Friendly Pet Odor Removal

If you like to use green products, there are some great all-natural alternatives to choose from.
These are safe, effective and won't harm your pets, kids or the environment. I'm sure that one of these will fit the bill perfectly....
PureAyre Pet Odor Eliminator
Unique natural odor eliminator made from food-grade enzymes.
Goes to work immediately when applied directly to odor source.
Can be used on carpet, upholstery, pet beds, clothing, hard floor surfaces, as an air freshener and more.
---
Only Natural Pet Stain & Odor Remover
A fast-acting pet stain and odor remover that's environmentally safe, non-toxic, free from phosphates, parabens, preservatives, sodium lauryl sulfate (SLS) and sodium laureth sulfate (SLES)
Gentle and safe to use on carpets or wood floors in areas where pets, babies and small children play.
---
Clean+Green Carpet Cleaner Natural Stain and Odor Remover
Remove stains and odors from carpets, upholstery, mattresses and more without harsh chemicals or artificial scents.
All natural ingredients, eco friendly and ozone friendly. Patented 'Encapsulation Technology' which permanently eliminates pet stains and odors.
you might also like...
Dog Urine Cleaning Products