Best Plastic Dog Crate Choices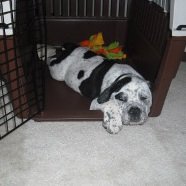 Plastic dog crates make affordable, durable, hygienic and portable 'dens' for Fido.
They're also almost a 'magic wand' when it comes to housetraining, and the most popular (and airline preferred) option for air travel.
If you've just brought a puppy, or dog, into your family.. this is one piece of equipment you don't want to be without!
There are many different designs and brands on the market.
Some are sturdier and better constructed than others. Some manufacturers offer a wider range of sizes and colors.
Prices vary.
There are often a reasonable selection of sizes in large petstores, but the X-Large and Giant options can be hard to find - and there may be only one or two brands to choose from.
A wider variety of models, sizes and options can be found online (and often better prices too) so do your research before handing over your money!
To a degree it's a matter of personal choice which one you choose, but to make it a little easier for you I've put together a selection of what I believe are the best plastic dog crates available today.
Best All-Purpose Plastic Dog Crates
Petmate products are made by the Doskocil Manufacturing Co in Texas. and this popular brand offers one of the widest range of crate styles on the market - and are consistently among the most popular choices with pet owners in the USA.
In my experience, plastic dog crates are the best choice to use when crate training your puppy because they're sturdy, easy to clean and the least-expensive option.
There are several different styles to choose from, each one carefully designed and with a range of well-thought out design options to suit specific needs.
Best Plastic Crates For Small Dogs
Housebreaking & General Use:
The Petmate 'Deluxe Pet Porter Jr' is specifically designed for small dogs. Although there are four sizes to choose from, the dimensions of the largest one is considered to be 'small' due to it's dimensions.
This style is sturdy but lightweight, with an easy-to-use 'dial lock system' which joins the top and bottom sections together (not nearly as 'fiddly' as the little plastic wing-nuts which are used on larger models).
It's airline approved, easy to clean, and has a 5 year manufacturer's warranty.
Available in a variety of colors.
Here are the dimensions for each of the four sizes:
Small: 19"L x 10.8"H x 12.3"W
Medium: 23"L x 12"H x 14.5"W
Intermediate: 24"L x 14.8"H x 16.3"W
Large: 26"L x 16.6"H x 18.8"W
Air Travel:
Also designed for small dogs, Petmate Kennel Cabs are the ultimate in safety and comfort for your airborne pup.
Constructed from durable but lightweight molded plastic (25% recycled material).
Fully airline-approved and conforms to International Air Transport Association (IATA) regulations.
Complete with secure, but easy open/close latches and door locking system, small storage compartment on top (handy for treats, paperwork, leash etc.) and seatbelt slot for safe car travel.
Available in a variety of two-tone color combo's and four sizes (again, all within - or close to - the average dimensions for 'small' dog crates):
Small: 24"L x 16.7"H x 14.5"W
Medium: 26.2"L x 16.5"H x 18.6"W
Intermediate: 24"L x 14.5"H x 16.7"W
Large: 26.2"L x 16.5"H x 18.6"W
Here are a couple more good choices of dog crates that work well for travel with small to medium sized dogs.
The last two are specifically designed to fit under an airplane seat and allows your pet to fly in-cabin with you, rather than in the luggage compartment.
Dog crates that are manufactured with air/car travel in mind tend to be a bit narrower (and often a little taller) than all-purpose crates.
This is to help prevent your pup from being thrown around while the car/plane is in motion.
It also means that they take up less floor space.
Of course these types of crates/carriers can still be used for house-breaking purposes, but keep an eye on that growing puppy to make sure he doesn't get cramped without you noticing!
And finally, here are a few other plastic dog crate choices that are a bit 'different' from the ones you see every day....
Best Plastic Crates For Medium To Large Dogs
Housebreaking & General Use:
Petmate Vari Kennels Ultra is a 'new-and-improved' version of the classic Petmate Vari Kennel.
Constructed from light yet high-density plastic (25% recycled material) this dog crate works well at home and is the perfect crate-training tool and comfy 'den' for your dog.
It can also be used for car/air travel and is airline approved.
Complete with sturdy steel door with 'squeeze-latch' handle/lock, metal grid side air vent panels, plastic-and-non-corrosive metal heavy duty 'Fast-Nut' hardware for securing top and bottom sections, extra tie-down holes around door to allow for extra zip-tie security if necessary.. and more.
Available in a number of colors, and there are four sizes to fit medium to giant dogs:
Medium: 28"L x 21.5"H x 20.5"W
Large: 32"L x 24"H x 22.5"W
X-Large: 39"L x 30"H x 26"W
Giant: 48"L x 35"H x 32"W
Air Travel
The Petmate Sky Kennel is a sturdy product at an affordable price - and the perfect way to keep your puppy or dog safe and sound en-route to his destination (whether it's by road, rail or air).
Made from heavy-duty, extra-strong plastic with sturdy steel door, metal wire side air-vents and extra ventilation cut-outs in rear.
'Squeeze-latch' door handle (3 largest sizes have a 4-point locking door for added security), plastic and non-corrosive metal wing nuts, leak-proof bottom and the words LIVE ANIMALS printed on the exterior of the shell - this plastic dog crate is ready to go anywhere.
IATA (International Airline Transportation Association) approved, and available in SIX sizes, there's a Sky Kennel to fit any size of dog (or cat/small pet too):
Small 21"L x 11.25"H x 16"W
Medium 28"L x 20"H x "21.5"W
Intermediate 32"L x 24"H x 22.5"W
Large 36"L x 27"H x 25"W
X_Large 39"L x 30"H x 26"W
Giant 48"L x 35"H x 32"W
Related Pages.......
Home

›

Crate Training Puppies
› Plastic Dog Crates