FYI: If you buy something through a link on this site I may earn a commission - at NO extra cost to you.
The Best Puppy Pee Pads

The best puppy pee pads on the market do their job well, and can be very helpful if your potty training objective is to have your pup eliminate in a designated indoor area. 

There are lots of different brands, sizes and materials available and choosing the right training pad for your puppy is important because the right 'fit' will reduce mess and frustration levels!
This page has up to date information and details on some of the most popular dog training pads on the market.
All the best choices are here, from the most absorbent to the largest ones, and more, plus you'll find quick links where you can get more information or purchase right from this page.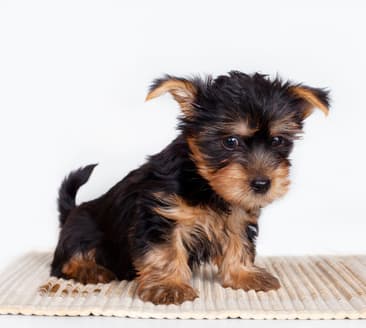 To find out when using puppy pee pads can be a good idea, and how to use them effectively, check out my Puppy Training Pads page.

Choosing Puppy Pee Pads

Over the years I've raised and potty trained many, many puppies and I've used all sorts of training aids.
When it comes to training pads, there are lots of different brands and claims, but they don't all measure up.
Absorbency and size are probably the two most important things to take into account.
For tiny or toy breeds, or young puppies you have more options because most of the premium brands can contain their wee. 
But for large breed pups, older dogs who have bladder-control or incontinence issues, or adult dogs (even small to medium sized breeds) you need superior absorbency and a bigger coverage area.
Doggie pee pads aren't generally designed to look attractive, but there are a couple of brands which have taken steps in that direction.
There is also an eco-friendly option and washable pee pads which are eco-friendly and very useful for protecting furniture, beds and car seats too.
The Best Puppy Training Pad Choices
Let's start off with a few 'Featured' training pads.
I've chosen these because they're superior in one or more of the areas which count!
Another environmentally-friendly option is to use washable puppy training pads, you can see these here.
More Great Puppy Pee Pad Choices
There are several more high-performing training pads to choose from. Most are available in a range of sizes.


Puppy Training Pad Holders
One of the drawbacks with training pads is that puppies tend to see them as toys... and can be inclined to drag, chew and rip them up.
Using a pee pad holder can put an end to this behavior.


Washable Puppy Pee Pads
Washable pee pads are a versatile and eco-friendly choice.
They can be used to protect the floor just as disposable training pads can, but are also great for use on furniture, beds and in the car.
This isn't just useful for puppies, but for older or senior dogs who have bladder control or incontinence issues.
Most are available in a range of sizes and you will need several pads as they obviously need to be washed regularly.
Have you considered an indoor dog potty?
Portable dog potties make a great alternative to puppy pee pads and come in a wide variety of styles & designs.
Find out more about using dog potties, and see the very best choices on the market here...
you might also like...
FTC Disclosure: Some pages on this site contain affiliate links. I may earn on qualified purchases.