FYI: If you buy something through a link on this site I may earn a commission - at NO extra cost to you.
Popular Wire Dog Crates
Wire dog crates are useful, versatile, a handy house-training tool and a safe way to contain your puppy at home or in the car. 
On this page I've features some of the most popular wire crates on the market and linked to some examples for you to look at (if you're ready to purchase, you can buy them here too!).

If you're not sure which type of crate is the best option for you, check out my Choosing The Best Dog Crate page. You'll find all the help and advice there that you need to make the right choice.
A crate is a 'must-have' piece of equipment for all new puppy (or dog) owners, it can be used in so many ways (housebreaking is the number one most important one) that I honestly can't imagine raising a pup without one.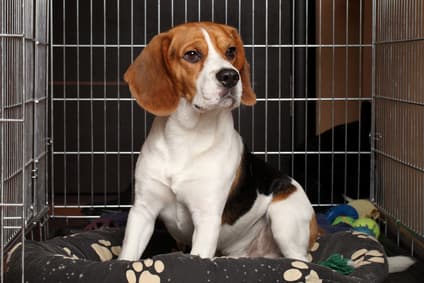 Precision Wire Dog Crates
This range of wire crates is manufactured by Precision Pet Products in California.
Made from high quality, heavy duty materials these products are sturdy, attractive and can take pretty much whatever your average puppy or dog can dish out!
There are several ranges to choose from, here's a look at some of the most popular ones...


Especially For Puppies & Small Dogs
I love these 'Snoozzy Baby' wire crates as they're perfect for that special new puppy in your life, or to pamper your tiny/toy breed dog!
Made to the same high standard as all Precision products, they're pretty as well as practical. Part of the excellent ProValu2 range, they're perfect for your new addition...
The 'Great Crate' For All Sizes/Breeds
One of the most popular styles, this is a solid wire crate with quality 'extras'.
Complete with wire divider panel (so that the space you allow your puppy 'grows' as he does), two doors for easy in/out, removable and leakproof plastic pan, carrying handle and the ability to fold flat.
Available in models with one, two or three doors.
A great choice if you want a good quality crate, at a reasonable price.
Available in Black Epoxy or Chrome finishes, and in 6 sizes, so there's one to fit any puppy or dog.
Or save money by choosing a larger model for your puppy and use the divider panel to make sure his crate-training goes smoothly.
X-Small: 19"L x 15"H x 12"W (suitable for miniature/tiny/toy breeds)
Small: 24"L x 20"H x 18"W (suitable for small breeds)
Medium: 30"L x 22"H x 19"W (suitable for medium breeds)
Medium/Large: 36"L x 23"H x 26"W
Large: 36"L x 26"H x 23"W (suitable for medium/large breeds)
X-Large: 42"L x 31"H x 28"W (suitable for large breeds)
Also see these sizes:
One of the advantages of using a wire dog crate is that your pet can see everything that's going on around him and doesn't feel isolated or 'left out'.
But at night, or at nap time, it can be a good idea to cover the crate and give your pup a nice cozy den to sleep in.
You can use a blanket or sheet to do this, but chances are it will get pulled through the bars and end up soaking wet and chewed up.
There are crate covers which have been specifically designed for wire dog crates and using one of these to give Fido that cozy little den is the best, and safest, choice.
For example, the Precision Pet Indoor/Outdoor crate cover is made from heavy duty, water-resistant canvas and has a window opening (with roll up cover) and the same for the door.
Covers fit several standard size crates, and they're a tailor-made fit for Precision Pet crates.
Precision Pet Indoor Outdoor Crate Cover
Size 5000 Crates or 42" crates
The 'ProValu Great Crate' For All Sizes/Breeds
The 'ProValu' range is the 'value range' and a step below the 'Great Crate' but has some extra features that I love, these include:
A proprietary 5-point locking system for added door security and safety


Patent-pending 'Quiet Links' that are used to connect the panels and floor and significantly reduce the rattling and general noise that wire crates can make


Two styles - ProValu 1 door, ProValu2 has 2 doors
Easy to set up, folds down flat and has convenient carrying handle to transport folded crate. Comes complete with strong removable plastic tray and divider panel so that you can use it as your pup grows.
Dimensions are similar to the basic Great Crate, but ProValue crates are are approx 1" shorter across the board than Great Crates.
Only available in the rust-resistant Black Electro-Coat finish.
Midwest Ultima Pro Wire Dog Crates
The Ultima Pro crates are one of the series of dog crates manufactured by Midwest Pet Products in the USA (NOT the same company as MidWest Homes for Pets).
This line is designed for durability and are a great option for large breed puppies and dogs and for dogs who are rowdy or like to attempt a jail-break every now and then.
This range is a little more pricey than most of the others but you're paying for the extra durability which includes heavy gauge wire and closer-spaced mesh.
Due to their construction these crates are heavier than other brands (the largest one weighs about 60lbs), so do bear that in mind if it carrying it could be a problem for  you.
Sizing on the Ultima Pro line includes more headroom (ie these crates are a little taller) than many other brands. 
That's good news for owners of tall, leggy breeds in particular.
Ultima Pro dog crates feature:
Heavy duty construction
Versatile placement of doors (two door option available)
Durable, powder coated finish
Removable doors
Divider panel
Easy to fold,no tools needed
Carry handles 
Available in five different sizes to fit dogs up to 110lbs in weight.
Ultima Pro 724UP: 25"L x 18.5"W x 21"H (for dogs 11 - 25lbs)
Ultima Pro 730UP: 31"L x 21.5"W x 24"H (for dogs 26 - 40lbs)
Ultima Pro 736UP: 37"L x 24.5"W x 28"H (for dogs 41 - 70lbs)
Ultima Pro 742UP: 43"L x 28.5"W x 31.5"H (for dogs 71 - 90lbs)
Ultima Pro 748UP: 49"L x 30"W x 35"H (for dogs 91 - 110lbs)
Ultima Pro (Professional Series) Dog Crates
Midwest Pet Products has a full line of crate models, there's literally one to suit every puppy or dog, yours included!
Here are just a few of them:


iCrates
This is the most lightweight and affordable of the Midwest dog crate designs.
Best suited for puppies or adult dogs who are totally comfortable in their crate and aren't going to get too excitable while inside.
All the standard features are there, including:
Rust resistant wire
Safety rounded corners
Easy folding
Carrying handles
Single or double door options
Choose from seven different sizes to fit dogs from 1 - 110lbs.
Check out the full Midwest icrate range.


Life Stages Dog Crates
This range has been around for over ten years and is still one of the most popular dog crates around.
Available in six different sizes (for dogs 2 - 110lbs), each with a divider panel which allows your pup to 'grow into' his crate without disrupting his potty training.
This can also save you money as you can keep your puppy in one size of crate for approximately twice as long by using the divider.
Single or double door options.
A very good basic crate which is reasonably strong, a good weight, easy to fold and carry, and have a mid-range price sticker.
Check out the full range of Midwest Life Stages dog crates


Ovation Sliding Door Dog Crates
Midwest's Ovation line of dog crates features a patent-pending 'Up and Away' (garage-style) door which is both a space and time-saver.
Otherwise this series is similar in construction to the Life Stages series and is a strong, sturdy crate.
All the standard features available, including rust resistant wire with black electro-coat finish, 2 doors, divider panel, easy to fold, carrying handles.
Price range is a little higher than the Life Stages series.
See all Midwest Product's Ovation dog crates 


Other Midwest Pet Product dog crate models also include:
More Popular Wire Dog Crates
Of course, Precision pet crates aren't the only type of wire dog crates available... not by a long shot!
There are many other brands to choose from, and depending on your needs and budget it's perfectly possible that you'll find another brand that works just fine.
Remember, each manufacturer has a range of sizes (and often a variety of styles) to choose from. 
If you spend some time browsing and researching features, materials and prices then I'm confident that you will be happy with the crate that you choose.
you might also like...
FTC Disclosure: Some pages on this site contain affiliate links. I may earn on qualified purchases.