10 Best Dog Food Choices
If you search for the words '10 best dog food choices' right now, you'll  get almost 8,000,000 results to choose from!
Most of us don't have time to wade through that amount of information to figure out what's the best food for Fido or Fifi.
So to make life a little easier I've put together a list of what I believe to be the Top Ten Best Dog Food Brands on the market right now.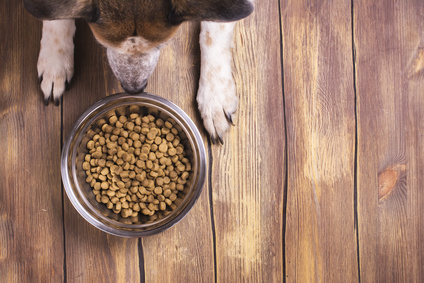 When you're choosing a dog food for Fido, the most important thing to consider is the quality of the ingredients..... because that's what takes a food from mediocre to GREAT.

Wholesome, natural ingredients are obviously best, and you want to avoid artificial ingredients as much as possible. 
Organic, grain-free and even vegetarian options are available too.
My Top 10 Dog Food Picks
Just as there are a LOT of different dog food options to choose from, there are also a lot of different dog food manufacturers.
These are my DOG FOOD picks, if you want information on the very best food for puppies, check out this page.... Best Puppy Food Choices
Here are the ones that I personally feel are producing high-quality dog food, with superior ingredients...

You can also use these quick links to jump straight to :
When it comes to the best rated dog foods, the superior ones do cost more initially.
However, the good news is that  your dog needs to eat less of them, yet gets a much higher level of nutrition... so they're a lot more cost-effective than you might think.

But not everyone's budget can stretch to the most expensive brands.
So in my choice of the 10 best dog food brands, I've included a couple of more mid-priced foods that are still excellent in terms of quality and provide really good value for money.

Although I can't (and don't want to) tell you what to feed your pet, I hope this information will make it a bit easier for you to choose what's best for your dog, lifestyle and situation.
Please Note! The dog food brands listed here are not in any particular order and the first food isn't 'ranked' more highly than the last.
Precise
This multi-generational family owned company has been producing quality pet foods for 30 years, and their current lines are second to none!

Buy Precise Here
Precisepet.com
Well worthy of being on any 'Top 10' best dog food list, Precise pet food offers  three different ranges (Precise Original, Precise Plus and Precise Holistic Complete) and have formulas to suit large breeds, small breeds, seniors and those with certain food sensitivities. Something for just about everyone in fact.
Their manufacturing plant is USDA/AIB Certified 'Excellent', has an excellent safety record and no food recalls. All natural, human grade ingredients, naturally preserved, and with several different varieties to choose from. Dry foods are packaged by the company themselves to maintain quality.
The 'Pet Business' Magazine Award for 2010 in the 'Best Pet Food Category' went to Precise Holistic Select line 
Orijen
A high-protein, low-carbohydrate and grain-free range that provides what they call a 'biologically-appropriate' diet for your dog. 
Owned by Champion Pet Foods, an award-winning, independent Canadian company.

Buy Orijen Here
Manufacturer's Website
This means that their foods are formulated to meet the natural dietary requirements of canines.
Made up from 70% meat and 30% fruit and vegetables, this Orijen dog food closely matches a dogs' natural carnivorous diet.
Orijen was voted Pet Food Of The Year 2010-2011 by The Glycemic Research Institute.
Castor & Pollux
Castor & Pollux offer two excellent lines of dog food.
The 'Organix' range whose formulas are packed full of premium certified-organic ingredients and the 'Natural Ultramix' which contains several healthy and well-balanced grain-free formulas.
Buy Castor & Pollux Here
Manufacturer's Website
Since it's creation 15 years ago, Castor & Pollux has grown to become one of the leading names in natural and organic pet food. 
The first brand-name in natural pet food and supplies, Castor & Pollux now offers the most complete line of USDA-certified organic food for your pets in the USA.
Originally a family-owned company,  Castor & Pollux joined Merrick Pet Care Inc in 2012 to produce both dry and canned organic recipes. All products are made right here in the United States.
The company is committed to helping animals in need and partners with non-profit pet rescue organizations across the country and provides food for shelter pets.
Castor & Pollux pet foods are manufactured in Texas at facilities which  passes stringent food safety audits to receive the 'Safe Quality Food Level 3 Certification' in 2013.

Solid Gold

A leader in holistic pet nutrition, Solid Gold foods are often seen on top 10 best dog food lists compiled by dog nutrition experts, and in consumer reports.

Buy Solid Gold Here
Manufacturer's Website
Eight different ranges of dog food, all made with premium ingredients and are specifically designed to suit dogs with allergies or sensitivities.
All dry foods are packed in the company's special 'foil barrier' bags which eliminates the need for chemical preservatives or flavor enhancers. Choose from Wolfking/Wolfpuppy, Hund-N-Flocken/Hundchen,  'Barking at the Moon', and more.
Avoderm
Avoderm's uniqueness and huge success is not only due to the premium quality of it's ingredients but to one specific ingredient... avocados. 

Buy Avoderm Here
Manufacturer's Website
Avoderm pet food formulas are produced by Breeder's Choice Pet Foods, and industry leader who is considered to be one of the purest, premium natural pet food manufacturers - and has been in business for over 50 years.
The addition of avocado makes this range a great choice for dogs with skin and coat problems. It's been called a 'miracle' product and is one of the company's very best selling ranges.
The company also partners with a non-profit animal rescue foundation to help save pets who are out of time at local pounds and shelters as well as supporting ARF's Food Share program that helps low-income families feed their pets.
All Avoderm (and Breeder's Choice) pet foods and treats are made in the USA.
Acana Dog Food
Described as a 'biologically-appropriate' diet, Acana foods uses a high-protein, low-carb formula to produce dog food which mimics the natural diet that a dog's body was designed to eat.
Owned by award-winning, independent Canadian pet food company Champion Pet Foods (as is the superior Orijen range).
Buy Acana Here
Manufacturers' Website
Acana foods are made from only wholesome, fresh and natural ingredients... never frozen, dried or powdered. Totally preservative free.
With several different formulas to choose from there's bound to be a food with the ingredients your dog needs, and which suits his size, age, activity level, health and preferences.
To maintain maximum nutrients and flavor, all formulas are prepared by steam cooking at Champion's award-winning kitchens in Alberta, Canada.
Nature's Variety

This is also a holistic range of dog foods, and all varieties are 100% free of corn, wheat, soy, chemicals, and artificial colors & preservatives.
Buy Nature's Variety Here
Manufacturer's Website
The Prarie range contains meat, poultry, or fish protein, whole grains, plus fruits and vegetables.
The Instinct range is grain free, and there's also a frozen raw food option.


Timberwolf Organics

Timberwolforganics.com offer a range of superior, carnivore specific formulas made with high levels of animal based protein, multiple grains, fruits, vegetables, seeds and herbs.
It is also concentrated and nutrient dense, so your dog will get maximum nutrition from a smaller quantity of food.. and pass fewer, more compact stools.
Wellness
A holistic range of pet foods, made primarily with human-grade ingredients.
Buy Wellness Here
Manufacturer's Website
Wellness uses whole foods, with no meat by-products, preservatives, fillers, or artificial colors and flavors.
The Super5mix range contains age and breed specific holistic dog foods that meet the unique requirements of puppies/dogs of all ages.
The CORE range is grain free and protein-focused, and the Simple Food Solutions range has been designed specifically for dogs with food allergies or sensitivities.
Petcurean Pet Nutrition

Based in B.C. Canada, this company produces the Now!, Go! and Summit dog foods.
Buy Now! Dog Food Here
Buy Go! Dog Food Here
Manufacturer's Website
Now! is a totally grain free range and ingredients include only fresh, hormone free, deboned meats plus farm-fresh fruits and vegetables.
There are no rendered meats or oils, no by-products. Low temperature, slow-cooking methods preserve the wholesomeness and nutritional excellence of the ingredients.
These foods are particularly good for dogs with digestive tract problems such as IBS (irritable bowel syndrome/disease), Pancreatitis or Chronic Renal Failure.
Go! Natural dog food is a completely natural, concentrated (or 'nutrient-dense'), all-life-stages formula designed to give your dog a well-balanced, wholesome nutrition from puppyhood to senior citizen status.
Ingredients include fresh, hormone-free, deboned meat and fresh fruits and vegetables. There are four different foods, one of them is grain free.


You Need To Know What's In Your Dog's Food!

Dog food labels and packaging can be very confusing, and often misleading too.
All sorts of claims, colorful graphics and advertising slogans can mask the reality of what is inside that bag.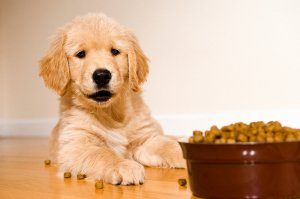 Plus the ingredient lists can be so long that your brain switches off half way through!

So, where to start? With basic guidelines I think.
The very minimum requirement of any food is that it has this statement on the bag or pouch... 'provides a complete and balanced diet'
This means that the food meets the AAFCO (Association of American Feed Control Officials) guidelines for nutrition and has been tested or evaluated in some way.
BUT, many poor quality dog foods carry this wording because the standards are not overly high.
Other wording or phrases such as the following often have no real significance...
Premium

Super premium

Choice
and very little relevance to the quality of the food inside the bag either.
They're simply slogans used to promote that particular food brand, and to appeal to our human senses.
Looking at Dog Food Ingredients
So, the next thing to look at is the ingredient list itself, this is much more important and more revealing.

The first 3 ingredients are the ones that make up the majority of the food and if you know what to look for you often don't even have to read further than these three to know whether or not it's a premium quality dog food or not.
This is what you want to see in any food that makes a '10 best dog food' list:

First on the list should be a good source of high-quality protein. You want to see it listed by name as 'chicken', 'lamb' etc. - just saying 'meat' is NOT good enough.That's a generic 'catch all' for a lot of stuff you'd rather not know about! Meal, as in 'Chicken Meal or 'Lamb 'Meal' is also fine, and should be just as nutritious as the fresh meat ingredient. But no MEAT-meal.
Most premium foods will also contain some carbohydrates, usually from grains such as rice, barley or oats. This is fine, but you don't want to see half a dozen different grains or 'hulls'.
Fats are important and the best sources are healthy oils such as olive oil or flax oil, or animal fats such as 'chicken fat' (again avoid generic 'animal fat'. Seeing Omega-3 and Omega-6 fatty acids is a good indication that you're looking at a quality dog food.
Fruits, vegetables, plus added vitamins/minerals may also appear on the ingredient list of a premium food. All preservatives should be natural, such as Vitamin E or Vitamin C.
Avoid foods that contain artificial additives, preservatives, fillers or 'junk'.
All ingredients should be from USDA inspected facilities if possible, or from facilities within countries that have rigorous quality control procedures that meet USDA requirements.
Choosing the Best Food for YOUR Dog
The second most important aspect of choosing the best dog food is making sure that it's a good fit for your dog.

What works for one dog, won't necessarily work for another... breed, size, age, activity level and so on, all play a part in determining the type of nutrition your dog needs to be healthy and happy.
If your dog has chronic health problems, allergies and so on, it's important to know that some health conditions can be aggravated by particular ingredients, or need a very specific balance of nutrients, and there are special dog food formulas for these types of problems.
But, if your pup or dog suffers from a serious condition such as diabetes, liver disease, kidney disease, heart problems then you should always check with your own vet for advice on feeding him/her.
If you own a large or giant breed puppy, it's important to feed him a puppy food that is relatively low in protein.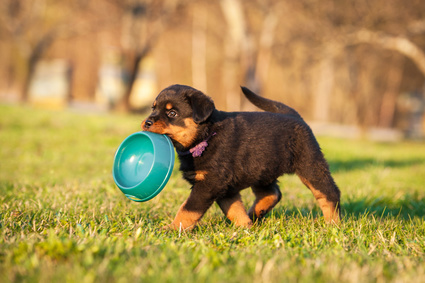 This is because big puppies grow incredibly fast and you want to control that growth rate as much as possible to avoid bone/joint issues.
For specific information and advice on choosing the best puppy food for your BIG pup, check out this webpage Best Puppy Food For Large Breeds

As with the foods themselves, manufacturing processes and quality control can vary a lot, and this also plays a big role in the quality of the food produced.
Most manufacturers produce dog food that is available in a range of formulas.
So, once you've found a food that contains the quality of ingredients that you want to see, you should be able to find a formula to suit every puppy or dog, regardless of age, size or breed.
There is a little variation in the top 10 best dog food choices from each list, reflecting the changes in the dog food industry since Sarah's list was compiled.
The reassuring news is that both lists contain many of the same brands, which shows that the majority of premium dog food manufacturers are maintaining a high level of quality in their products.
Because the most important thing about any dog food is what's IN it, it makes sense to choose a food that contains natural, organic and/or human-grade ingredients.
The number of organic and natural food for dogs is growing all the time, with this sector of the pet food market outstripping any other right now - and this is expected to continue.
Not ALL foods labeled 'organic' or 'natural' are what they seem though, so it pays to know what to look for - and of course, why this type of pet food is one of the best options out there.

If YOU 'are what you eat', then so is your dog! I can sum it up this way - if you steer clear of the generic, low quality dog foods and choose to feed one of the ones above (or a food of a similar quality), you'll be taking a big step towards keeping your precious pooch happy and healthy.
10 Best Dog Food Choices - Last words......
Although deciding which food to use can be a challenge, hopefully the list above has got you pointed in the right direction!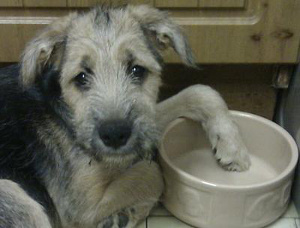 Getting the proper nutrition both as a puppy, and an adult dog, has a huge impact on your pet's overall health... even on how long he may live.

On the other hand, eating poorly formulated puppy or dog food can cause problems such as allergies, skin/bone/joint issues, chronic digestive problems, obesity, heart problems and more.
In fact, the money you may end up spending at the veterinarian's office to treat the various health issues that could result from poor nutrition, could well mean that choosing a premium dog food in the first place works out less expensive over the long haul.
If you have a puppy under a year old and you're looking for information on the best food options for him/her, check out these pages....

Your Dog Food Reviews , Recommendations & Comments
The 10 best dog food choices I've featured on this page are my personal choices, but there are a LOT of great dog food options out there.

I would love to hear your recommendations, reviews, and experiences too.

If you use a food that isn't featured on this site, but is of excellent quality and works wonderfully for your dog... then please share it!

It only takes a minute, and your experiences and input could help other dog-lovers make the right choice.

See Visitor Recommendations, Reviews & Comments
Click below to see what other visitors are saying about dog food.......

Home
›
About Adult Dog Food
› 10 Best Dog Food Choices
RE: Facebook Commenting (Below)
Due to the sheer number of questions I receive I simply can't answer them all.
PLEASE explore my website fully as most of the time the answer you're looking for is already available here :)
If your pup/dog is unwell getting him vet help asap is the best route to take.
Thanks!