FYI: If you buy something through a link on this site I may earn a commission - at NO extra cost to you.
Pet Dog Collar ID Tags
Dog collar id tags are a practical way to keep your pup safe!
The simple act of wearing his dog id tag could help prevent your puppy from becoming one of the scared, sad and lonely pets that sit in rescue centers and pounds all around the US!

Scroll down to find out more about pet dog tags and why your pup should NEVER be without one.
Importance of Dog Collar ID Tags 

Even little puppies can cover a surprising distance on their short little legs (pretty quickly too) and frequently head out in unexpected directions... and that it can be a terrifying experience - for both of you!
It only takes a minute for Fido to nip out the front door, squeeze through a hole in the fence or 'make a break for it' on an outing.
No matter how hard you try, you may not be able to totally prevent Fido from finding the opportunity for his own 'great escape'. But you can increase the chances of getting him back, by making sure he has some kind of identification on him at all times.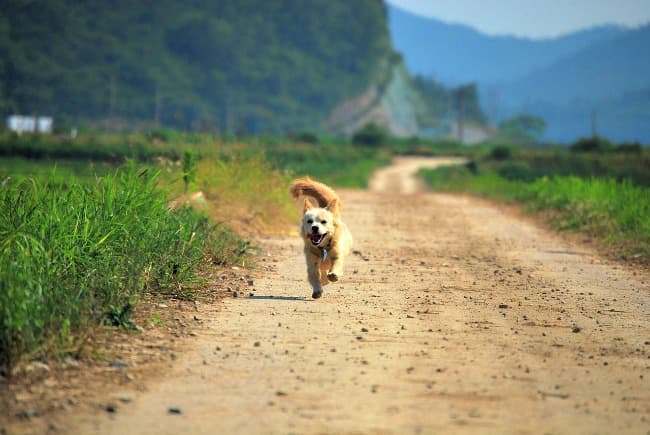 Strapping a wallet around his middle isn't a very viable option but there are several more suitable choices.
The simplest kind of identification is a dog collar name tag, firmly attached to little Fido's collar (which he wears at all times). There are lots of different styles of tags, from simple plastic discs to metal dog id tags, or even solid silver and jewel-encrusted versions!
No matter what design you choose, the id tag must included the following information:
Your dog's name
Your name
A telephone number where you can be reached
Your address and an alternative telephone number are optional, but most dog id tags don't have space for this much information
Although better than no identification, a standard dog tag has it's limitations. If you're not at the telephone number on the tag, your dog's rescuer may not call back - or worse, choose to leave your pooch where he found him.
Some types of dog identification tags can get scratched, broken or rusty or the information becomes unreadable. If this happens your pet is at risk of heading straight to the local dog pound (and horrible as that is, it could be one of the best case scenarios!).
Great Dog ID Tag Options
The best dog collar id tags are sturdy, easy to read and able to resist the ravages of rain, heat, mud... and anything else Fido gets into.
A simple metal disc with your details engraved on it works just fine as long as you replace it when rusted or damaged, but if you want something a little fancier there are a whole slew of options to choose from. Here are just a few of my favorites.
If the jingle, jingle of id tags irritates you, there are different types of dog tag silencers you can use, here are a couple of examples... 
Collars which have integral id tags are another really good option. No jingling, no risk of the tag being torn off (unless the collar goes with it), and they look smart too.
The Bottom Line

If you're a dog or puppy owner, PLEASE make sure that your pooch wears his collar and id tags at all times.
Also remember to check regularly to make sure that it's still in place, and is readable. Be especially vigilant about this when traveling - double check frequently.
There are few things more heartbreaking than losing a much loved pet, so do everything you can to keep your pup safe and help him find his way home.
You can use the NationalPetRegister.org website (a free, national database) to search for, or report, lost and found pets of all kinds.
you might also like...
FTC Disclosure: Some pages on this site contain affiliate links. I may earn on qualified purchases.