FYI: If you buy something through a link on this site I may earn a commission - at NO extra cost to you.
The Best Dog Training Books
There are loads of popular dog training books designed specifically to help you train your dog properly as well as to address common behaviors, or behavior problems.
To help you get started, I've put together a list of some of the very best books on dog training (including housetraining). These books are my personal favorites, are on my bookshelf, and even after decades of dog ownership I come back to them now and again to brush up on something, or to deal with a problem. They're all dog tested and owner approved!
If you're a visual learner or prefer to watch rather than read, I've also included a handful of dog training dvd's.
If you're in a hurry, or know what you need help with, use these links to jump straight to the appropriate section...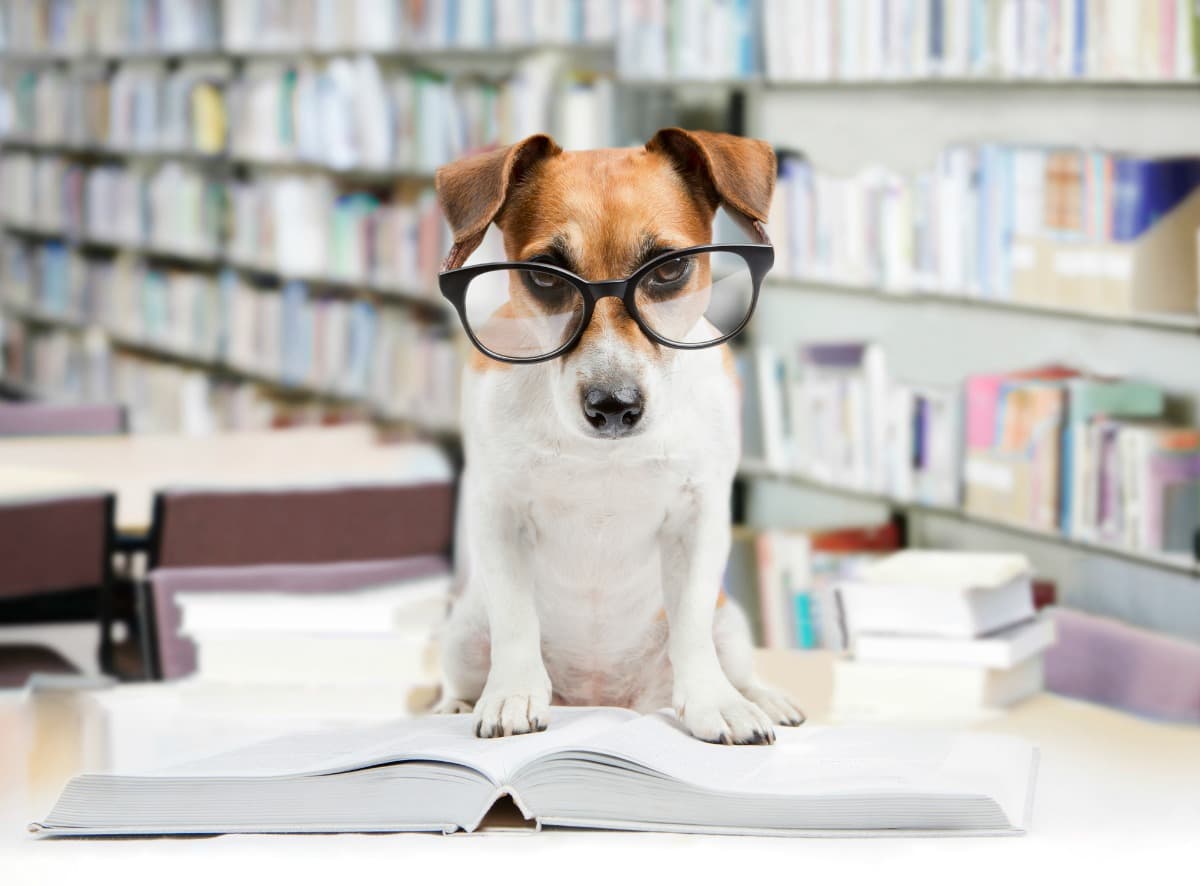 Dog Training Books -
Obedience & Manners
A well-trained dog is a joy to own, and can go anywhere with you. An untrained one can make life complicated, frustrating and messy!. If you want a well-behaved pooch, start out right by training your puppy properly right from day one. 


This is one of my all-time favorite dog training books!
As well as being an excellent, in-depth resource on everything you ever wanted to know about training a puppy.

It has a wealth of information on puppy development and behavior, plus the answer to all the questions you'll come across as you raise your pup.
The Art of Raising a Puppy has been on my shelves since I brought home my German Shepherd pup, many years ago... and it's still one I wouldn't be without.

The monks have a wonderful approach and amazing rapport with their dogs, and their straightforward common-sense attitude fits the bill for me.
This is the updated version of one of the best-selling dog training books around.
A very comprehensive, in-depth look at dog training, using only non-violent, positive training methods.
The Dog Whisperer is a well-written, informative book, packed with advice and instructions to help you successfully train your puppy firmly but compassionately.
Includes fun training games and helpful illustrations.
This is one of the especially useful dog training books for owners with a shy or anxious puppy.
The training methods work beautifully on these types of dogs.
A good all-round introduction to positive dog training, and another of my personal favorites.
(This is not a Cesar Millan book) 
A practical dog training book which makes a great choice for first-time puppy parents, and even experienced dog owners can find 'nuggets' of wisdom in here.
The author's breezy, friendly style makes it an easy read and there are lots of step-by-step directions to follow.
Along with straightforward training advice, there are also lots of 'extras' in here.
Imagine Life With A Well Behaved Dog things like tips on making sure you adapt your training and communication style to your individual pup's personality, advice on exercise requirements and how to prevent problem behaviors from getting started.
The straightforward style and gentle humor of the 'For Dummies' series make them some of my favorite books, no matter what the subject! This one doesn't disappoint.
A very readable book, packed full of practical (and priceless) step-by-step tips and advice 
Dog Training for Dummies covers a wide range of topics including diet, socialization, behavior, basic obedience and manners, and it even gives advice on advanced formal obedience for owners who want to keep going.
In this easy to read book, you'll find that the 'Fun, effective and easy puppy training' it promises, is a very attainable goal.
The writing style, and use of simple, straightforward terms, makes this dog training book very readable.
It shows you exactly how to raise and train a happy, well adjusted dog.
There's no need to be nervous, or feel intimidated by the thought of puppy training. With My Smart Puppy by your side, it doesn't have to be a challenge.
In fact, training your puppy can be a lot of fun for both you and your puppy, and play a huge role in building a strong, healthy pup/owner relationship.
An added bonus for new puppy parents, is the DVD that comes with the book. It clearly demonstrates the simple, effective training exercises, which is a great help - especially if you're new to all this puppy training stuff :)
Little dogs have their own special needs in all sorts of areas, and dog training is no exception.
The information, tips and training techniques in this lovely book , are specifically designed with the pint-sized pooch in mind.
Tiny dogs can be wriggly, defiant and sometimes seem to have the attention span of a gnat! They're also fragile, sensitive little creatures...
... which can mean that the average training methods (which fit medium to large breeds so well) can be difficult and ineffective.

The author of Little Dogs: Training your Pint-Sized Companion approaches all the small dog issues with love and ingenuity, and you'll find this dog training book will help you understand, communicate with, care for and train, your tiny pup easily and effectively.
If your puppy is of the 'pint-sized' variety you don't want to miss this one.
Puppy Housetraining Books
Potty training your puppy is one of the first, and most important, jobs that you have as a new owner.
But, it's amazing how many myths and misconceptions about exactly how to do that!
A whole lot of frustration and confusion (yours and your puppy's) can be avoided if you
Do some research
Have a realistic grasp of what your puppy is capable of what you can
Have a good understanding of how to show him what you want
Use patience, love and consistency to train him


Another one of those brilliant 'for Dummies' books!
Written with a humorous touch, this puppy training book is packed with practical tips and information.
Housetraining for Dummies will help you tackle the challenges of house-training with confidence.
Topics covered include :
Your dog's instincts and learning style

Taking the right approach to house-breaking

Equipment you'll need
Indoor and outdoor training options
It doesn't matter if you're a newbie, or an experienced puppy parent...if you have a puppy, you need this book!
This little book lives up to it's name, with clear easy-to-read and easy-to-follow instructions to help you housebreak your puppy quickly and without a whole lot of fuss.
Although you can't expect to potty train a pup in a few days, or even a couple of weeks, by following the guidelines in this book you'll be on the road to success right away.
Housetraining Success Formula offers simple, clear, step-by-step instructions plus advice on how to avoid common potty training pitfalls and a practical approach makes this a very popular book.
Organized into trouble-shooting sections that makes it easy to find what you need quickly, and there are lots of 'extras' including tips on cleaning up accidents and the importance, and relevance, of proper nutrition.
Dog Training DVD's
I love to read, and because I've got decades of experience with dogs I usually don't have any trouble following advice or instructions, even if there's a new 'twist' on something. I'd rather read about something than watch it!
But, I think I might be in the minority on this and I have to admit that a well-produced dog training dvd can be a great way to help dog owners understand how to communicate with, and train, their pet.
The 'My Smart Puppy' DVD featured above is one of my favorites, and it's perfect for new owners. Here are another couple that I think you'll enjoy...
This DVD shows you how to teach your puppy or dog all the basics such as 'sit', 'stay', 'down' and 'come'  - but there's so much more to it as well.
With it's practical, down-to-earth approach, this Dog Whisperer DVD shows you how to show your pet what you expect by using positive rewards-based training.
You can use this alone to successfully teach basic obedience and manners, but if you buy it in addition to the book you will be prepared for anything your pup can send your way!
The Art of Raising A Puppy is probably is one of my all-time favorite dog training books, and this dvd set makes the perfect companion for it.
There are 2 dvd's in Raising Your Dog With the Monks of New Skete, and the first one focuses on the the monks attitudes and philosophy when it comes to training.  The scenery, music and 'ambience' make it truly enjoyable (and those gorgeous GSD's don't hurt!)
The second dvd focuses on the actual training techniques and being able to see the advice in the book 'in action' is a big plus for new owners.
As with the Paul Owen's 'Dog Whisperer' DVD I'd recommend buying this as an accompaniment to the book for maximum results.
Leerburg is a name that's synonymous with German Shepherds.. and absolutely anything you want to know about them!
This dvd is a superb example of why Ed Frawley is so popular and respected. 
It's a comprehensive, practical training tool which answers all the questions you can think of... and some that probably never occurred to you!
While this Leerburg Basic Dog Obedience DVD not the shortest or glitziest dvd, and you'll probably want to take notes, but it may well be the most informative, and whether you're a 'newbie' or an 'old hand' you can't go wrong with this.
It's also a gold mine if you're struggling with your dog's behavior problems or are seeing signs of dominance or aggression.


I hope you've found at least one of the dog training books on this page appeals to you and fits your needs. They're all different but equally excellent and whatever your situation one of these should be able to help. Best of luck in your dog training endeavors!
you might also like...
FTC Disclosure: Some pages on this site contain affiliate links. I may earn on qualified purchases.