FYI: If you buy something through a link on this site I may earn a commission - at NO extra cost to you.
What Do Puppies Need?
Hm, what do puppies need? Well, they may be tiny but they actually need a lot of stuff!
Food, toys, warmth, love..... all of these are good and a place to start, but the complete answer to this question can be tricky to pin down, especially if this is your first puppy.
Luckily there are certain things which ALL puppies need, and most of them are straightforward and easy enough to provide (but not necessarily inexpensive!).
It's also important to remember that puppies need a lot more that just food, toys, crates, treats and other tangible 'stuff'. Their physical and emotional needs are equally, often even more, important.
Your new puppy is a baby, a living, breathing member of your family, and he's totally dependent on you! This page will help you figure out what he needs from you and help you to keep him safe, happy and healthy.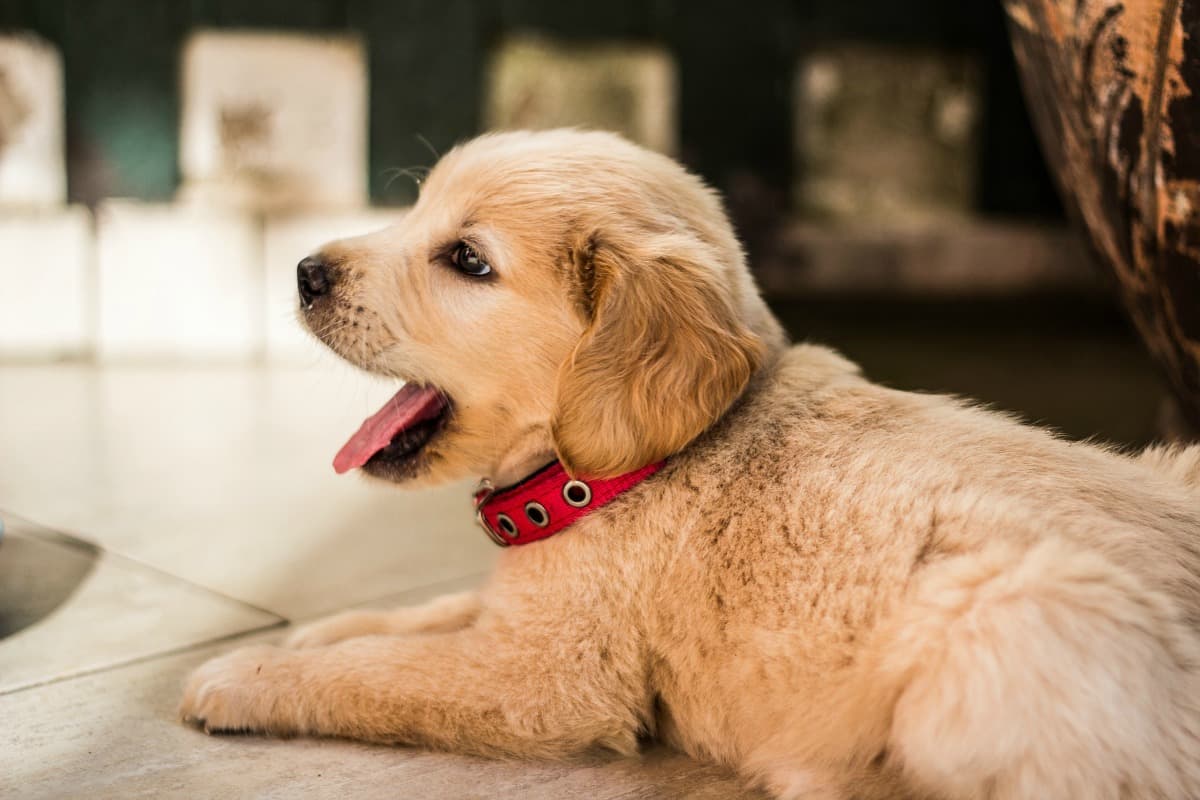 What Do Puppies Need? Supplies & Practical Items
A young puppy's needs are fairly simple, and there are a handful of basic puppy supplies that will see you through the early days pretty well.
Decades of puppy-rearing experience have helped me to figure out that these essentials include:
Food bowls
Potty training equipment*
A soft brush
Puppy shampoo (and maybe conditioner too)
A collar and leash (or a harness), and an ID tag
* Potty training equipment will vary depending on where you want your pup to eliminate. If you're crate training him to do his business outside then the right size crate is all you need.
However if you live in an apartment or don't have a safe and suitable yard for him, then an indoor dog potty is going to be needed (or even puppy pee pads, although these are not what I'd recommend as a first choice).
If this is all you buy when you bring little Fido home, you'll be just fine for several weeks!
There are other, not strictly essential products, but ones which definitely make life a little easier and/or more fun. These include:
An X-Pen (exercise pen) or playpen
Baby-gates to keep him inside/outside certain areas
Puppy training treats
Nail clippers
Then there are the things that YOU need! These might include:
An enzymatic odor/stain remover for house training accidents

A pooper-scooper for outdoor clean up

Bitter Apple spray for discouraging puppy chewing.
And finally, one last group..... the 'nice-to-have' (aka the 'spoil-your-puppy' stuff). Not exactly the answer to the question 'what do puppies need? But fun all the same.
I can't really put together a list of all the bits and pieces that fall into this category, but depending on the size, age and breed of your new puppy, some of these might fit the bill ....
Extra grooming supplies such as spritzers, hair dryer etc.

Cute dog clothes

'Bling' (think hair clips, collars, tags etc.)

Puppy carrier

Dog stroller

Dog car seat

Ramp or steps to help your pup get into the car or onto your bed/sofa

An outdoor dog house (if he's going to be spending time outside)
This list could go on and on, but by now I think you've got the picture :)
Your Puppy's Needs - Veterinary Care
When you puppy leaves his momma at around 8 weeks or so he's still a tiny baby, and he's vulnerable to injury, illness and accidents. One of his most basic needs is regular, and ongoing, veterinary care.
It's up to you as his new parent to keep protect him. Obviously accidents happen now and then, and it's impossible to control everything around your pup and guarantee his safety. But there are lots of things you can do to minimize the risk of disease or injury.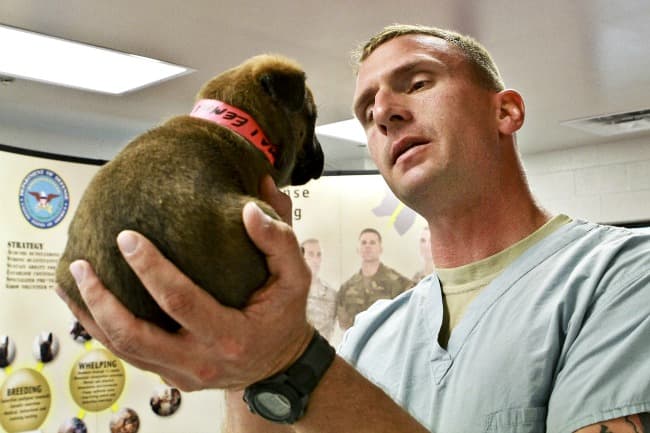 So, here's a brief look at what puppies need in terms of veterinary health care:


Vaccinations 
The first thing they need is to get routine puppy vaccinations and treated for canine worms. ALL puppies need this.
Sometimes the breeder will have started the vaccinations and treated your pup for worms before he gets to you. Even if this is the case, your pup still needs at least 2 more sets of vaccinations to protect him from the most common, contagious canine diseases such as Distemper, Parvovirus and Canine Hepatitis.
Then he'll need his Rabies shot at 16 weeks.


parasite control & prevention
Most veterinarians will routinely treat a puppy for worms at the same time as he gets his vaccinations, you may need to provide a fecal sample, or your vet might insert a small instrument into your pup's rectum to collect a small sample of his stool during the exam.

After your pup has had all his puppy shots and has been dewormed 3 times he will probably be given the 'all clear' until it's time for his annual 'booster shots'.
You're also going to need parasite prevention to keep fleas, ticks and mosquitoes away from your puppy. In the US and certain other areas where mosquitoes are common, heartworms can also be a real problem. Giving your pup a monthly dose of flea/tick medication and a heartworm preventative can prevent all sorts of problems - even save his life.


routine check ups
Throughout his life your pup will need annual check ups not just for vaccinations, but also to make sure he's healthy and that there aren't any underlying (but as yet invisible) health problems.
As he gets older regular dental exams will also make sure your puppy's teeth stay healthy and strong.
Prevention is much better - and usually much less expensive - than treating an illness, so don't skimp on these yearly vet visits. They really are one of the things puppies, and dogs, always need.
YOUR PUPPY'S NEEDS: DIET
When it comes to the question of what puppies need, feeding your little one a premium puppy food that's been designed for his size/age/breed is right at the top of the list.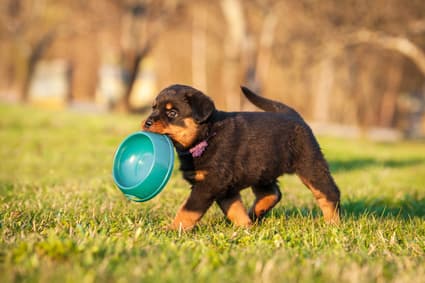 Puppies grow phenomenally fast, and the larger the breed the more spectacular the growth curve. They're also very active little creatures and use up a lot of energy in a day... so to keep your pup happy and healthy his body needs the right nutrients.
There are literally hundreds of different dog food brands and manufacturers to choose from, and trying to figure out which puppy food is best for your pup can be a challenge.
But when you're looking for the answer to the question 'what do puppies need in their food?', the type of ingredients and their ratio within the food is the key.
You want to look for 'human grade' organic or all-natural ingredients.
Real meat and whole grains should be at the top of the ingredient list, some fat, then vitamins/probiotics and/or Omega 3 fatty acids are all good too.
Avoid foods with a lot of artificial additives, preservatives and fillers.
Puppies need to be fed three times a day at 8 weeks old, by around 16 weeks you can go down to two meals a day and when a pup reaches maturity most pups will do fine being fed just once daily.
But tiny and toy breeds may always need to be fed twice a day even when mature, because they use up calories very quickly and have tiny tummies which don't hold much food!
There is a LOT to learn about feeding puppies and this page would be extremely l-o-n-g if I tried to give you all the info. you need here. But, if you visit this webpage Best Puppy Food Choices you'll find the answer to 'what do puppies need to eat?' :)
What Puppy Training Supplies Do You Need?
What do puppies need for training? As with all the other categories, there are the things puppies NEED and the things you'd like them to have.
Puppy training supplies can be as basic as some dog training treats and a collar and leash - it's perfectly possible to train a puppy successfully using just these three things.
But there are also lots of other dog training supplies that can make your puppy's lessons more fun, and more effective.
These include dog dog training books and DVD's, training collars, a variety of training leashes and clicker training equipment.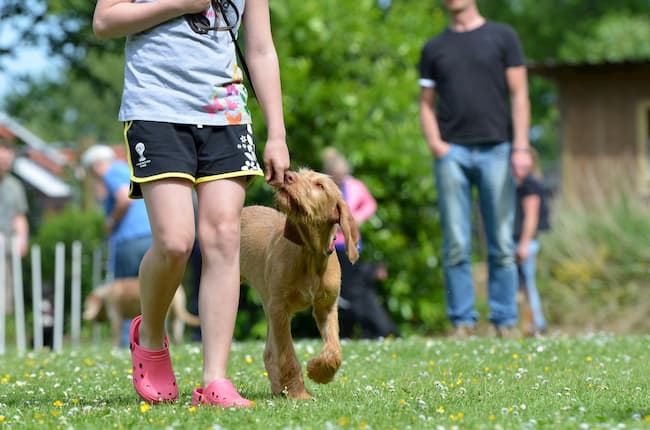 I've learned that every puppy benefits from attending at least one formal course of puppy obedience classes... and so do their owners!

Sharing lessons with other puppies is a great way for your pup to get some socialization in a controlled setting.
It's also a way for you to share tips, experiences (and even complaints) about being a puppy parent with others who are in the same boat.
What Do Puppies Need When They're Out & About?
Puppies are active little creatures, and they need an outlet for all that energy - physical and emotional.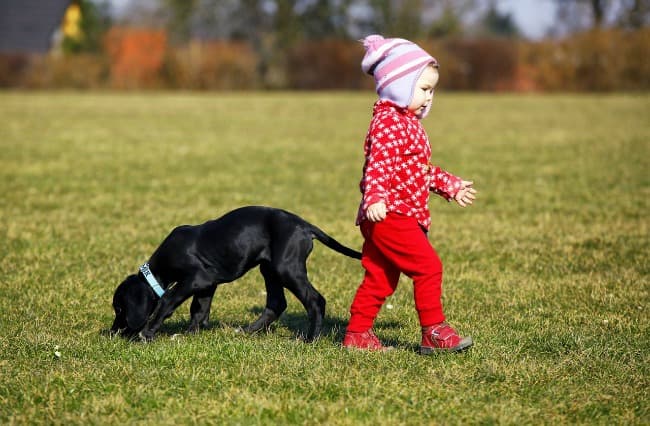 Regular exercise is important, but in the early days you'll need to find a way to make sure that your pup gets what he needs without compromising his health.
Until he's fully vaccinated your pup is vulnerable to a host of canine diseases, so keeping him away from areas that could be frequented by un-vaccinated dogs (and the dogs themselves) is vital.
If you have a fenced back yard, that's obviously the safest place for him to run around. If you don't have access to one of these, then visiting friends homes (those without dogs or with healthy, vaccinated pets) is another option.
If you have a small breed puppy, a puppy carrier or stroller can keep him up off the ground (and out of harms way) but allow him to get used to the sounds/smells/sights of the big outdoors.
Other than that you'll need to be creative in finding ways to keep your pup active indoors.
This is obviously easier when you've got a small/tiny breed, but it is possible with any size pup - you just need to make more space indoors and be ready to move out of the way, fast!
Puppy training sessions are high on the list, and one of their 'added benefits' is that they help to tire him out by exercising his brain.. but again, until he's had all his shots you'll need to stay with at-home sessions.
One of the most important things you can do for your puppy is to help him be confident and friendly in all sorts of situations, but sadly the importance of early and continued socialization often goes unnoticed in those critical early months.
Maybe that's because most puppies are friendly and outgoing and new owners don't realize that will change over time if their little one doesn't get enough interaction with other people and pets, and spend time outside of his familiar home environment.
But socializing your puppy is something that you absolutely NEED to do if you want him to grow up to be a confident, social dog who can go anywhere with you.
What Does Your Puppy Need From YOU?
So, we've taken a look at what puppies need in terms of basic puppy supplies, veterinary care, puppy food and puppy training. But we're not quite done yet!
Puppies also need a lot of time, attention and love, plus regular exercise and firm, but loving, discipline.
They need you to be patient and consistent and to always remember that they're sensitive, intelligent animals who want your love and approval more than anything else in the world.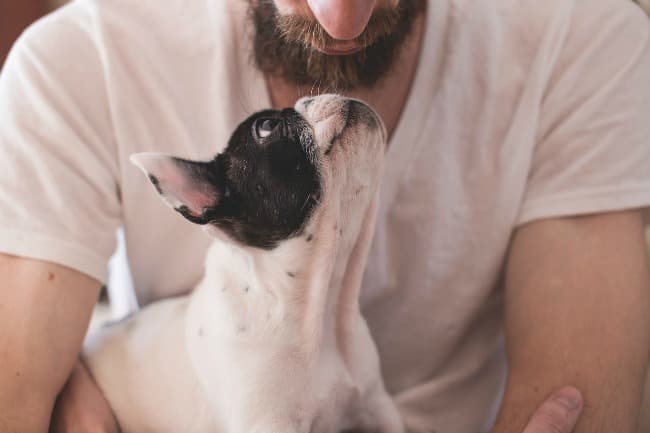 Your new puppy has just left the only home and family he's ever known, and most puppies are anxious, lonely, and even sad during their first few days in their new environment.

It will be easier for your little guy to adjust if you keep things as quiet and calm as possible for the first week or so.
Set up a routine and stick to it, don't overstimulate him (with too much cuddling, play sessions or visitors) and let him get lots of sleep and his own 'space'.
Also, remember to protect your puppy from the everyday dangers that lurk in your home and yard. Puppy proofing your home carefully is hugely important, and could even save your puppy's life.
Raising a puppy is one of the most rewarding experiences you can have, and when it's done right the results are worth every minute and penny spent.
To finish up, I found this great video that explains what new puppies need in a way that's clear and easy to follow.
It sums up a lot of what you've already read on this page and I hope you enjoy it as much as I did....
you might also like...
FTC Disclosure: Some pages on this site contain affiliate links. I may earn on qualified purchases.