FYI: If you buy something through a link on this site I may earn a commission - at NO extra cost to you.
Top 10 Essential Puppy Supplies
When it comes to choosing essential puppy supplies  you can save time and money by making sure you buy quality products that will get the job done.
Lots of puppy products are cute and shout 'buy me, buy me!'' and if you're a first-time dog owner it can be difficult to figure out what your pup actually NEEDS as opposed to what he (or you) wants. 
Years of raising and training puppies has taught me how to tell the difference, and on this page you'll find my personal Top 10 puppy must-haves.
There basics including a dog crate and a reliable odor remover, an appropriate teething toy, premium puppy food and healthy dog treats.
You'll also find a couple of extra items that make those early weeks much less stressful for everyone such as a play pen and pheromone diffuser (if budge allows).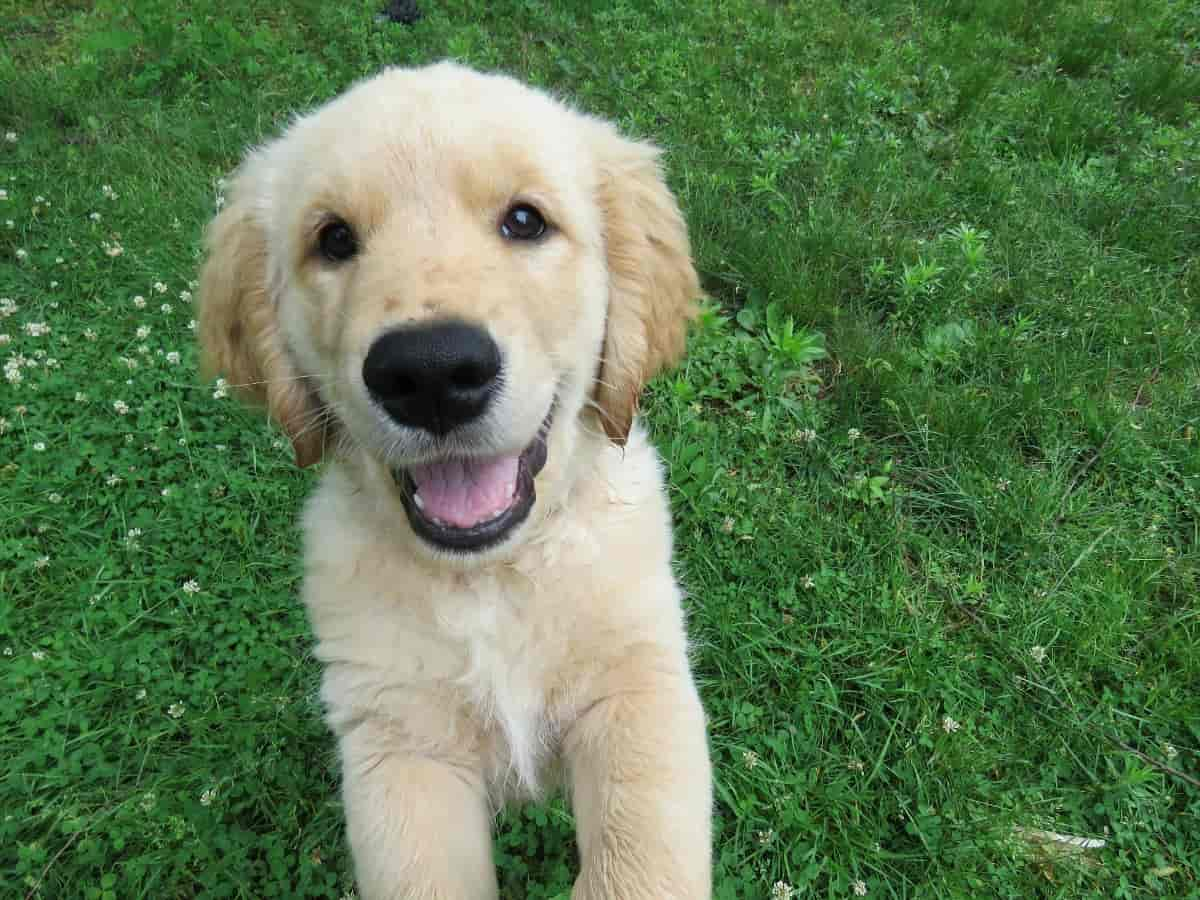 Here's a look at my Top Ten list, I hope it's helpful!


#1 Dog crate

#2 Odor remover

The items on this list are not in any particular order. I've featured my own personal favorite brands and items because these are products I know and trust, but there are usually other similar options that would also work.
#1 Dog Crate

Puppies grow FAST, so you will either need to buy two or three crates as he grows, or divide a larger crate into smaller sections while potty training (see this page for more on this). The Petmate Ultra Vari kennel I've featured below is a good, reasonably priced, choice for housebreaking, confinement and travel.
Use
Housebreaking is 100% easier if you use a crate - really, it is! Crate training works with a pup's natural instincts and so is faster and more effective.
Plastic dog crates are the best for housebreaking because they're easiest to clean.
However, although wire dog crates aren't my first choice for potty training, they do have their advantages and some pups prefer them.
Features
Easy (no tool) assembly
Easy to clean (disassemble for best results)
Heavy duty recycled plastic body
Wire side vents for ventilation
Easy latch on door
Meets most airline travel specs
Variety of sizes
#2 Stain/Odor Remover

When you're potty training a puppy there WILL be accidents, it's just a fact of a puppy-owners life. How you clean up those accidents can help, or hinder, the housebreaking process. Nature's Miracle products are my #1 favorite and I always have a spray bottle handy in my home.
Use
Regular household cleaners don't remove all traces of dog  urine, and these then attract your puppy back to the same spot.

Nature's Miracle products DO clean thoroughly, removing lingering odors so clean up urine/feces immediately,with the best products for maximum effectiveness.
Features
Bio-enzymatic formula breaks down urine, feces, vomit & more

Oxygen-infused for better stain/odor removal

Discourages growth of bacteria

Completely removes odor (pheromones) to discourage resoiling

Trigger spray for accurate application
Quick drying formula
#3 Puppy Playpen

A puppy play pen might seem like an optional extra, but it's definitely on my list of essential puppy supplies because it's such a versatile and useful piece of equipment.
Use
Puppies are small, they're quick, and they have weak bladders and sharp teeth.

It's easy for them to squat and pee on the carpet, or chew up your most expensive shoes before you realize what's happening.
A playpen makes a safe spot to sleep, or play.

If you're away for long periods of time before your pup is old enough to 'hold it' for long, you can even set the pen up with pee-pee pads for him to use as an interim potty spot.

Features
Sturdy construction

Heavy-duty, commercial grade plastic

Interlocking panels

Quick & easy set-up & take-down

Integral door with double steel latches

Lightweight & portable

Can be used indoors or outdoors

Connecting rods can be used as anchor stakes outdoors

Additional panels and/or mesh security roof can be purchased separately for most models.

#4 Pheromone Diffuser

Pheromones are natural chemicals that are produced by an animal, that cause behavioral changes in another member of the same species. Here, a momma dog's pheromones are used to calm anxious, stressed or fearful puppies (and dogs). Perfect for when you're bringing home a new puppy, and can also be used if you have a dog with noise anxiety or for separation anxiety.

Use
This diffuser releases a pheromone that is released by a nursing momma dog, to calm and reassure her puppies.
Don't expect an instant or obvious reaction, it takes a little while (sometimes several days) for the effect of the pheromones to be noticeable. For some puppies and dogs the effect is almost instant.
Once it does happen, you'll find that your puppy is more relaxed and whines/cries less... and is generally less stressed.
Features
100% natural, drug free stress reliever

Safe and non-invasive

No side-effects

Can be used multiple anxiety issues

Includes 1 refill

Veterinarian recommended
Covers up to 700 sq ft.
Scent is undetectable to humans
#5 Puppy Teething Toys

Puppies love to chew, and will chew on anything, so providing appropriate toys is hugely important... for their safety and your belongings. Chewing is also a stress relieving activity for puppies and dogs of all ages.
Use
When it comes to toys, safe, fun, sturdy playthings that can stand up to the wear and tear your puppy dishes out are essential.
To help with teething it's important to make sure they have sturdy puppy teething toys that are durable and not too hard, or too soft.
My personal favorite brand is Kong.
Features
Incredibly strong and durable
Vet and trainer recommended
Teething rubber formula 
Unpredictable bounce
Perfect for stuffing with peanut butter or Kong paste
Available in variety of sizes
#6 Collar and ID Tag

One of the first things you should do is get your pup familiar with wearing a collar, and make sure that you have a dog ID tag firmly attached to that collar. 
Use
Puppies need to get used to wearing a collar right away. 
Always choose light, soft collars (a nylon collar like the ones featured above is the best choice) for his comfort, and an easy to use clip (for yours).
To keep little Fido safe if he manages to escape from your arms, or your home, attach an ID tag with your current address/phone number/s so that anyone finding him can get him straight back home.
Features
Strong and flexible
Soft on your puppy's neck
Lightweight
Easy to clean (washable)
Eco-friendly plastic buckle
D-ring for leash attachment
Matching leashes available
ID Tags:
Anodized aluminum
Front & back personalization
Made in USA
Split ring for collar attachment
#7 Food & Water Bowls

Food and water bowls are obviously essentials for your puppy, and there are loads of different options to choose from. I'd recommend you always check the size of any bowls if you're ordering online because images don't necessarily convey scale. Bowls that are non-tip and/or non-skid are great for puppies, and can be placed on a washable mat or rug for extra stability (and mess containment!). The bowls featured below have all of that covered in one design.
Use
You need bowls to give your dog his food and water, so use is pretty much self-explanatory!
I personally recommend stainless steel bowls simply because they're hygienic and easy to clean, plus they can't be chewed up.
As mentioned above non-spill and/or non-skid designs are good for puppies (honestly I use them for my adult dogs too, saves mess).
Features
Each bowl holds 14 oz (M)
Stainless steel bowls
Rust resistant
Dishwasher safe bowls
Set in BPA free silicone mat
Raised lip on mat for mess containment
Non skid and non flip
Lifetime warranty
Choice of black or gray mat
#8 Premium Puppy Food

A premium diet is essential because what you feed your puppy has a huge impact on his future growth, health and even how long he lives. There are LOTS of puppy foods on the market, some great, some good, and many that are not-so-good. Do your research and make sure you pick a premium food that's right for your puppy. Check out my Best Puppy Food Choices page to learn more about ingredients and see which brands I like.

Use
There are loads of  puppy food options to choose from, but they don't all have the nutrition and quality ingredients your pup needs.
Some of my favorite brands include Castor & Pollux (their puppy food is featured here), Wellness and Orijen.
Quality ingredients are the #1 priority and it's important to read the ingredients list on the packaging of any puppy food you're considering. 
Features
Made in the USA
USDA certified organic 
Grain free
Nutrient dense, superfood blend
No chemical pesticides, synthetic fertilizers, artificial preservatives, growth hormones or antibiotics
Contains DHA for healthy development
#9 Freeze-dried Liver Treats

When you're training your new puppy it's important to use only positive, rewards-based techniques and the most coveted reward your puppy can get is usually a tasty treat. Praise or a favorite toy are also good rewards and some pups are not very food motivated, but they are in the minority.

Use
You take care to feed your pup a high-quality nutritious food, so it makes sense to be careful about the treats you pick too. 
Choose treats that have healthy, natural ingredients and that are free from all the chemical and synthetic nasties that are added to so many edible dog products.
Training treats should be small, and VERY tasty, that way your pup won't pack on the pounds while he's learning and he'll also be very motivated to earn one of those goodies.
Freeze dried liver is my dogs #1 pick! To see more great treat options you can also check out this page - Healthy Dog Treats
Features
Freeze dried for freshness and nutrition
Made with 100% USDA raised beef liver... and nothing else

Natural & healthy

High in protein
Only 3 calories per treat

No refrigeration needed

Bite sized for easy of use
Resealable, ziploc bag for freshness
100% customer satisfaction guarantee
When you're a dog owner, loose hair flying around the house becomes a fact of life. But, there are things you can do to reduce dog shedding and using the right dog grooming aids can make a LOT of difference. The Furminator featured here is amazing, and it's a must-have in our family, it really does remove way more hair than you'd think possible. However there are also lots of other dog grooming tools to choose from including metal combs, slicker brushes, bristle brushes and more. 

Use
Grooming your dog regularly is the best way to keep your pup's coat and skin in tip-top condition and remove loose, dead hair before it redeposits itself all over your home.

For me, this is the best tool on the market and although I do have slicker brushes, pin brushes and other grooming supplies, I use this one the most.

Features
Reduces shedding by up to 90%!

Designed by dog grooming professionals

Stainless steel blade/teeth

Handy 'ejector button' makes getting all that loose hair out of the tool a snap

Available in 3 sizes

Also available in designs for long haired dogs
you might also like...
FTC Disclosure: Some pages on this site contain affiliate links. I may earn on qualified purchases.