FYI: If you buy something through a link on this site I may earn a commission - at NO extra cost to you.
Your New Puppy Checklist
A new puppy brings a lot of love, fun, tail wagging and slobbery kisses.
But that adorable little bundle of fur is going to need a lot from you if he is to grow up to be a happy, healthy dog.

Preparation is the key and the first few weeks will be much easier for everyone if you buy the right products and equipment, and understand the basics of puppy care.
You need a checklist for puppy products (both essential and optional extras) and a checklist for puppy care responsibilities. Both are important. 
New Puppy Shopping Checklist
When you're adding a new pup to your family it's very tempting to run out and buy up half your local Pet Emporium but pet supplies can be expensive and puppies grow surprisingly fast.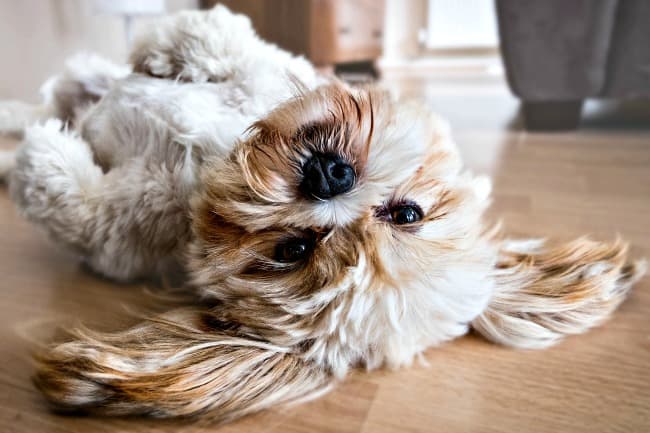 I'd recommend doing  your best to resist the temptation to waste money on things that aren't necessary, or that your pup will outgrow in a matter of weeks, unless you have $$$'s to spare!

Here's what you'll NEED to buy or get for your new puppy:
And here are some optional extras :
New Puppy Care Checklist
Having a clear idea of what your new pup needs from you, and knowing how to keep him happy and healthy, makes those first few weeks a lot less worrying.
Here's a look at your puppy care responsibilities:
Supplies Checklist - The Essentials

Here's a look at the basics you'll need to buy/borrow for your puppy's first few weeks.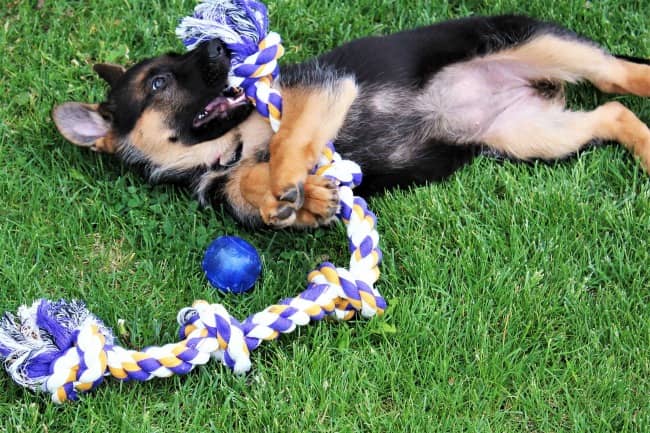 A Dog Crate
Crates are very versatile and are essential for housebreaking as well as containment during the early weeks.
Plastic crates are affordable and easy to clean. Wire crates allow your pup to see what's around him and some have optional 'divider panels' which allow you to increase your pups' available space as he grows.
It's important to choose the right size and type of crate, and to use it properly. These pages can help with that...
Puppy Pee Pads or A Portable Potty
If you don't have access to a safe, fenced outdoor area for your puppy to eliminate, you may need to set up an indoor potty spot until he's fully vaccinated and safe to take onto the sidewalk or to the park to pee/poop.
Puppy pee pee pads are fairly inexpensive and the most popular choice, but they definitely have their drawbacks too.
Portable dog potties (with either real or artificial grass) are a good alternative and have the added of advantage of preparing your pup to use the grass outdoors later on.
See some of the best options in both categories here....
Dog Urine Cleaning Products
No matter how careful you are about potty-training, the occasional accidents are a fact of life with puppies.
To remove stains and odors completely I thoroughly recommend enzymatic cleaners such as the Natures' Miracle range.


Nutritious Puppy Food
What you feed your puppy when he's young has a huge impact on his health, so it's important to choose a premium food with the right balance of nutrients. 
Some of the brands I would recommend include Wellness, AvoDerm, Orijen, Precise and Nutro.
These pages have all the info. you need to make the right choice for your new puppy...
Dog Collar ID Tags
One of the first things you need to do is to put a soft collar on your puppy and firmly attach his ID tags to it. 
It's surprisingly easy for a tiny newcomer to slip out of your yard/arms/front door - and a puppy or dog with no identification will end up in the local pound. If he's lucky. If he's not lucky it could be much worse.

Dog Food Bowls
These don't need to be fancy at first because your little one will outgrow the small sizes quickly. 
Stainless steel dog bowls or ceramic dog bowls are better than plastic ones because they're easier to keep properly clean, and can't get chewed up.
Weighted spill-proof or tip-proof dog bowls reduce mess, as do innovative non-slip designs such as Vivaglory Dog Bowls
Puppy Toys
Puppies love to play, and they really love to chew... so good, sturdy chew toys are a must!
When choosing the best puppy toys you need to take into account your puppys' size, breed and chewing style.
Dogs like Retrievers, Labradors, Rottweilers, Ptibulls and German Shepherds have very strong jaws and chew vigorously, so extra-tough toys are needed for them.
Decades of experience have taught me which types of toys can go the distance (and which ones can't) and I highly recommend Kong, Nylabone, West Paw and Orbee-Tuff toys. Also rope toys, canvas toys, natural bones and natural antlers. 
Choose bigger rather than smaller whenever possible and don't skimp here. Well-made durable toys are more expensive than cheaply made ones, but they last much longer and are, more importantly, much safer.
Teething puppies need toys that help relieve discomfort as well as keep them busy, check out this page for some of my favorites.
Training Tools
Training your puppy starts as soon as you bring him home.
Puppies learn quickly, and mastering basic manners and obedience commands is both easy and fun for him if you use positive, rewards-based methods.

Praise is always welcome to a puppy, but a tasty, healthy dog treat is the ultimate reward for a job well done! 

These pages will get you both started off on the right foot, and paw...
Grooming Supplies For Puppies
Puppies are curious, love to play, and not very skilled at keeping themselves clean and tidy.
You'll need some basic dog grooming and bathing products if you want to keep little Fido presentable.
At first, a simple brush, some nail-clippers and a puppy shampoo are enough. As your pup grows you can add more goodies to your grooming arsenal. 
Find the supplies and advice you need right here...
Here are a handful of 'extras' that you might want to buy for your new 'baby'. Not essential but they can be nice to have... and fun to buy.


Dog Bed or Crate Pad
Personally I wouldn't advise putting a soft crate pad/bed, or any other type of soft bedding in your puppy's crate at first.
The reason for this is two-fold.... firstly, your pup will most likely chew it up, and secondly he'll also be very likely to pee on it!
But if you want to get a bed to put in the living room or bedroom for naps and such, just don't put it in his crate, and choose a chew-proof design if at all possible.

Dog Clothes and Outfits
Most puppies don't need anything other than their fur to keep them warm (unless the weather is extremely cold/wet)... and outfits are for their owner's enjoyment, not theirs!
BUT there's nothing wrong with getting your little pup a nice coat, sweater, dress or whatever takes your fancy.
Shoes can protect small paws when the weather's bad, collars can be way more than just practical, and hair accessories or collar 'bling' are adorable.
In this area you can buy whatever your taste and/or budget allows :)


Pheromone Products For Anxiety
Puppies are often very stressed and anxious during the first few days in a new home. 
They've been through a big change and can be homesick, sad and scared.
Pheromone products use natural scents emitted by momma dogs that calm and relax anxious puppies. You can buy collars, room diffusers and sprays.
We use these a lot in our home for new puppies, anxious older dogs, during house-moves, for car trips and so on. They're usually very effective and totally safe.
Get a closer look at these products here... Dog Pheromone Products
New Puppy Care Checklist

A well-cared for puppy, bred from healthy parents, and who has had his first vaccinations and de-worming treatments is off to a flying start.

After that it's your responsibility to make sure that he gets all the remaining vaccines and parasite treatments he needs. Plus you need to ensure he eats a nutritious diet and gets the right training and socialization.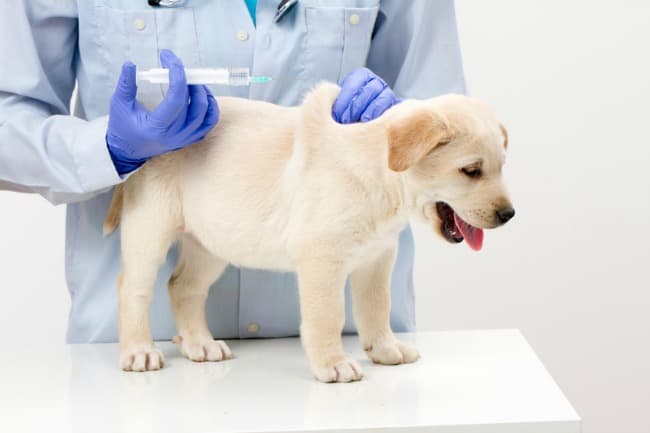 Puppy vaccinations
Making sure your pup gets the right puppy shots, at the right time, is an important part of your puppy care responsibilities because puppies need to be protected from various common, contagious diseases. However over-vaccination concerns are also valid so in addition to getting the CORE vaccines taken care of, discuss the requirements for your particular area and situation and only add others if needed.


parasite prevention & treatment
Internal and external parasites like worms, fleas and ticks can make your puppy very uncomfortable. They can also make him sick. Preventing and treating infestation is important. Heartworms are also a potential risk for all dogs and should be protected against, or at the very least tested for once or twice a year.


housebreaking
Potty training your puppy is one of the very first, and most critical, jobs that you have as a new owner. Establishing good potty habits from day one will make everyone's life a lot easier.


A Healthy Diet
Feeding your puppy properly is much too important an area to leave to chance. What he eats now will play a big role in determining how he grows and develops and even affect his overall health and longevity. Check out this page for all the help and advice you need to get it right... All About Puppy Kibble.

puppy proofing your home & Yard
Puppies are naturally inquisitive, and also operate on the assumption that just about anything is edible... until proven otherwise. This can, and often does, lead them to chew things, eat stuff which isn't safe, and generally get themselves into risky situations. Puppy proofing your home and yard will help keep your little one safe, and also protect your home and belongings.


puppy obedience training
Your puppy will grow up quickly, and you need to make sure that he learns how you expect him to behave, and to respect/obey you, as soon as possible. Regular practice of basic commands at home and also attending organized group classes are both very important. My Puppy Training page will get you started off on the right foot, and paw.


exercise & rest
Puppies need room to run and play, and enough exercise to keep them healthy. They also need lots of sleep. The old saying 'a tired puppy is a good puppy' is very true, but don't overdo it. Your tiny pup needs lots of naps and a good night's sleep in order to grow and develop properly.
socialization
Puppy socialization is something that often seems to slip through the cracks, but it's a hugely important part of your pup's training and early experiences. Help little Fido to grow up to be a happy, confident and friendly dog by socializing your puppy properly.

behavior corrections
Puppies are just babies, but they're baby DOGS, and they operate mostly on hard wired canine instincts to begin with. Learning about normal puppy behavior, and how to deal with problems such as nipping, chewing, whining in the crate and so on, is important. Correcting them properly and shaping your pup's behavior early on will make for a  happier, healthier and stronger relationship... and a confident, happy dog.


I hope that the checklist details on this page have helped you set up for your new arrival and pointed you in the right direction.
My website has all the tips and advice you need to raise your puppy properly, so please enjoy browsing and come back often. Good luck!
you might also like...
FTC Disclosure: Some pages on this site contain affiliate links. I may earn on qualified purchases.