FYI: If you buy something through a link on this site I may earn a commission - at NO extra cost to you.
Puppy Food Reviews
Puppy food reviews are a very useful tool when you're trying to choose the best diet for your new furbaby.
There are five puppy food reviews on this page from premium dog food brands. Each short review takes a quick look at the main ingredients and also the percentage of protein, fat and calcium in that specific formula.
Puppies of different breeds/sizes have completely different nutritional needs, so be sure to pay attention to whether a puppy food is formulated for a specific size (ie large breed or small breed puppies) or is more general.
These puppy food reviews are not listed in any particular order.
The last food is as good as the first one!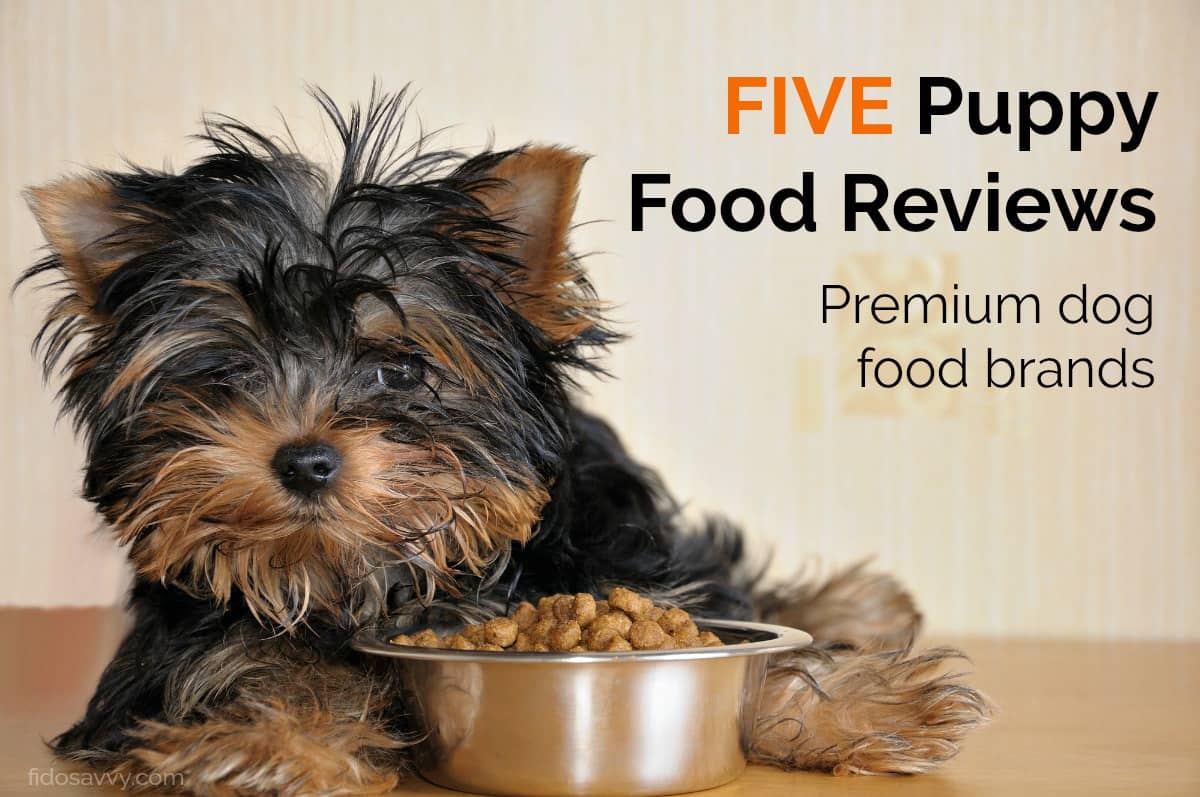 Wellness Complete Health Natural Dry Puppy Food,
Everything you want, and nothing you don't! This Chicken, Salmon & Oatmeal holistic formula provides an optimal balance of nutrient-rich whole foods.
No wheat, corn, soy, by-products or artificial additives. Contains antioxidants, probiotics and omega fatty acids.
Protein.... min 29%
Fat........ min 18%
Calcium... min 1.2%
There is also a grain free Chicken & Salmon option. Same quality of ingredients and formula. Protein content is higher at around 32%
ORIJEN Puppy, Biologically Appropriate & Grain Free
A high protein, high fat, low carb, grain free puppy formula.  High meat content replicates the natural diet of a dog in the wild (carnivorous).
85% fresh meat/fish (6 different meat sources), 15% fruit and vegetables - all human grade ingredients.
Protein.... min 38%
Fat........ min 20%
Calcium... min 1.2%
Precise Naturals Small & Medium Breed Puppy Formula
Natural formula containing chicken and lamb protein, brown rice plus vitamins, easily absorbed minerals, and natural antioxidants to help build strong bones, tissue and teeth.
Protein.... min 29%
Fat........ min 19%
Calcium... min 1.3%
Nutro Ultra Puppy Food With A Trio Of Proteins
This superior holistic puppy formula is full of all-natural, whole ingredients including a trio of protein sources, whole grains and a super-food blend which includes kale, spinach, sunflower oil, chia seeds, blueberries and much more.
Also a great source of essential fatty acids, DHA and antioxidants.
Protein.... min 28%
Fat........ min 15%
Calcium... min 1.2%
Also available in a large breed  puppy formula with same high quality ingredients. The protein percentage is slightly lower at a minimum of 26%.  This is better for large breed  puppies who grow extremely fast.
AvoDerm Natural Puppy Food, Chicken & Brown Rice Formula
A large breed formula designed to provide the essential nutrients for proper joint, bone and muscle growth in large breed puppies.
Uses only quality ingredients to provide the highest level of balanced nutrition. A good choice for pups who have food sensitivities or allergies.
No wheat, corn, soy or artificial colors. Contains vitamins, minerals, essential fatty acids, antioxidants (including DHA) and everything else a big puppy needs.

Protein.... min 26%
Fat........ min 16%
ingredients are the key!
The key to the quality of any puppy food (or dog food for that matter) is the ingredients. 
The quality of those ingredients, and the order and ratio in which they appear are hugely important. Make sure your pup gets the nutrition he needs to grow up healthy and strong by doing your research and choosing wisely. 
Check out the Related Pages section below for more tips, advice and information on puppy food and how to find the right (best) one for your pup. 
you might also like...
FTC Disclosure: Some pages on this site contain affiliate links. I may earn on qualified purchases.