FYI: If you buy something through a link on this site I may earn a commission - at NO extra cost to you.
Delicious Dog Birthday Cakes

A selection of the yummiest dog birthday cakes around! Whether you want a recipe, recipe book, baking supplies or a delicious ready-made cake, you'll find it here.
If you want to make any dog party a success, then a tasty cake for the birthday boy or girl is a must!
Of course, you don't want to run out and buy a regular 'human' cake, the ingredients in it are NOT suitable for dogs, and all the little guests are likely to end up with upset tummies.... or worse.
But, there are lots of ways to make sure your puppy or dog gets the treat he deserves, safely.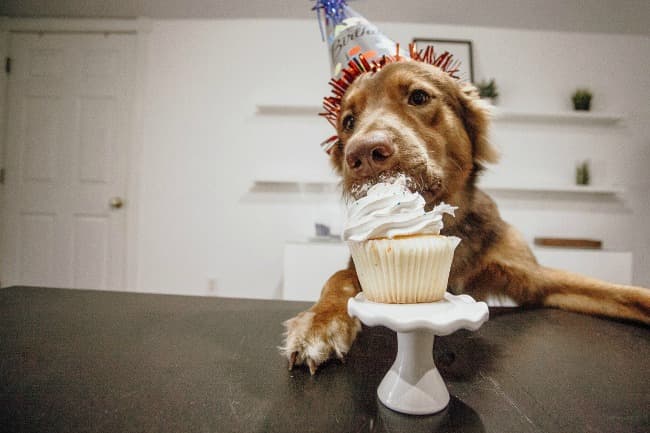 Ready-made Gourmet Dog Birthday Cakes

No matter what your dog's age, taste or style, there's a cake to suit him right here. Delicious taste combinations that look as good to us as they taste to your dog.
Get the party started right with one of these yummy treats......


Dog Birthday Cake Mixes, Cookies & More

And now for the very best of the dog birthday products (at least your dog might think so!) - the birthday cake.
You can't just whip up a chocolate spongecake and give it to Fifi (click here to learn what foods are poisonous to dogs, and here to find out why chocolate is so dangerous for your pet), but I've found some wonderful cake mixes that have been specifically designed for our canine companions.
Some dog cake mixes come with a baking pan and/or other extras. If you're doesn't, or you're planning on making a home-made cake here I've also added doggie-themed cake pans, cookie cutters, recipe books, edible birthday cards and more.


Dog Treat Baking Accessories
Baking homemade dog birthday cakes or treats is really simple, and it ensures that only the very best ingredients go into those goodies. 
You don't NEED any special equipment, regular baking tools work just fine and your dog doesn't care what shape his cake or treats are! But if you're having a dog party, or just want to do something special for  his big day, here's a selection of some great items that can help you get those professional-looking results for a fraction of the price of gourmet or store-bought items.
Dog Birthday Cakes - Recipes & Ingredients

There are two ways to approach preparing a birthday cake for your pooch. Most regular 'human' cake recipes are not entirely suitable for dogs but can be used if they're modified to omit any dangerous or toxic ingredients.

Pumpkin Carrot pupcakes with peanut butter frosting

(courtesy of Wiggleworthy.com)
For example, you can follow a traditional cake recipe but substitute wheat flour for the regular white flour, and make sure no chocolate or nuts are used.

Carob products are a dog-safe alternative to chocolate. You can also add mashed bananas for a little extra flavor if you'd like to.
The traditional sugar frosting isn't a good idea, but on dog birthday cakes there are several other options you can try. Good frosting alternatives include
Peanut Butter (organic is best)
Cream Cheese
Cottage Cheese
You can decorate your dog's birthday cake with tiny dog bone biscuits, dog yogurt drops or something similar. If you don't want to use proper candles, 'Pupperoni' sticks make a great, edible alternative.
You can also make a super-easy, totally dog-friendly cake by following the recipe below. 
And for a great selection of the tastiest, healthiest dog treat recipes (including pupcakes!) check out Wiggleworthy.com  
The Burger Birthday Cake

1lb ground minced beef
2 medium sized carrots
1 cup cooked rice (white or brown)
1 egg, beaten
1/2lb cooked collard greens
6 strips bacon, cooked
1/2 cup grated cheese
Mix all the ingredients (except the bacon and cheese) together in a large bowl.
Divide mixture into two.
Put 1/2 of the mix into a greased, lined 9" cake pan and spread out evenly
Arrange the bacon strips on top of this layer and sprinkle with the grated cheese.
Top with the second half of the mixture and spread out evenly.
Bake at 350F (180C) for about 45 minutes to an hour, or until cooked through.
Pour off any excess fat and allow to cool before removing from the pan.
This cake can be frosted with any of the above frosting and decorated in the same way.
(Adapted from The Good Food Cookbook for Dogs: 50 Home-Cooked Recipes for the Health and Happiness of Your Canine Companion- one of my favorite books of canine recipes and goodies!)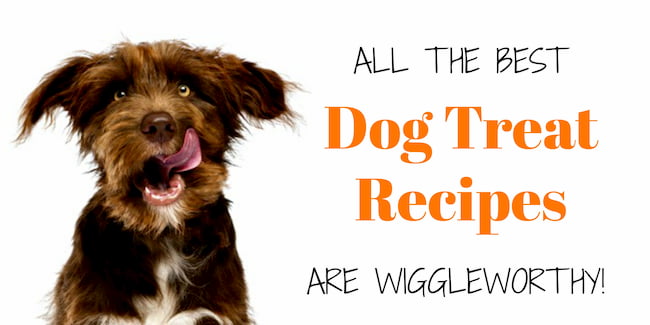 you might also like...
FTC Disclosure: Some pages on this site contain affiliate links. I may earn on qualified purchases.