FYI: If you buy something through a link on this site I may earn a commission - at NO extra cost to you.
Fun Dog Party Games
No party is complete without a few fun games, and your pup's birthday bash is no exception!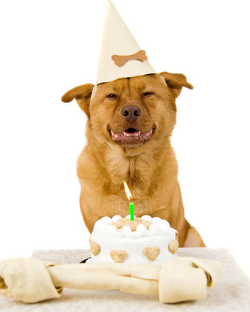 If you're throwing a party for your pup, you'll want to make sure that everyone has a good time - especially the birthday boy or girl!
Of course, just running around with his friends and eating all those birthday 'yummies' makes your puppy happy, but some organized activities can really put the 'oomph' in the party spirit and it's fun for the puppy parents too.

So, to make sure your furry little guests (and the two-legged un-furry ones!) won't be bored I've put together some great fun ideas for party games that dogs of all ages, and sizes, will love to play.
In fact, those little party animals will have a howling-ly good time and be begging for more!
A Busy Puppy is a Happy Puppy

Fun games are a great way to keep all those little four-legged party-goers interested and out of mischief.

We dog-parents LOVE to show off our pooches so 'competitive games' are always popular and lots of fun for both the 2-legged and 4-legged party guests.
Then there are simple activity-games, door prizes and more. Here are some fun and creative ideas to get you started.......
Catch The Treat

For this dog party game you need to have all the pups sit in a row (if they're young or unlikely to stay put for more than 2 seconds, have them on leashed and someone to hold onto them).

Get their puppy parents to stand approx. 5ft in front of them. Each owner is given 10 small, tasty treats which they've got to toss to their pup, one treat at a time.
The dog/s that catch the most treats is the winner!
Fetch!
Have the puppy parents stand in a row, with their pups sitting beside them. Every parent has a ball/stick to throw.
At a signal, all the puppy parents throw their ball or stick and tell their puppies to 'Fetch'.
The first pup to fetch AND GIVE UP their object to their owner is the winner!
* If there's not a lot of space, or your puppy parents throw the sticks/balls too far and confusion sets in then you can crown the pup that brings anyone's object back as the winner :)
Best 'Party-Trick' Competition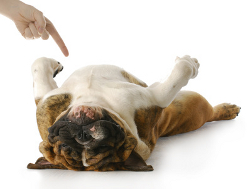 For this game you'll first need to pick two or three 'Judges'.
Then get each puppy parent to have their dog perform their very best trick and the judges get to decide which trick was the best/coolest/funniest etc.
If you like, instead of tricks you can use obedience commands such as 'sit, down, stay'.
The judges can decide who obeys the commands the fastest/most accurately etc.... you may even want to have a prize for the biggest failure :)
Musical Chairs

In the doggie version of this old favorite, all the puppies are leashed and walk around with their puppy parents while the music is playing.
When the music stops all the pups are told to 'sit'. The last one to get his butt to the ground is OUT!
Obstacle Course Run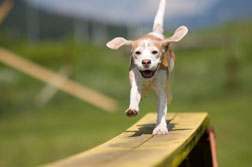 If your party is being held outside and you have plenty of space, an obstacle course makes a great dog party game.
You can borrow, buy or make obstacles such as jumps, tunnels and ramps. Let your imagination run wild - the dogs will love it!
There can be prizes for the pup that completes the course in the shortest time, the most creative interpretation of obstacles, the happiest competitor etc.
You could even give a consolation prize for the clumsiest or slowest pup. There's definitely plenty of room for improvisation here!
Dog Party Door Prizes

Your imagination is your only limit on this one. Here are a few ideas to kick-start your creativity:
the biggest guest
the smallest guest
the shaggiest guest
the best-dressed guest
the best-behaved guest
Check out this link to a great website where you'll find lots more great Kids Dog Games and dog-themed birthday party ideas for kids of all ages.
Best Prizes For Dog Party Games
If you're going to have lots of games, or lots of party-goers, you don't want to make the prizes too expensive or fancy (unless money is no object of course!).
Edible prizes are always well-received, and you can buy some special dog treats for the occasion.
There are lots of tasty goodies to choose from, including gourmet treats, or you can get fancy and make them yourself.
Toys can be more expensive to give because the cheaper ones are often not very well made and might be dangerous for the guests, but edible 'toys' such as natural antlers, bully sticks can be good choices and rope toys are always fun and inexpensive but fun.
Giving the little guests Party Favor Bags to take home are a nice way to round off a fun day too.
Home

›

How To Throw A Dog Party
› Dog Party Games