FYI: If you buy something through a link on this site I may earn a commission - at NO extra cost to you.
A Raw Food Diet For Dogs

A raw food diet for dogs (aka BARF diet, which is short for 'Biologically Appropriate Raw Food' or 'Bones And Raw Food') is an evolutionary appropriate way to feed your dog.
This means is that it's much closer to what your dog would eat if he were running around in the wild and choosing his own food, rather than playing fetch in your back yard and waiting for you to pour kibble into his bowl.
What Exactly Is a BARF Diet?

When you feed a raw diet to your dog, meals are based around raw, meaty bones and whole fresh  carcasses such as chicken, duck, rabbit, fish (but not raw salmon), veal and so on.
Offal (organ meats) are also included as is raw 'green' tripe. Raw Pork isn't generally recommended because it can contain the virus which causes a disease called 'pseudorabies'.
However if you do want to add Pork to a raw food diet for dogs, it's best to freeze it for several weeks before using as this will kill the virus.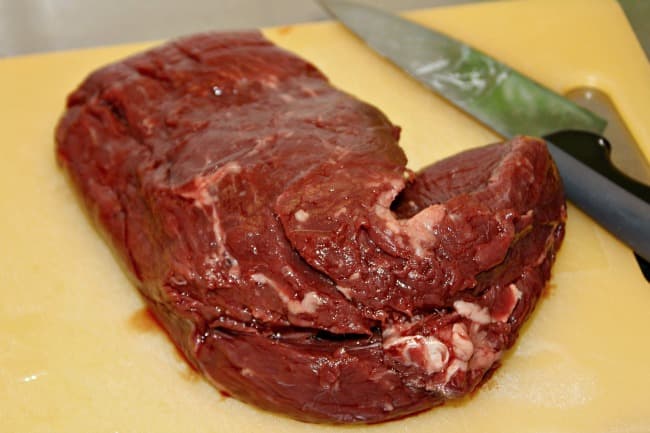 Whole eggs (including the shells), yogurt, cottage cheese and even some nuts can be given plus a healthy serving of finely ground or juiced raw fresh fruit and vegetables.
Grains aren't necessary, but if you want to add some type of grain, try oats or brown rice.
Any meat used in a raw food diet for dogs should be human-grade, preferably organic, and free from any artificial additives, preservatives etc.
In Europe, feeding a raw food diet for dogs is much more common than it is here in the US, and veterinarians often recommend it.
Although it's different in the USA right now, feeding raw dog food is definitely becoming more popular, especially since the dog-food recalls and scares of the previous few years.
Here's a wonderful video presented by Australian Veterinary Surgeon Dr Ian Billinghurst, author of some of the most definitive books on the BARF diet.
It's fairly long, but very comprehensive and if you're seriously considering a raw food diet for your dogs it's absolutely worth watching....
The Benefits Of Raw Dog Food

There certainly seem to be a lot of good reasons to consider a raw diet for dogs - and although the majority of them are to the dogs' benefit, there are some 'pluses' for you too!
Some of the most common benefits include:
Drawbacks Of Feeding Raw

Of course there are two sides to every coin, and there are drawbacks associated with feeding a raw dog food diet.
Some of the more common ones include:
Also, bear in mind that puppies have very specific and unique nutritional needs. Although a raw food diet is fine for an adult dog, it is usually not recommended for a puppy because it is tricky to meet a fast-growing puppy's demands.
For the first year or so (longer for large and giant breeds), feeding a premium commercial puppy food may be the best way to keep up with his body's needs. THEN you can switch to feeding raw once he's mature.

If you DO decide to feed your puppy a raw diet, take extra care to make sure the balance of nutrients is correct, and that you change them to keep up with his needs as he grows.
As always, do talk to your vet if you have any questions about your puppy, or dog's, diet.
Also, a good book is always helpful when you're starting out with something new. Any of these titles are a good place to start:
Tips For Feeding Your Dog A Raw Diet

Meat should make up between 50 and 70% of a raw food diet for dogs, within that figure it's recommended that you should have a 1:1 ratio of bone to meat.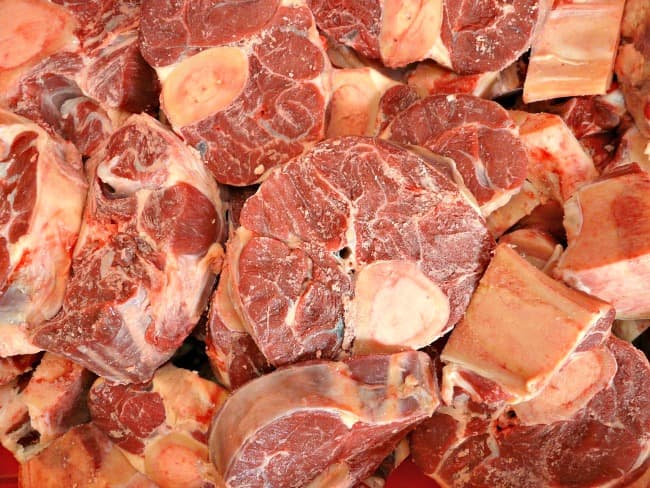 That means that the smaller bones which have almost an equal amount of meat to bone, are better than a huge bone that only has a little bit of meat on it. The remainder of the nutrition comes from fresh, raw fruits and vegetables

Aim to feed about somewhere between 2 and 3% of his body weight in raw food per day.
For example, a 50lb dog will eat approx. 1lb - 1.5lbs of raw food per day. Divide that amount between two meals if possible.
When it comes to the type of fruit and vegetables to use in a raw food diet for dogs, all things are NOT equal!
Some of them can cause an upset tummy, or worse - could possibly cause canine bloat in large, deep-chested breeds. Others are actually toxic. Here's a short list of the ones that are recommended, and those that are best avoided.
Bear in mind that it's not an exhaustive list though!
Good:
Carrots, Parsley, Celery, Zucchini, Potatoes (but WITHOUT the skins), Cauliflower, Leafy Green Vegetables (such as Mustard Greens, Brussel Sprouts, Romaine Lettuce), Peas, Parsnips, Peanuts, Walnuts, Almonds, Strawberries, Blueberries, Apples, Bananas, Pears, Melons.
Bad:
Others can even be toxic) Onions, Garlic, Broccoli, Beans, Turnips, Cabbage, Grapes, Raisins, Macadamia Nuts, Tomatoes, Peppers, Cucumbers
Here are a few more tips and 'nuggets' of wisdom.....
Experts in feeding a raw food diet for dogs believe that you can usually switch a dog from commercial food to a raw diet quickly and without him suffering from digestive upset.
This applies to healthy young dogs who don't have gastro-intestinal or immune system problems. However, if your dog is older, or has digestive/immunity or other health issues, you may need to take things a little more slowly.
Australian Veterinary Surgeon Dr Ian Billinghurst has written some excellent books for dog owners who want to feed their dog a raw diet.
There's something for everyone, from 'first-timers' to professional dog breeders......
If you'd like something more 'hands-on', check out this comprehensive e-learning course by UK dog-care professional Sharon Bolt.

It'll teach you absolutely everything you need to know about the BARF diet, and how to use it to help your dog in so many ways. 
Click on the image below to find out more. No obligation to buy, just more information :)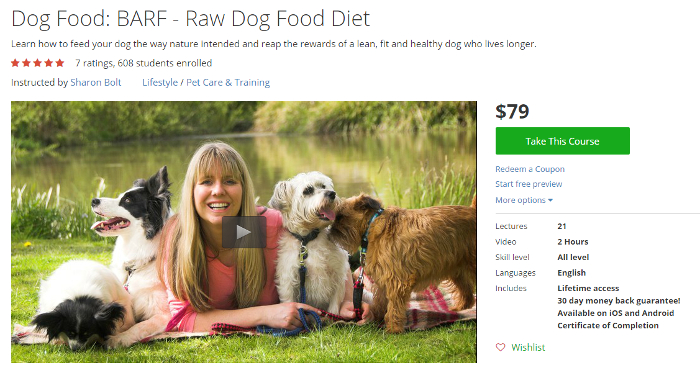 A Few Final Words.....

There are supporters on both sides of the commercial dog food and raw dog food debate, and you'll find that there are most definitely 'pros and cons' to each choice.
An appropriate and nutritious diet is vital to your dogs' health and longevity, and whichever route you take (raw, commercial or home-made) the 'proof of the pudding' is in the health and overall condition of your dog.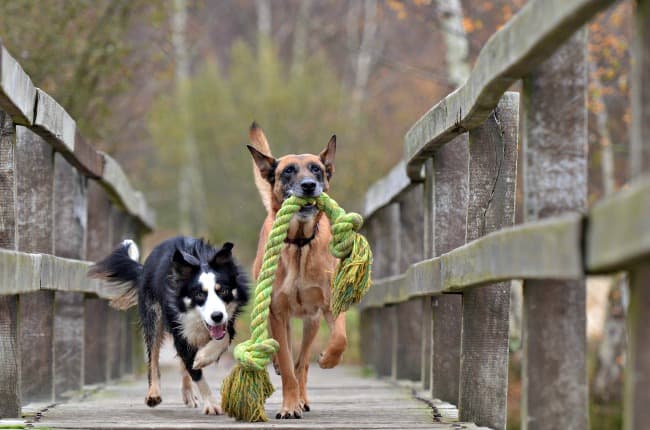 If you feed a premium dog food and your dog is healthy and full of energy, has no allergies or skin problems, and no degenerative, digestive, or immune system problems, and you're happy with the food you've chosen, then THAT is probably the best choice for you and your dog.

The same applies to a raw food diet for dogs, or even a 'semi-raw' option, be it dehydrated, frozen or pre-made meals.
A happy, healthy dog is what you're aiming for....... what path you take to get there is decided by your own choices, needs, lifestyle and so on.
Just give it some thought and then choose the option that feels right for you (and your pet!).

you might also like...
FTC Disclosure: Some pages on this site contain affiliate links. I may earn on qualified purchases.