FYI: If you buy something through a link on this site I may earn a commission - at NO extra cost to you.
Dog Travel Resources Guide
These dog travel resources will help you plan, execute and enjoy your Fido-friendly trip whether it's a road-trip weekend, interstate air travel, or an international move.
Traveling with your dog is more fun, and less stressful, when you plan ahead and have all eventualities covered.
An accident, illness, lack of proper paperwork, forgotten medication, accommodation that isn't dog-friendly.... all of these are avoidable with a little forward planning and preparation.
The resources below cover dog air travel guidelines and regulations, dog car travel safety, pet-friendly accommodation and activities and a whole lot more.
Wishing you happy (and safe) travels!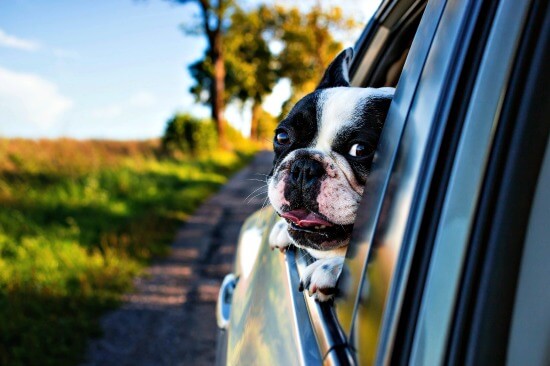 Dog Travel Resources - Airlines
Dog air travel is fraught with rules, regulations, restrictions. 
Some regulations are enforced by law and apply to travel on all airlines, other individual policies vary from one airline carrier to another.
On some airlines you can fly with your small dog in the cabin, and larger dogs go in the cargo hold.
Other airlines don't allow cabin travel for anything other than a service animal.
It's hugely important to thoroughly study the pet travel policy of the airline/s you are using and to make certain you meet all the criteria and paperwork they require.
The list below contains links to the pet travel policy of some popular airlines...
For the pet air travel policies of many other airlines visit this page Airline Pet Policies
To learn more about USDA guidelines and requirements for dog air travel with an international destination check out this page USDA Animal & Plant Health Inspection Service: Dog Air Travel
When your dog is en-route (but not actually on the plane) you'll want to know where he can go to potty, drink or exercise.
Most airports have designated areas for all of these things.
Check out this page to see what dog-friendly amenities are available at US airports across the nation... by visiting Petfriendlytravel.com's page on air travel with pets.
Dog Air Travel Resources - Amtrak
If you're using Amtrak for your travel, you may be able to take Fido with you, depending on the route you're taking, the size/weight of your dog and more.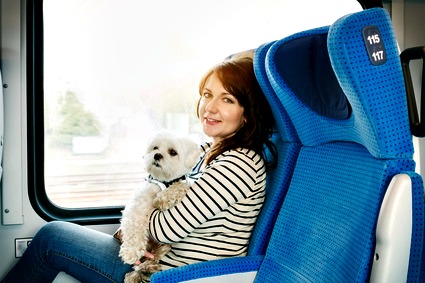 Service animals are allowed in the passenger carriages of all Amtrak trains at any time.

Amtrak's regulations do NOT consider emotional support animals, personal support animals, search & rescue dogs or police dogs to be service animals. 
Pets & non-service animals are restricted by Amtrak's regulations for 'carry-on pets' which include:
Available on some routes, with a max trip length of 7 hours
Reservation must be made in advance
Only one pet per person
Must be in a pet travel crate or carrier whose maximum size is 19"L x 14"W x 10.5"H
Combined weight of pet and crate/carrier must be a maximum of 20lbs
Minimum age of 8 weeks
Up to date on vaccinations
You can find full details on Amtrak's carry on pet travel guidelines here... Amtrak Carry-On-Pet Policy
Also, get information on traveling with a Service Animal here... Amtrak Service Animal Policy
Canada Rail allows service animals to travel in the passenger cars at any time but pets or other animals are not allowed to do this at any time.
Pets must travel in a rigid travel in the baggage car (not all trains/routes have baggage cars)
No air conditioning means pets are not allowed to travel between June 1st and Sept 30th
You can check to see if the train/route you're planning to take has facilities for your dog, and book your travel using this online system ViaCanada Rail Fare & Train Search
Find full Canada Rail dog travel information here... ViaCanada Rail: Traveling With Pets
Check out this page to learn more about the pet travel guidelines and restrictions on national and international rail networks... PetFriendlyTravel.com/pet-travel-by-train/
Dog Travel Resources - Ocean Cruises & Ferries
If you're planning on taking to the high seas, taking Fido along is going to be almost impossible, unless he's a service dog.
Even that's not a slam-dunk because not every cruise line allows even service animals on their ships.
Most cruise lines generally don't allow pets on board at all, or if they do they must stay in designated kennel facilities away from guest quarters.

You can find the regulations for each cruise line here... AllThingsCruise.com/Cruise Line Pet Policies
Alternatively, if you just want to hop (or drive) onto a ferry, the chances are good that taking your dog along will be just fine.

However there's a wide variety of rules, regulations and restrictions which vary, a lot, from one ferry line/route to another.
Some allow leashed pets on deck, others require them to be kenneled in a separate area. 
Others allow crates/kennels and leashed dogs (and even cats) on all areas of the ferry.
There are way too many variations to cover here, and multiple ferry companies and routes.
The best way to find out exactly what the pet travel policy is for the ferry you're planning to take is to call the company direct, or visit their website.
Dog Travel Resources - Road Trip
Of course no dog travel resources guide would be complete without looking at the good old dog-friendly road trip!
Dog car travel is much simpler than traveling by air, rail or water when Fido's along for the ride.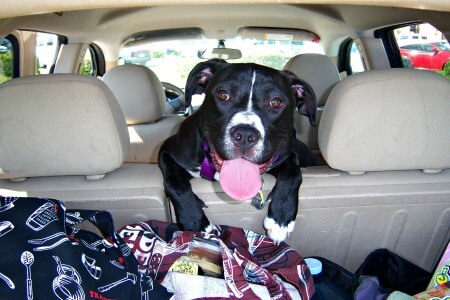 YOU are in control of just about everything (barring traffic or weather conditions) and this makes traveling by car with your dog the most popular choice, even for long-distance road trips.

Check out this page, Traveling With Your Dog, for all the tips and advice you need to make your journey, and vacation, safe and fun for everyone.
Preparation can make the difference between a relaxing trip and a stressful one.
So think ahead and make sure you have all your ducks in a row before you set off.


Dog Friendly Hotels
Reserving dog-friendly accommodation at your destination (and en-route) ahead of time is smart. 
Many hotel chains accept pets in their rooms, but the policies and charges differ and there may be weight and/or breed restrictions.
The most popular US hotels which have pet policy options include:
Aloft Hotels
Clarion

Comfort Inn/Suites
Country Inn & Suites by Radisson
Days Inn
Econolodge
Embassy Suites
Fairfield Inn & Suites
Four Points by Sheraton

Hilton Hotels

Holiday Inn

Howard Johnson (at select locations)
Hyatt Place
Kimpton Hotels
La Quinta Inn & Suites
Mainstay Suites

Marriott Hotels

Motel 6

Quality Inn & Suites
Ramada

Red Roof Inn
Residence Inn
Rodeway Inn
Sleep Inn
Staybridge Suites
Springhill Suites
Super 8

Travelodge
Westin
Best Western
There are a four hotel chains that I know of who don't charge for your dog to share your room:
Most LaQuinta Hotels don't charge for pets and have a generous weight limit of 50lbs per pet
You can find pet friendly hotels organized by city and state here... Hotels.petswelcome.com

Rental properties that happily accept pets can be found here... Rentals.petswelcome.com
And of course you can also book your accommodation through Expedia, Trivago, AirbnB, FRBO, direct with the hotel etc. etc.
If you're going to be visiting, or live in, Canada check out Canada's ultimate online directory for pet friendly vacations.
The PET FRIENDLY Canada accommodations directory  features pet-friendly cottages, cabins, B&Bs, and other lodging that welcome pets, you're bound to find just what you're looking for.
If you're looking for dog friendly accommodation in the UK, this page will point you in the right direction... Dog Friendly Hotel chains in the UK 
You can also find links to dog friendly UK B&B's, self-catering and more on the same website.
Dogfriendlyscene.co.uk also has some wonderfully picturesque pet friendly accommodation listings. Houses, cabins, cottages from all areas of the UK. I'd LOVE to stay in one of these!
Finally, the InterContinental Hotels & Resorts Group owns over 5,000 hotels worldwide (including Holiday Inn, Crowne Plaza, Staybridge Suites, Candlewood Resorts and more).
Check out IHG's selection of pet-friendly hotels worldwide right here.... IHG Pet Friendly Hotels
Dog Friendly RV and Camping Locations
If you're the proud owner of an RV and like to hit the open road with Fido as your co-pilot, there are many great dog friendly RV Parks across the US.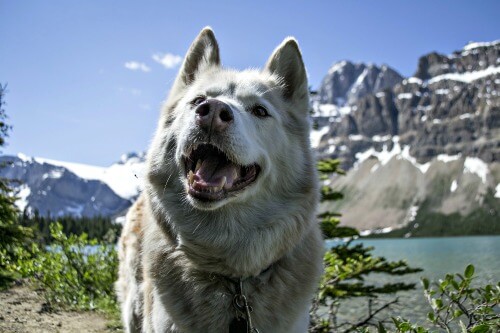 This Tripsavvy.com article features some really good ones... The 7 Best Dog Friendly RV Parks in the US

Whether you prefer an RV, cabin or tent, there are tons of great campgrounds to choose from both in the US and across the globe.
For the best pet-friendly RV and Camping grounds around the world, check out this article Top Pet-Friendly Campgrounds Worldwide
And here are the Top 10 Dog Friendly US Campsites as listed by petmd.com 
Dog Friendly Locations/Activities/Restaurants & More
When you're on vacation you want your dog to enjoy the down time with you, so it's important to know what dog friendly resources and activities are close by.
Look for parks, beaches, restaurants and events which welcome dogs.
Check out the list of dog friendly beaches in the US... Dog Friendly Travel: Beaches
Here's an updated list of the best dog friendly National Parks in the US... Best Dog Friendly National Parks
If you're visiting the UK, this page can point you towards the best dog friendly beaches over there.
What about restaurants and cafes? Well, there are more and more of these popping up every week.
This website lets you search for pet-friendly restaurants  in both the US and Canada and it's a great place to get started...  PetFriendlyRestaurants.com/restaurants
It might help to know want what People.com thinks are the most dog friendly restaurants in the US. Check out this article at People.com to find out.
you might also like...
FTC Disclosure: Some pages on this site contain affiliate links. I may earn on qualified purchases.