FYI: If you buy something through a link on this site I may earn a commission - at NO extra cost to you.
Dog Friendly Vacations Guide
Taking dog friendly vacations makes sure that your pup or dog can share in the relaxation and fun times that the human family members look forward to all year!
But, setting out on dog friendly holidays isn't as easy as jumping in the car and pointing it towards the ocean, or wherever you're planning on spending your two weeks of R & R.
If you want everyone to have a good time, and your trip to be more fun than fuss, then a little bit of preparation can go a long way.
Some modes of transport are more dog-friendly than others. The same goes for hotel chains, beaches and parks. 
It's definitely worth checking ahead to make sure that the accommodation you choose will welcome four-legged family members, and to make a note of which attractions and venues are dog-friendly too.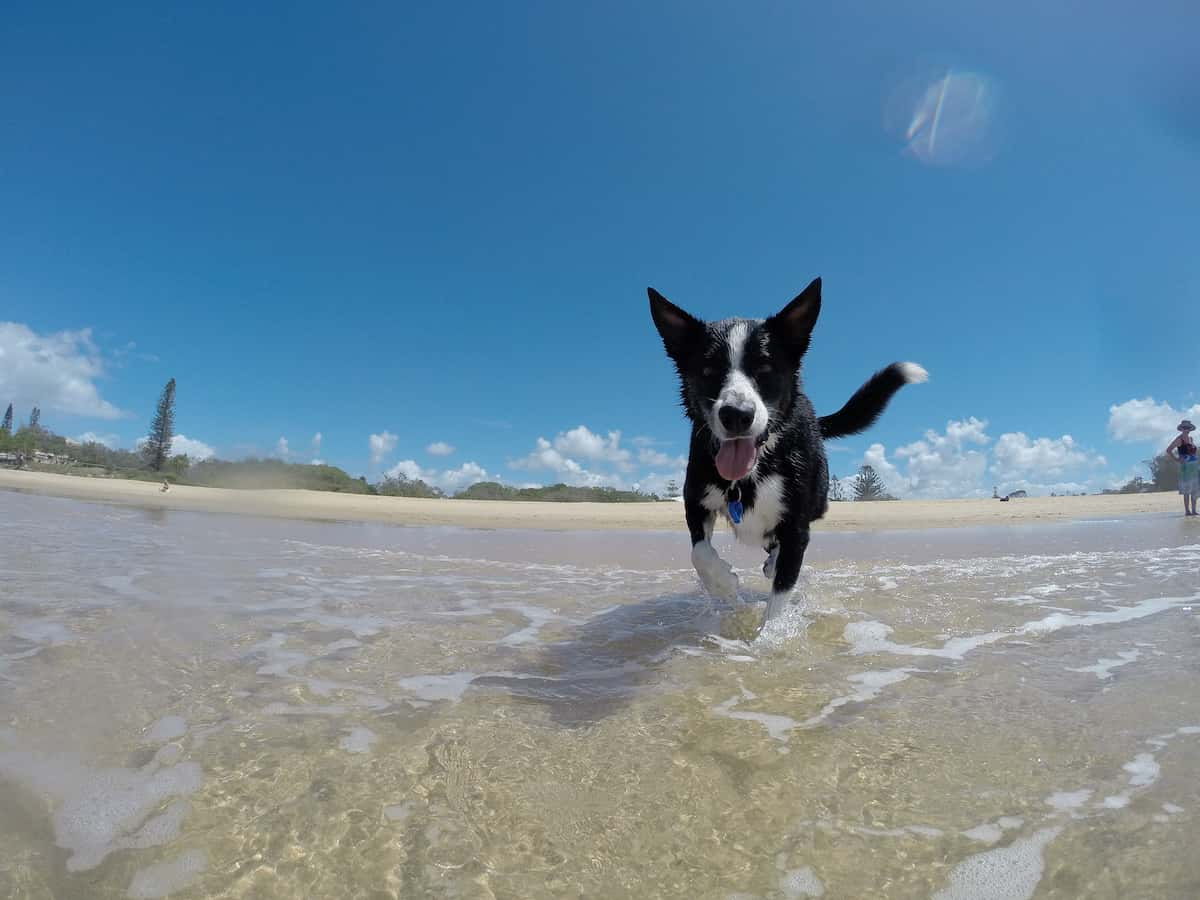 With a little planning and a common-sense approach, just about any vacation can become a dog-friendly venue. 
This page will get you started off on the right foot, and paw.
Use these quick links to jump straight to specific sections of this page, or simply scroll down to read it all:
Dog Friendly Vacations Need Planning
If there's one thing I can't recommend enough, it's that you do some PLANNING before you set off on that trip.
It can make the difference between having fun on vacation, or wishing you were back at home!


Planning Dog Friendly Vacations
We humans can drive for as long as we want (or as long as our stomachs and bladders can manage), stop wherever we want to, eat whatever we feel like, sleep at any hotel that has a room.... and so on. Dogs can't.

They need to pee, often. They may be prone to dog travel anxiety and/or motion sickness. They can't eat a candy bar or drink coke from a vending machine. They aren't allowed to sleep in any hotel, guest-house or rental that they like.
If you want Fido to share your vacation, you need a PLAN.
Check out this page to find out what you need to prepare for, and how to do it.... A Guide To Traveling With Your Dog
Dog Friendly Travel
If your puppy or dog is going on holiday with you, then you'll need to consider exactly how you're getting to your destination first.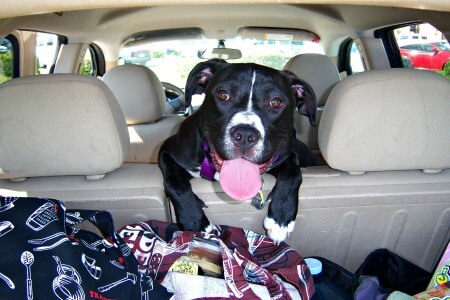 Car travel with a dog is the easiest, and most flexible, option and it's also likely to be the least expensive.
If you take your dog on a road trip you can control where, when and how often you stop and that way he can drink or pee/poop when he needs to.
If he looks like he's in danger of getting sick you can pull over quickly, and you'll all be able to travel together.
You can find out all about taking a road trip with your dog, including how to prepare, what to do about doggie motion sickness, how to keep him safe en-route and a whole lot more on my Traveling With Your Dog page.
Pet air travel isn't quite as straightforward, and is definitely more expensive, but if you're planning on taking your dog friendly vacations far from home then it might be necessary to take a plane.
Many airlines will allow small dogs to travel in the passenger compartment if they are in a suitable crate which fits under the seats.
Big dogs need to travel in suitable crates too, but they have to go with the cargo. Some breeds (such as pitbulls) are not allowed to travel by air after a certain age but this age limit may vary from airline to airline.
Other breeds such as Bulldogs shouldn't travel this way as it can be too stressful for them. There are also other limits to air travel for dogs such as weather restrictions (minimum and maximum temps for dogs who are traveling as cargo) and so on.
Greyhound buses don't allow dogs as passengers. Amtrak allows dogs to travel on some routes, and at certain times of the year.
Some local public transportation systems (buses, light rail) allow dogs, but their regulations can vary a lot
Cruise liners don't allow dogs onboard. Most ferries do.
Depending on your mode of public transport, some will allow small dogs only, some insist on dogs being in specific types of dog carriers, others only require that dogs be leashed.
Service dogs are an exception to these rules for all travel options.
Dog Travel Resources Guide
There are so many things to think about when you're planning dog friendly vacations or trips.
Having access to up-to-date dog travel resources that will help you plan and organize efficiently can save so much time, hassle and worry.
Get all the info. you need about pet-friendly travel options, dog friendly hotels, RV and campgrounds, restaurants, national parks, beaches and so much more here.. Dog Travel Resources Guide
Your Destination

Whether you live in the US, or in another part of the world, traveling internationally with a dog can be tricky.. and requires a lot of research and preparation.
Most countries have specific requirements relating to the health of your dog and you'll need to have proof of up-to-date vaccinations and possibly a general health certificate too.

Some countries require an 'import permit', some don't allow dogs to enter at all, others limit the countries from which they will allow it. Some have lengthy quarantine requirements.
Many of the requirements need to be undertaken several months before you actually leave, which is why you need to plan ahead.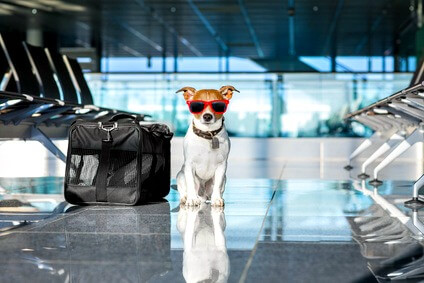 Generally taking a pet overseas isn't likely to be on your list of dog friendly vacations options, and it's easier and less stressful for everyone to stay closer to home.

Something else to consider, is climate. Just like people, dogs can find it difficult to go from cool weather to hot weather suddenly.
Some breeds have more difficulty with it than others, and if you have a X-Large dog, a short-muzzled breed like a Pug or Bulldog, or a thick-coated breed like a Malamute or Chow Chow, then don't take your R & R in Florida during the summer (or in many of the southern states for that matter).


Your Accommodation

Although it's better than it used to be, it's still not easy to pull off the highway and check-in to a hotel with your dog in tow.
Dog friendly hotels now include most of the major hotel chains, but not every hotel offering dog friendly vacations accepts ALL dogs.There is usually a weight-limit and possibly other restrictions.

From my research I've compiled a list of dog friendly hotels and these would be a good place to start when you're booking your accommodation:
Best Western
Clarion
Comfort Inn/Suites
Days Inn
Embassy Suites
Fairfield Inn & Suites
Four Points by Sheraton

Hilton Hotels

Holiday Inn

Howard Johnson (some locations)
Hyatt Place
La Quinta Inn & Suites
Marriott Hotels

Motel 6

Quality Inn
Ramada

Red Roof Inn
Residence Inn
Rodeway Inn
Sleep Inn
Staybridge Suites
Springhill Suites
Super 8

Travelodge
Westin
Check out my Dog Travel Resources page to find all the best dog-friendly hotels in the US and around the world.
Dog Friendly Beaches

Dog friendly vacations don't just consist of travel and accommodation!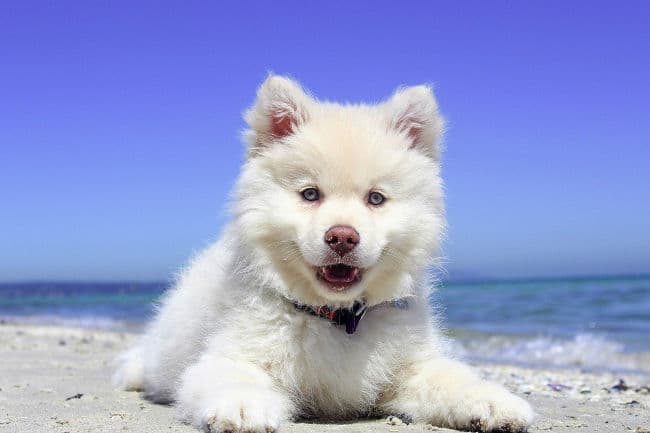 In order to have really dog friendly holidays you need to know that there are restaurants, parks, attractions.... even dog friendly beaches, at your destination.

There are dog friendly resorts and amenities from Massachusetts to California, and many many places in between.
If you're looking for a beach vacation, there are several states that have a whole range of beaches and coastal parks that welcome Fido.
Some of them are only open to dogs at certain times of the week/year. Some require your pet to be leashed, others allow him to run free and romp. A few have other variable restrictions....

CALIFORNIA
California is just jam-packed full of dog-friendly beaches and parks.
Here are some beaches that allow Fido to run free....
Arroyo Burro Beach - Santa Barbara
Carmel Beach - Carmel By The Sea
Centerville Beach County Park - Ferndale
Coronado Dog Beach - Coronado
Fiesta Island Leash Free Recreation Area - San Diego
Noyo Beach - Fort Bragg
Rosie's Dog Beach - Long Beach
Summerland Beach - Summerland

The Beaches At Big Bear Lake - Big Bear
The Original Dog Beach - San Diego
These beaches require your dog to be leashed, many of them have a lead-length restriction of 6 feet....
Asilomar Beach - Pacific Grove
Baker Beach - San Francisco
Carmel River State Park - Carmel
Del Mar Dog Beach - Del Mar (leashed or un-leashed depending upon season/date)
Del Monte Beach - Monterey
Its Beach - Santa Cruz
Land's End Beach - San Francisco
Mad River Beach - Arcata
McAbee Beach - Monterey
Ocean Beach - San Francisco
Rincon Point Beach - Santa Barbara
Rodeo Beach - Sausalito
CONNECTICUT
Jennings Dog Beach - Fairfield
Penfield Beach - Fairfield
FLORIDA
Here are some popular dog-friendly Florida beaches that allow you and your dog free rein to have fun....

Bayview Beach & Dog Park - Pensacola
Davis Islands Dog Park - Tampa
Fort De Soto Beach - Fort de Soto
Fort Myers Dog Beach - Fort Myers
Jupiter Beach - Jupiter
Key Biscayne Dog Park - Key Biscayne
Key West Dog Beach - Key West
Picnic Island - Tampa
South Brohard Beach and Paw Park - Venice
Walton Rocks Beach - Fort Pierce
And here's are a few excellent beaches that allow dogs who are leashed at all times....
Algiers Beach & Gulfside Park - Sanibel Island

Anne's Beach - Islamodora
Canine Beach - Fort Lauderdale
DeSoto National Memorial Beach - Bradenton
Doggie Beach - Panama City
Gulfside Beach - Sanibel Island
Hollywood Dog Beach - Hollywood
Smyrna Dunes Park - New Smyrna Beach
Picnic Island Park - Tampa
Pier Park Beach - Panama City Beach
Sand Key Park - Clearwater
GEORGIA
Jekyll Island Beaches - Jekyll Island
MAINE
Kennebunk Beaches

- Maine

Willard Beach - Near Portland
MARYLAND
Assateague Island Beach - Assateague Island
MASSACHUSETTS
There are a couple of beaches in MA that allow leash-free play, there may be seasonal restrictions with many of them not allowing dogs during peak season....
Dog Beach Mahant - Mahant
Eastville Point Beach - Oak Bluffs
Herring Cove - Provincetown
Massachusetts beaches that welcome Fido or Fifi if they're leashed include....
Brant Point Beach - Nantucket
Carson Beach - Boston
Cisco Beach - Nantucket
Fort Phoenix Beach - Fairhaven
Kalmus Beach - Barnstable
Lighthouse Beach - Chatham
Nauset Light Beach - Eastham
Sandy Neck Beach - West Barnstable
Surfside Beach - Nantucket

MICHIGAN
Sundling Park - Manistee County
MISSISSIPPI
Pascagoula Beach - Pascagoula
NEW JERSEY
8th Avenue Dog Beach

- Asbury Park

Fisherman's Cove

- Monmouth County Park

Longport Dog Beach - Longport
NEW YORK
Montauk Beaches

-  Montauk

Port Jefferson Public Beach - Long Island, New York (no leash required)
NORTH & SOUTH CAROLINA

Here are a few of the dog-friendly beaches in the Carolinas.
They can vary in terms of their regulations ie. off-leash or on (sometimes either/or at certain times of the year), limited seasonal access for dogs, or restricted areas....
Alder Lane Beach - Hilton Head Island, SC

Bald Head Beach - Brunswick Island, NC
Caswell Beach - Oak Island, NC
Freeman Park - Carolina Beach, NC
Kiawah Beach - Kiawah Island, SC

Kitty Hawk Beach

- Kitty Hawk, NC

Myrtle Beach

- Myrtle Beach, SC

Nags Head Beach - Nags Head, NC
Oak Island Beaches - Oak Island, NC
Surfside Beach - Surfside Beach, SC

Wrightsville Beach - Wrightsville Beach, NC
OREGON
Cannon Beach - Cannon Beach 
TEXAS
Padre Island National Seashore - Padre Island
Galveston Beach - Galveston
VIRGINIA
First Landing State Park - Virginia Beach
WASHINGTON STATE
Double Bluff Beach - Whidbey Island
Many of these destinations also have dog-friendly restaurants, parks and other attractions which make it easy for the whole family to enjoy themselves.
Dog Friendly Campsites
If camping is more your style than hotel hopping, taking Fido along can be even easier.
However, not ALL campsites are dog friendly, so definitely check in advance that the campground/s you plan to stay in will welcome Fido.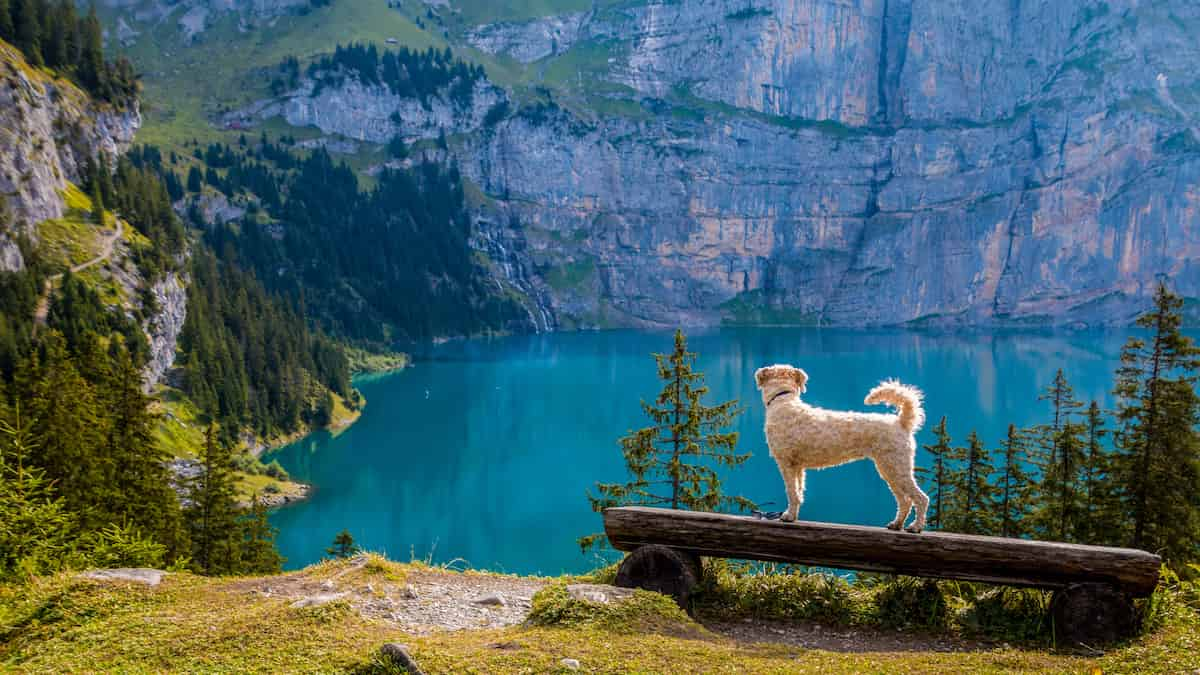 Pet friendly campsites will each have rules and regulations for dogs staying on their grounds.
Making sure that Fido is leashed or crated/contained at all times and never left unattended is pretty standard.
Other restrictions might restrict what areas of the campsite dogs are allowed in (pool areas are often off limits. Beaches may or may not be dog-friendly etc.)
Of course scooping Fido's poop is absolutely essential.
Camping has it's own set of unique dangers for dogs including parasites such as ticks, poisonous foliage, potentially dangerous creatures such as snakes, stickers and thorns which get stuck in skin or paw pads, dehydration, heat exhaustion and so on.

As long as  you plan ahead camping with your dog can be a great bonding experience and a lot of fun.
Click on these links to get info on pet friendly RV parks and resorts and pet friendly campgrounds in the USA.

Resources For Your Pet-Friendly Vacation

Whether you're traveling by car with your dog, or plan on flying or taking the train...
Whether you're going to stay in a hotel, tent, cabin or Airbnb...
Whether your destination is an hour away, across the country, or overseas...
A reliable, up to date list of pet travel resources is a must.
Check out this page to find everything you need: Dog Travel Resources Guide
Wishing you all happy and safe travels!
you might also like...
FTC Disclosure: Some pages on this site contain affiliate links. I may earn on qualified purchases.