FYI: If you buy something through a link on this site I may earn a commission - at NO extra cost to you.
Best Kong Stuffing Ideas for Puppies
Kongs are my go-to dog toy for puppies and dogs of all ages! Trying out some of the Kong stuffing ideas for puppies that I've put together on this page is a great way to keep him busy and happy, and a stuffed Kong can provide hours of play value.
Kong toys are perfect for puppies of all sizes, breeds and chewing styles, and  one of the easiest and safest ways to provide even those heavy-duty power chewers with mental stimulation and sensory enjoyment. 
The easiest way to get the most out of your Kong is to stuff it with something tasty, and healthy for your pup and let him work to get to the goodies inside.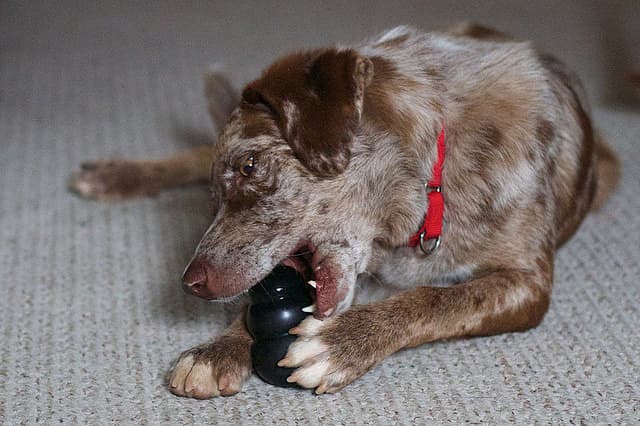 This is an enrichment activity, and because chewing is a natural stress reliever for dogs and puppies it is good for Fido's brain and nervous system. Anxious dogs also benefit greatly from this type of enrichment activity.

How to choose a Kong for stuffing
Kong toys are made from sturdy rubber, and are now available in a variety of shapes, designs and sizes. There's something for everyone, from puppy to senior, including those power-chewers!
However, not all Kong dog toys are designed to be filled. Several are simple rubber chew toys, some are designed to hold or dispense treats of different shapes/sizes, there are also rubber balls and a variety of toys made from a combination of rope, rubber, canvas and fabric.
For the purposes of stuffing, you want one of the original, vaguely conically shaped, Kongs (see image below).
There are a variety to choose from:
The Kong Puppy (available in baby blue or pale pink) is made from a soft rubber that is easy on a puppy's teeth and gums. It's available in XS-L sizes and isn't recommended for puppies older than nine months of age. Personally I wouldn't use it for large or x-large breed puppies, or those who are strong or avid chewers.

The original Kong Classic is made from strong, durable red rubber, available in XS-XXL sizes, and can take pretty much anything your puppy, or small to medium sized dogs, can dish out.
For the very biggest, strongest and most determined pups (or power-chewer adult dogs) the black rubber Kong Extreme toys are made out of extra heavy-duty rubber, available in S-XXL sizes, and a force to be reckoned with.
Finally, there is a Kong Senior (which is purple) made from a softer rubber similar to the Kong Puppy, making it suitable for older dog's teeth and more laid back chewing style. 
It is important to choose the right size of Kong for your puppy or dog. Those smaller kongs can become a choking hazard if they're too small for your pup or dog. If they're too big your pup may find it too difficult to chew or to get to the filling and give up. 

Delicious Kong Stuffing Ideas for Puppies!
Over many decades of raising puppies and sharing my life with dogs, I've tried a LOT of different Kong stuffing recipes, including simple one ingredient options, layered creations and even homemade smoothies.
While many fillings don't NEED to be frozen (ie they're not too liquid), freezing your puppy's stuffed Kong significantly increases the play value for him, and the amount of time it will take him to empty it.
Scroll down to find my favorite healthy and nutritious Kong stuffing recipes and share them with your puppy.
There are lots of ideas and you'll both be fans in no time!


Single Ingredient Kong stuffing recipes
We'll start with my easiest Kong stuffing ideas for puppies (and dogs of all ages) which are simple, one ingredient options.
Puppies will eat pretty much anything, but it's much better for Fido if you stuff his Kong with something healthy and nutritious. 
My simplest, go-to Kong stuffing ideas include:


PEANUT BUTTER
You can use either creamy or crunchy peanut butter but MAKE SURE WHICHEVER PEANUT BUTTER YOU USE DOES NOT CONTAIN XYLITOL.
Xylitol is a natural sugar substitute that's highly toxic to dogs and even a tiny bit can be deadly. Some peanut butters contain it (as do some other nut butters) so always double check the ingredients on the label to be safe. For similar reasons never use peanut butter that contains chocolate.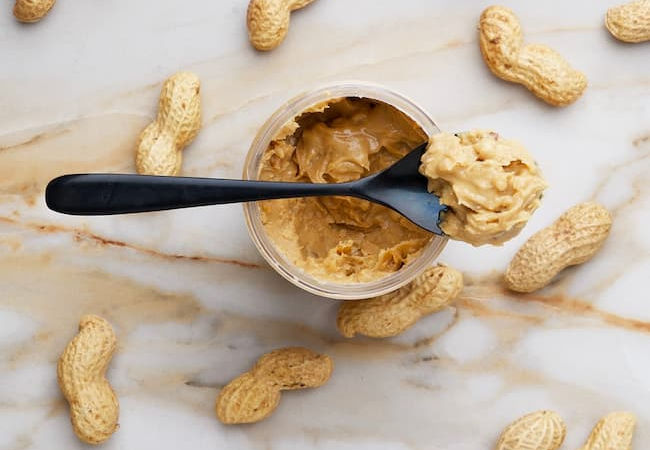 I only use natural peanut butter, and two of my favorites are Spread the Love naked, organic peanut butter and Crazy Richard's 100% All-Natural creamy and crunchy peanut butter. There are also peanut butters that are formulated especially for dogs and contain additional dog-safe ingredients. Buddy Budder offers a variety of flavors to choose from. Buddy Budder is a little thinner in consistency than regular peanut butter, but it still freezes beautifully and the variety of flavors add to your pups fun.

Kong themselves make a peanut butter paste filler which comes in a spray can. However, it contains many more ingredients than simple peanut butter, or Buddy Budder, including two types of salt and artificial flavors.
If you want to you can make homemade peanut butter using peanuts and a food processor. 
CREAM CHEESE
Plain, low fat cream cheese. Avoid varieties that contain additional ingredients or flavors.
COTTAGE CHEESE
Plain, low fat cottage cheese without any extra ingredients.
PLAIN YOGURT
Plain, low-fat yogurt or plain Greek yogurt work well. Avoid varieties that contain additional flavors, sugars etc.
CANNED PUMPKIN
You want plain, unsweetened pumpkin puree, not the pie-filling variety which contains added sugar and spices. Canned pumpkin is good for the digestive system, easy on any puppy or dog who has a sensitive stomach, and can be used to help alleviate diarrhea or constipation.
MASHED SWEET POTATOES
I simply boil or roast sweet potatoes without salt or seasoning, then mash them. Easy peasy..
APPLE SAUCE
Plain, unsweetened apple sauce.  Avoid any that contains artificial sweetener or sugar.
MASHED BANANA
This is self-explanatory :)
BABY FOOD
Baby food is a simple Kong stuffing idea, and there are lots of options/flavors to choose from. I prefer a meat-based or vegetable-based food, and avoid any that contain artificial ingredients, sugars or spices. Simple, natural baby food is my choice. If you choose the pouches rather than jars of baby food it's easier to stuff into the Kong too!
CANNED DOG FOOD
Wet food is another super simple kong filling. If your pup already eats canned food you don't even need to buy anything extra, although switching up the flavor adds a little more interest to the proceedings.
DRY KIBBLE
You can stuff your puppy's Kong with dry dog food (in this case obviously there's no need to freeze it) but personally I've found that this isn't a great option in terms of play value. After all it's pretty easy for Fido to get that kibble out of most Kongs. You can add a little more difficulty by soaking the dry kibble in warm water or bone broth( which adds an extra dose of high quality nutrients) before putting it into the Kong. 
COOKED WHITE RICE
Cooked rice is easy on the tummy, and absorbs broth and other liquids well. 
SMALL TASTY TREATS
You can use tiny dog training treats, or break up larger ones and use the same way as kibble. However, it's important that you pick healthy treats that are free from artificial ingredients, salt, sugar etc. it doesn't really matter whether you choose a dry treat or moist one, they both work well.
If you choose to stuff your pup's Kong with just one item from the above list (unless it's the wet or dry food they already eat) it's best not to fill it up.
Too much of anything, even if it's healthy and nutritious, isn't necessarily good and can also cause tummy upset until your puppy's digestive system becomes familiar with it. So start with small amounts.
I'd suggest using just a couple of teaspoons, or one tablespoon, of any single ingredient (at least to start with).
Even a dab of peanut butter or cream cheese can be smeared around the inside of the Kong with your finger so that little Fido really has to work at it to get the flavor out. When you freeze the Kong toy it obviously makes the filling last longer and gives more play value.

Layered Kong stuffing recipes
Stuffing your puppy's Kong by layering different ingredients is super simple, and has extra benefits for him in terms of nutrition and increased enjoyment. 
You can be as creative as you like, and tailor your choice of filling to your pup's personal preferences. I would suggest starting with just two or three different layering ingredients to begin with, again this is to minimize the chance of tummy upset.
The single ingredients listed above are a good starting point, but when you're layering it gives you a lot more leeway with what you use and there are loads of other nutritious things you can add. Here are a few of my favorites:

Scrambled egg
Tiny slivers of salmon
Tiny pieces of freeze dried or dehydrated chicken
Cooked ground meat (without seasoning, onions or any added ingredients)
Canned fish such as tuna or salmon
Apple slivers (or grated apple)
Cut up green beans
Cranberries
Blueberries
Grated zucchini
Grated carrots
Peanut butter is a great source of protein and it's consistency helps 'hold' other ingredients together, it's also a firm favorite with most dogs! Cream cheese is also similar.
When I fill a Kong with layers I try to pick a 'base' (such as peanut butter, cream cheese, baby food or wet dog food) and alternate it with a fruit or vegetable. Peanut butter with mashed banana for example, or a meat-based baby food with green beans or carrots, the possibilities are endless, especially once you graduate to using multiple ingredients. 

In addition to the main Kong stuffing ingredients that I've already talked about, there are some 'extras' that you can throw in to add more interest, variety, taste and nutrition. These are things that I just mix, or sprinkle, a little of into the layered ingredients, or pour in a small amount as I go:

Chopped fresh mint (good for digestion and helps freshen your pups breath)
Chopped fresh parsley (good source of vitamins and minerals and freshens breath).  ONLY USE CURLY PARSLEY,  flat-leafed Parsley, also called Spring Parsley contains a compound that is toxic to dogs)
Chia seeds (contains antioxidants and omega fatty acids)
Ground flax seeds (rich in omega-3 fatty acid and antioxidants)
Wheat germ (nutrient dense with a nutty flavor)
Nutritional yeast (great source of B vitamins and amino acids)
Unsalted bone broth (a nutrition powerhouse) you can also use unsalted beef broth or chicken broth
Honey (full of vitamins and minerals)
Blackstrap molasses (natural, nutrient dense, superfood sweetener)
Crunchy or chewy kong fillings
Puppies LOVE to chew, so stuffing your dog's Kong toy with some crunchy or chewy goodies is always appreciated.
Some of the ingredients in both categories above lend themselves to being offered in a crisp, crunchy or chewy form. 
In addition to giving even more variety to the nutrients and tastes your pup will enjoy, adding a tasty chewy or crunch item offers mental stimulation as Fido has to chew up or remove that extra item before getting to the tasty inner fillings.
Some of the options such as yak milk chews and beef collagen sticks are wonderfully entertaining and enjoyable chews for your dogs in their own right too.

Here are some of my favorites:
Carrot sticks
Apple slices
Zucchini sticks
Celery sticks
Broccoli sticks/florets
Yak milk chews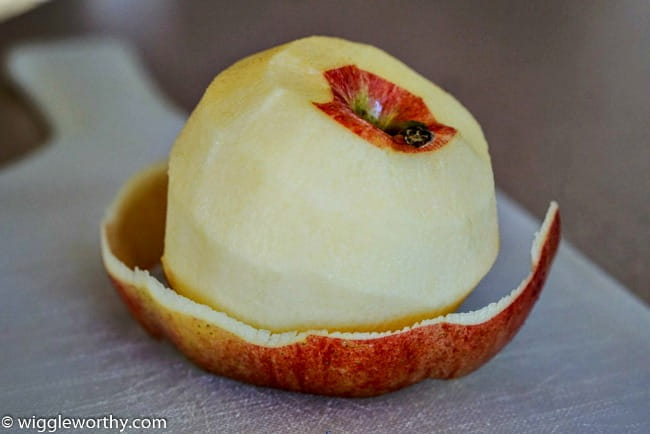 You may have noticed that rawhide sticks are NOT on this list.
Rawhide is sold in multiple forms,  twisted/knotted/folded/shaped etc., and none of it is safe for puppies or dogs. At all.
Rawhide can be softened, ripped up and swallowed pretty easily and it doesn't break down in the digestive system so is both a choking, and intestinal blockage danger.
You can combine both a single ingredient filling, or a layered filling, with some of the crunchy/chewy ones. Just fill the Kong with your chosen ingredient/ingredients, then push the chewy item through the hole and embed firmly.
Freeze the Kong, and hey presto! a delicious, multi flavored and textured treat for your little guy!

An example of this that my dogs enjoy is a layered filling of cottage cheese and chicken and veggies baby food,  topped off with a whole carrot, or large carrot stick, and frozen overnight. 
If you're using a Yak milk chew, bully stick, beef collagen stick or dehydrated chicken to top off a filled Kong don't add that item before freezing.
Just half fill the Kong, freeze it, and THEN stuff in the tasty chewy into the hole immediately before giving it to your best friend.

Kong smoothies (blended fillings)
Last, but not least, we come to what I call the Kong smoothie fillings. This sounds fancy, but they're very quick and easy to make. All you need is a few ingredients and a blender (or food processor)!
The main ingredients in a dog-friendly smoothie are fresh or frozen fruit and/or vegetables. Then you just add a liquid of your choice and any 'extras' you want to and blend it all at medium speed for a couple of minutes. Stuff Fido's Kong, freeze it for a couple of hours or overnight and then sit back and watch him enjoy it.

Use your imagination to whip up multiple different combos to make your own Kong recipes and find out what your pup likes best!

Here are a couple of ideas to get you started:

1 cup fresh fruit (blueberries or watermelon are our favorites)
1/2 cup natural, low fat yogurt
1 tsp honey
or
1 cup fresh veggies (cucumber or carrot are popular in our house
1/4 cup bone broth
1/4 tsp wheat germ
Adjust quantities depending on the size, type and number of kong dog toys you are filling. Add extra liquid for a thinner smoothie if desired. I prefer anything I put in a Kong NOT to be too runny, as that can make for quite a mess as it defrosts. But depending on where your pup plays with his kong that may not matter to you!
tips for stuffing a kong
It's definitely not rocket science, but here are a few Kong stuffing tips that you might find helpful:
When you first start out offering your puppy stuffed Kongs, start slow. Choose one filling, and use only a small amount. Wait 24-48 hours to make sure that little Fido doesn't get a tummy upset before continuing.
I always offer single fillings, one at a time, with 48 hours in between each offering so I can find out what a puppy likes and what his digestive system tolerates. Dairy based options can cause some digestive issues for some puppies.
Use a piping bag (or a plastic baggie with the corner cut off) to squeeze liquid/semi-liquid fillings into Kongs. Adding ingredients like peanut butter, baby food, wet dog food and so on will be easier this way. Can also be helpful with Kong 'smoothies', depending on consistency.

Kong toys are very safe, even when stuffed, but it is theoretically possible that if one hole is blocked a puppy, or dogs, tongue could get stuck inside due to suction. To make sure this doesn't happen you can put a straw through the Kong while filling it, and removing it before the filling is frozen solid.
This way there will be an air hole at both ends. Personally I don't feel I need to do this and have given filled Kongs to my puppies and dogs for decades and never had even an inkling of an issue with them.
I just feel better pointing out this remote possibility for safety reasons.
The simplest way to clean your pup's Kongs is to rinse them well with hot water and then run through the dishwasher (they are dishwasher safe).
However you can also hand wash them. My method for this is to rinse them in hot water, followed a soak in soapy water for 10-30 mins to remove any stuck on food,  a quick scrub with a toothbrush (kept expressly for this job!) and a final rinsing.
Kong do make a handy little brush especially for this purpose too, you check out the Kong Brush on Amazon HERE. 
If you have a small puppy or small breed dog and are using the XS or S Kong, a CPAP tube cleaning brush is a good fit for the smaller holes. 
To stop runny or liquid fillings pouring right out of the Kong during stuffing, just block the small hole at the end with something solid such as kibble, a piece of carrot or apple. If you're layering your Kong fillings, starting with the most dense/least permeable ingredient is the best way to do it.
How to fill a KONG... There is no flat side to a Kong, and it will NOT sit upright to be filled and it's both tricky and messy to pour/squeeze fillings in with one hand while holding the toy in the other.

You need to sit the Kong in something that holds it upright, and there are a few things which have been specifically designed for that purpose. The Kong Fill or Freeze Tray or the Kong Freezer Holder are tailor made and fit all sizes of Kongs.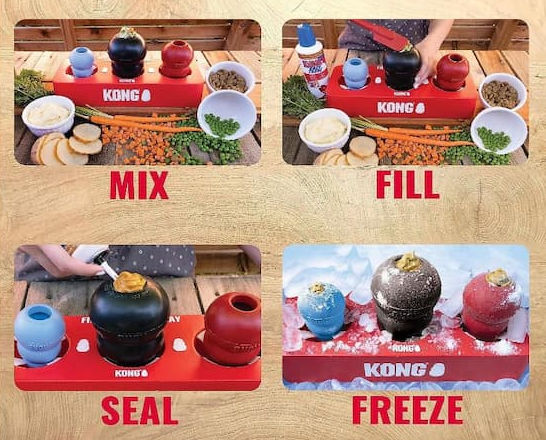 Alternatively you can check out other holders such as HOMDSG Dog Toy Holders. You can also improvise with other kitchen items. I've found that a muffin pan works pretty well, especially if you're stuffing multiple Kongs. For just one, a cup, mug or glass also works.

Be aware of how much your pup is actually EATING when he empties his stuffed Kong. If you're using his kibble or wet food, deduct that amount from his daily food intake. Peanut butter is high in fat as well as high in protein. Depending on the size/breed of your pup anywhere from 1 - 4 tsp is the max daily allowance recommended by veterinarians. Just use common sense, vary the fillings and keep an eye on your pup's weight.

you might also like...
Kong Stuffing Ideas for Puppies
FTC Disclosure: Some pages on this site contain affiliate links. I may earn on qualified purchases.