FYI: If you buy something through a link on this site I may earn a commission - at NO extra cost to you.
Best French Dog Names
The French are known for their style and flair, and one of these beautiful French dog names might be the perfect choice for your pup.
French is a language that sounds romantic and melodic, and the names on this page will just roll off your tongue!

I've included the meaning of each name whenever possible, and at the bottom of the page you'll also find a list of some of the most popular French dog breeds.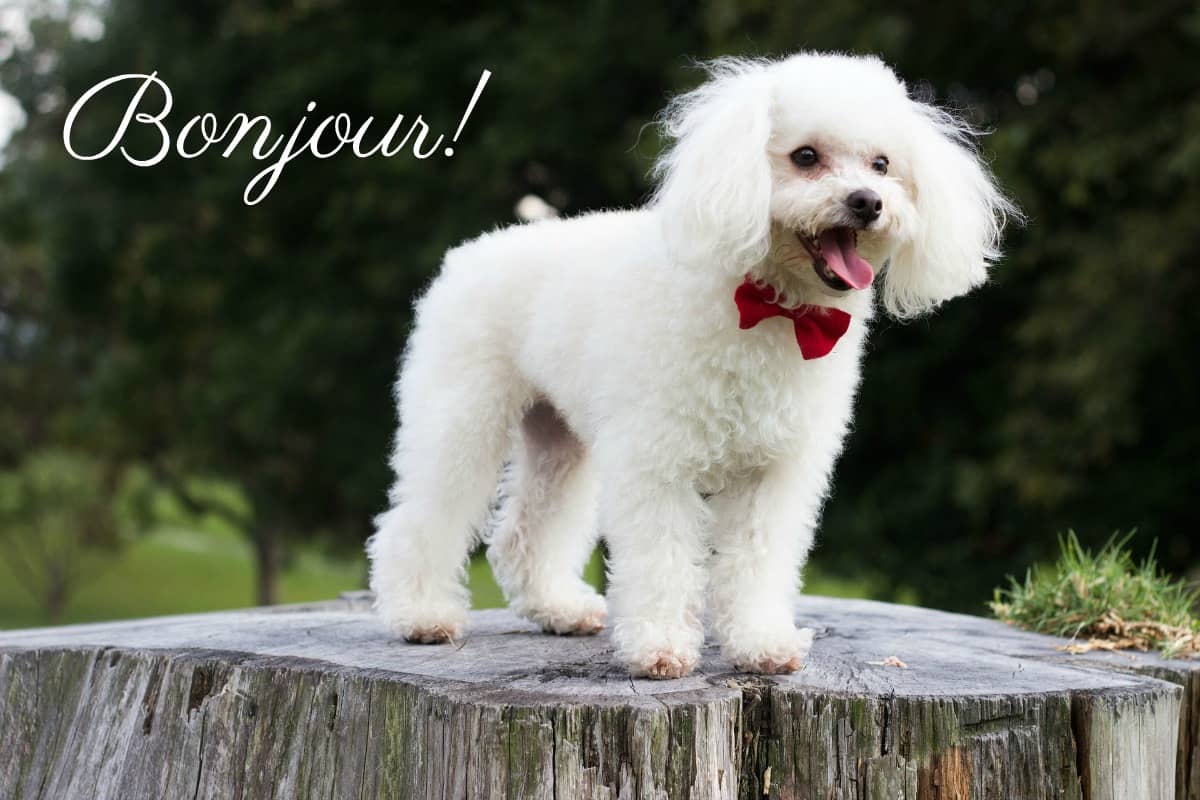 From Paris With Love!

For Male Puppies

Andre - brave
Amoux - eagle wolf

Armand - soldier
Beau - handsome

Cesar - has lots of hair
Charly - man
Dix - the number '10'
Durand - enduring

Felix - lucky
Francois - Free

Frederic - peaceful ruler
Guy - fighter

Henri - ruler

Jacques - French for Jacob
Jerard - rules by the spear

Leo - lion
Louis - warrior

Luc - light

Max - great
Maxim - the greatest

Morris - dark skinned

Noel - born at Christmas
Orville - town of gold

Pako - free
Pierre - rock

Pepin - little seed

Quincy - fifth son
Ray - regal

Regis - to rule or manage

Romeo - strong, loving and brave

Theo - gift of God
For Female Puppies

Aimee - beloved

Anais - grace

Belle - beautiful

Bibi - alive
Bisoux - kiss
Blanche - white

Catan - baby doll
Cherie - beloved

Chloe - green shoot

Chanel - famous French perfume

Coco -chocolate or cocoa bean
Elle - she or her

Esme - esteemed, loved

Emilie - winning

Fifi - lucky

Fleur - flower

Gigi - trustworthy, hard worker
Joie - joy

Leona - like a lion

Lucie - light

Lulu - famous warrior
Margo - pearl
Mimi - faithful
Mignon - delicate

Ninon - favor, grace
Reine - queen, royalty

Sacha - defender of man
Soleil - the sun

Zoe - life
Popular French Dog Breeds

Probably the most well-known of the Gallic dog breeds is the French Poodle whose carefully groomed look just oozes style and sophistication.
But the Poodle was originally bred to help hunters and retrieve small game from lakes and rivers.
There are many, many more French dog breeds. Many of them are also sturdy, working dogs others are lapdogs or companions. Here are a few of the most popular ones:
Basset Hound
Bichon Frise
Beauceron
Bouvier de Flandres
Briard
Brittany Spaniel
Coton de Tulear
Dogue de Bordeaux
French Bulldog
Grand Basset Griffon Vendeen
Great Pyrenees
Papillon
Poodle
Wirehaired Pointing Griffon
FTC Disclosure: Some pages on this site contain affiliate links. I may earn on qualified purchases.