FYI: If you buy something through a link on this site I may earn a commission - at NO extra cost to you.
Dog Agility Enthusiast Beginner?

Becoming a dog agility enthusiast can happen almost overnight, and take you by surprise, because this sport is so much fun!
Perhaps you've seen a dog agility contest on TV, or watched the dogs and trainers run an agility course at your local Dog Agility Training School.
Or maybe you're just the sporty type yourself, and you want to find a sport where you share your energy and enthusiasm with your puppy and enjoy it together.
Whatever the reason, the sport of dog agility is hugely popular and can be addictive!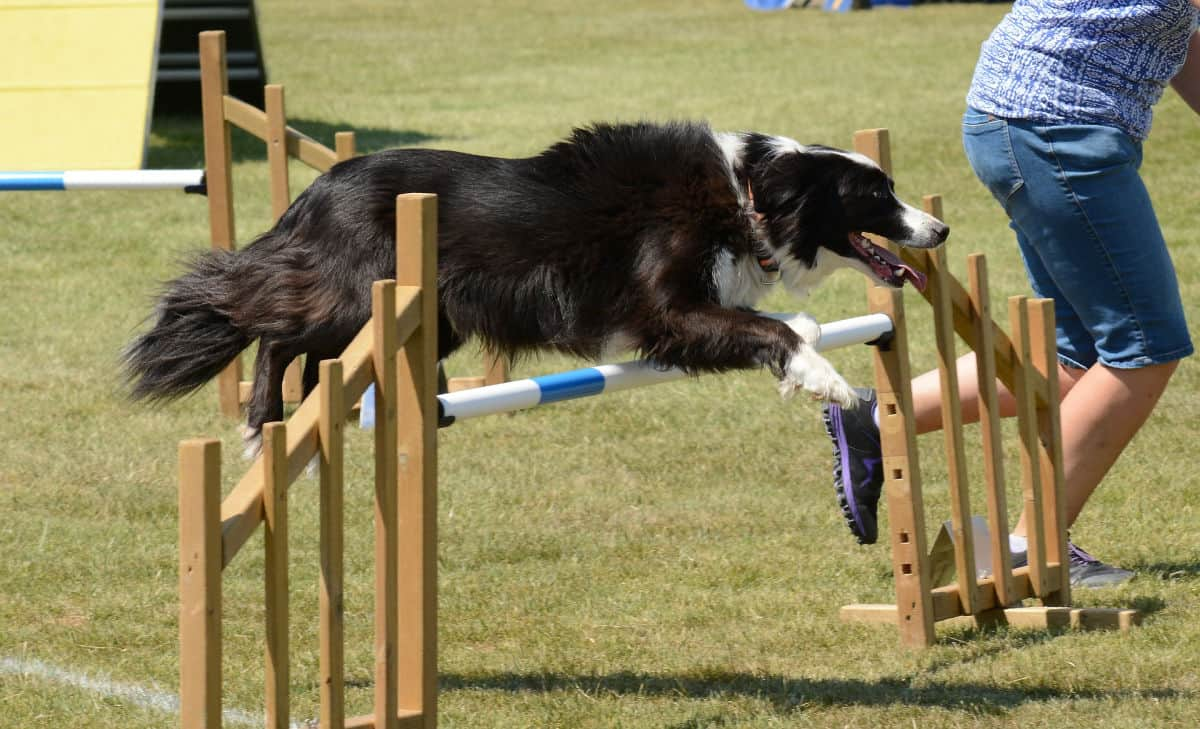 Dog agility is a great way to :
Build & strengthen the bond between you and your dog
Improve mutual trust and communication
Keep your dog fit both physically and mentally
Give your dog positive socialization experiences
Build  your dog's self confidence
Meet other people who share your interest in the sport
Share a fun social activity with your dog
Enjoy yourselves!
What Exactly IS Dog Agility?

Agility is a sport which involves you and your pup working closely together as he 'runs' courses which consist of a variety of obstacles.
It was first seen in England in the late 1970's. But it didn't stay 'under the radar' for long and quickly gained popularity both in the UK and in the USA during the '80s - and has continued to grow steadily since then.
There are now dog agility clubs and classes in most cities and towns across the country.
Agilty course obstacles your dog learns to negotiate can include....

Weave Poles
Jumps
Tunnels
Hoops
Cones
A-frames
You're not allowed to touch your pup while he's running the agility course, so you need to rely on verbal instructions and body signals to communicate, and this encourages a very strong bond between owner and dog.

The dogs are judged on athleticism, speed and accuracy and you can find agility trials for all ages and abilities.
Some are just for fun, others are seriously competitive - and once you get started you may both well be 'hooked'!
Picking A Winner!

n theory ALL dogs can participate in the sport of agility, and in reality it's a great activity for many different dog breeds, and mixed breeds.
But the demands of the sport (which include speed, flexibility, intelligence and confidence) make some breeds a naturally better fit. This is important if you are wanting to compete in agility trials for more than just the fun of it.
Some of the most popular breeds in dog agility are :
Border Collie
Australian Shepherd
Australian Cattle Dog
Labrador Retriever
Belgian Tervuren
Cocker Spaniel
Welsh Corgi
Papillon
As you can see from this list, size isn't really an issue, and almost any breed can participate. Mixed breed dogs often make excellent dog agility competitors too, and there are no restrictions on pedigree etc.
Correct body structure, good health and a confident, outgoing personality are the most important things to look for in a puppy if you have agility competition in mind.
Many large breed pups grow and mature slowly, and their joints/bones/ligaments shouldn't be stressed during this stage. So, always check with your veterinarian before starting any sort of activity that involves a lot of running or jumping... before you start out.
Waiting until your pup is past the adolescent stage and his frame has matured is usually recommended as it will help prevent any injuries to growing bones and ligaments.
How To Get Started....

Now that you really are a dog agility enthusiast, you're probably itching to know how to get started.
Well, you're in luck, because this is one of the most popular canine sports around, and most areas have dog agility clubs and trainers.
You can take get involved at any level, from building practice courses in your own back yard, to competing in major agility trials, held by one of the major organizations involved in this sport.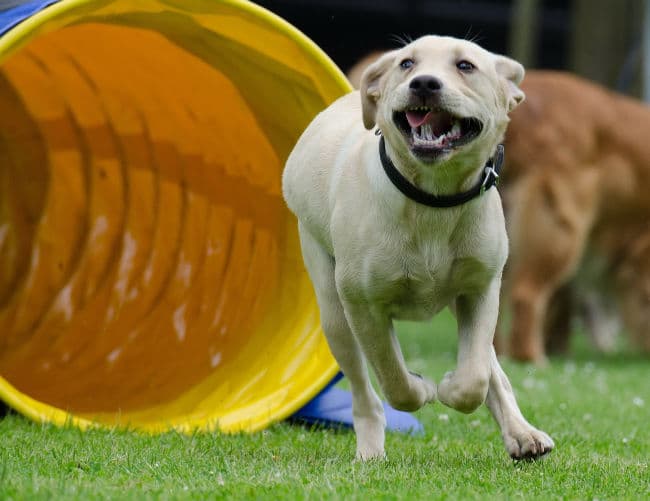 You can find lots of dog agility information on the websites of these organization....

North American Dog Agility Council (www.nadac.com)
You can also find AKC recognized agility clubs, organized by state, here www.akc.org - agility clubs
What's even better, is that anyone can take part - even kids and teenagers. In fact youngsters and their dogs often make a great team.
There are classes offered all over the country (and world!) and there's usually something available for any age or level of experience.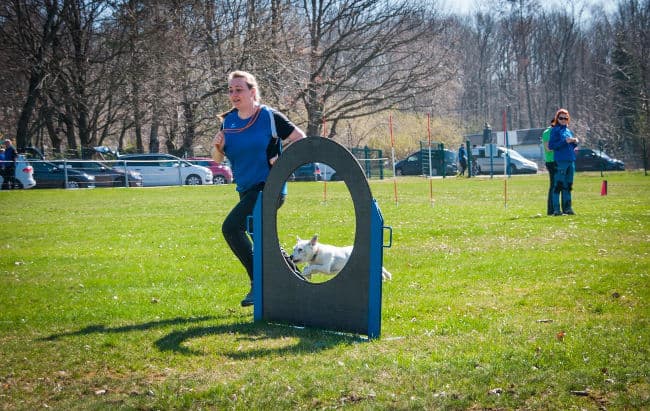 For obvious reasons, start with the Puppy Class if your furchild is a youngster. These are generally open to puppies aged 6 months and older (due to the nature of the sport, formal training can put too much strain on growing bones and joints in puppies younger than this).
However, anyone can begin informal practice sessions at home as soon as they want to. You can begin with some basic puppy training exercises because these set a firm foundation to build on.
Also work on getting your puppy comfortable with obstacles including things such as steps, different surfaces to walk on (brick, wood, plastic etc), climbing over logs etc. It's all good experience for him.
A true dog agility enthusiast can get busy building a dog agility course in their yard using a simple at-home set of equipment like an Agility-in-a-Bag Set , or even improvise by creating their own agility course using materials you can find in any hardware store.
BUT - it's important to make sure that whatever you build is safe and secure, so that your dog (or you) don't get hurt while having fun.
If you want to try building your own dog agility course, this book has all the tips and advice you need - Dog Agility Equipment Construction Instructions.
A good book is also a great tool when learning a new skill, here are some of the best dog agility books around...

you might also like...
FTC Disclosure: Some pages on this site contain affiliate links. I may earn on qualified purchases.