FYI: If you buy something through a link on this site I may earn a commission - at NO extra cost to you.
How To Make Dog Food Comparisons

Knowing how to make dog food comparisons that accurately reflect the quality of the food is the key to navigating the confusing world of dog food ingredients, labels and manufacturer's claims.
It will also help you to decipher dog food labels and get to the truth behind the 'gobbledegook', slogans and claims that you'll find slapped all over every bag, can or packet!
On this page you'll find a system that shows you how to objectively evaluate any dog food by taking a close look at it's ingredients.
Now you can compare as many different products as you want without having to rely on 'creative' labeling, advertising or manufacturers claims.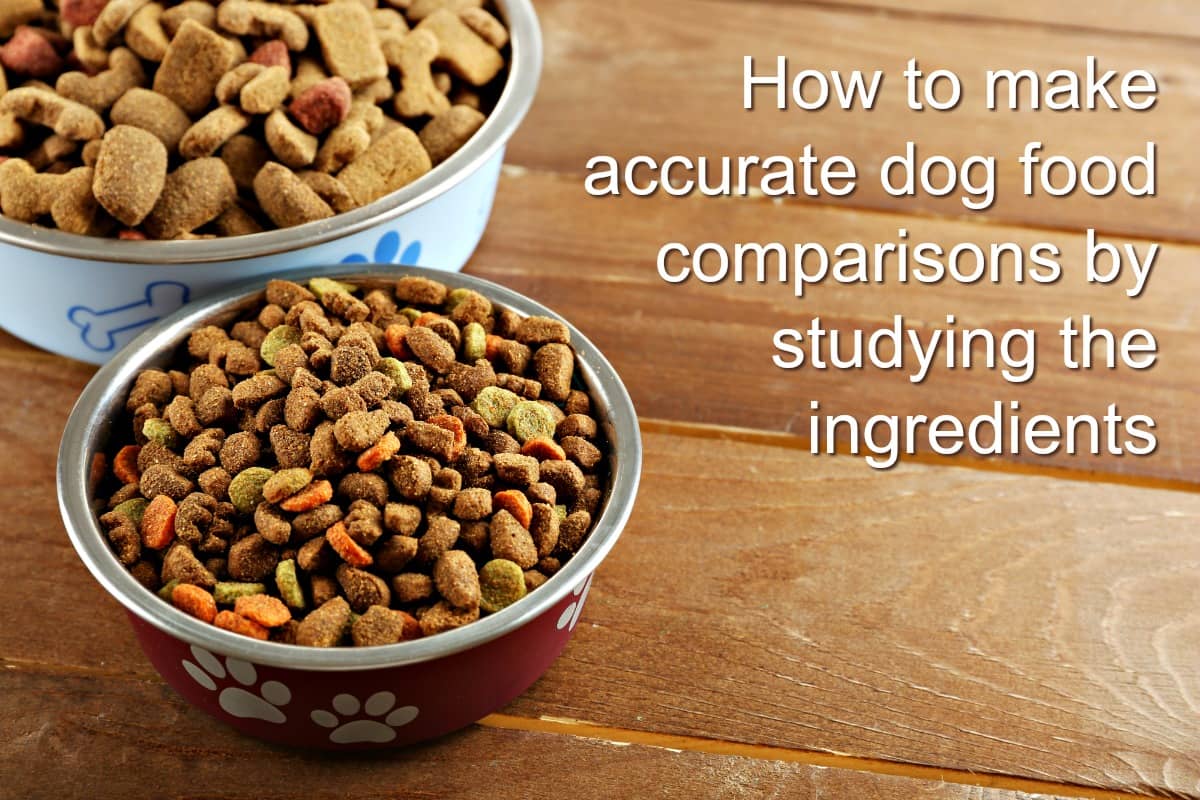 How To Compare Dog Food

You can use this method to analyze the dog food you're currently using, and then compare it to other brands you're interested in.  
This method of grading dog food in order to make dog food comparisons was developed by Great Dane owner, Sarah Irick.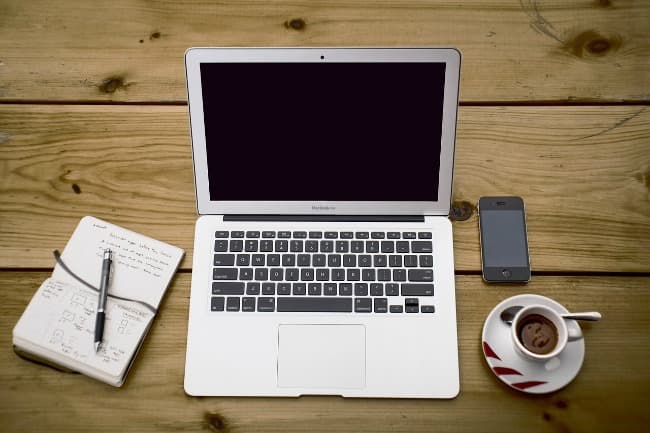 Sarah has very kindly given me permission to reprint her 'Dog Food Grading Scheme'. Here is what she wants you to know...

'This food grading system is specifically to help those who have trouble deciphering dog food labels and the many articles about what ingredients are.
If  you have a quality dog food and are not looking to make a change, or if you know about reading dog food labels an can choose a dog food on your own, then by all means continue as you are.
However, if you are looking for a quality food and would like some guidance on choosing between seemingly equal brands in the store, and you'd like more to base your information on than a friend or store clerk's recommendation, please feel free to use this handy guideline.
But be aware that there may be other important information by breed type or size (ie in giant breed puppies you need a food with lower protein levels than is typically available in puppy foods, even large breed puppy foods). So you will need to research that as well.'
Now, let's get started:
Begin with the list of ingredients for the food you want to grade.
It's easy to find an ingredient list for any particular food on the manufacturers website, or use the one on the dog food bag.


Start with a 'Grade' of 100 points, then......

For every listing of "by-product", subtract 10 points


For every non-specific animal source ("meat" or "poultry", meat, meal or fat) reference, subtract 10 points


If the food contains BHA, BHT, or ethoxyquin, subtract 10 points


For every grain "mill run" or non-specific grain source subtract 5 points. If the same grain ingredient is used 2 or more times in the first five ingredients (i.e. "ground brown rice", "brewer's rice", "rice flour" are all the same grain), subtract 5 points


If the protein sources are not meat meal and there are less than 2 meats in the top 3 ingredients, subtract 3 points


If it contains any artificial colorants, subtract 3 points


If it contains ground corn or whole grain corn, subtract 3 points


If corn is listed in the top 5 ingredients, subtract 2 more points


If the food contains any animal fat other than fish oil, subtract 2 points


If lamb is the only animal protein source (unless your dog is allergic to other protein sources), subtract 2 points


If it contains soy or soybeans, subtract 2 points


If it contains wheat (unless you know that your dog isn't allergic to wheat), subtract 2 points


If it contains beef (unless you know that your dog isn't allergic to beef), subtract 1 point


If it contains salt, subtract 1 point
Extra Credit:

If any of the meat sources are organic, add 5 points


If the food is endorsed by any major breed group or nutritionist, add 5 points


If the food is baked not extruded, add 5 points


If the food contains probiotics, add 3 points


If the food contains fruit, add 3 points


If the food contains vegetables (NOT corn or other grains), add 3 points


If the animal sources are hormone-free and antibiotic-free, add 2 points


If the food contains barley, add 2 points


If the food contains flax seed oil (not just the seeds), add 2 points


If the food contains oats or oatmeal, add 1 point


If the food contains sunflower oil, add 1 point


For every different specific animal protein source (other than the first one; count "chicken" and "chicken meal" as only one protein source, but "chicken" and "fish" as 2 different sources), add 1 point


If it contains glucosamine and chondroitin, add 1 point


If the vegetables have been tested for pesticides and are pesticide-free, add 1 point
Your dog food's grade/score is....

94-100+ = A
86-93 = B

78-85 = C

70-77 = D

69 = F

Although this may sound a little complicated, it's really very straightforward. It will take a little time because you need to look closely at the ingredients and do some basic math, but it well worth the effort!
Once you've analyzed a couple of different varieties of food, you'll be able to make some very useful dog food comparisons, and you'll start to have a much clearer idea of whether a food is 'good' or not - and whether it's suitable for your dog.

To save you some time (and brain effort!) I've done some of the math for you - see the resulting 'Report Cards' for 48 of the most popular dog food brands (rated using this system) on my Dog Food Ratings page.
NOTE: It's important to realize that dog food ingredient lists and formulas do change from time to time! I'd recommend double-checking the ingredient list of any food you're considering to make sure there haven't been any significant changes recently, before you start making comparisons
Understanding Dog Food Labels

When you're comparing foods, your most important tool are the dog food bags (or pouches, cans etc.) themselves.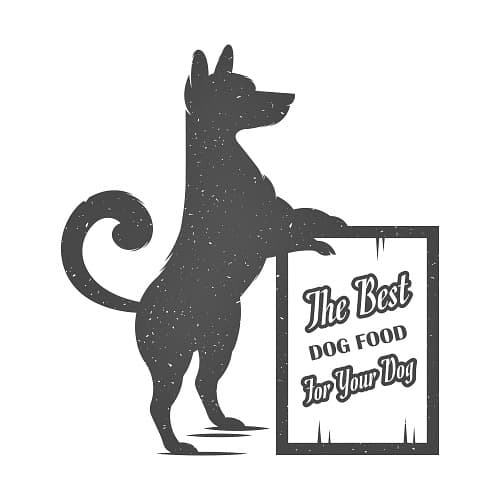 Both the advertising/PR slogans and the nutritional and ingredient information need to be examined and understood.

BUT, there can be a lot of information on these labels, and reading it is one thing, but understanding what it all means can be something else entirely!
To help you out here is a quick run down of some of the most commonly seen wording on dog food bags (and what it means), plus a look at the ingredients that you want to see, and those that you don't....

AAFCO (Association of American Feed Control Officials) Standards - all puppy and dog food needs to meet the standards set by this organization before being sold to consumers in the USA.

There are two different ways a food can be evaluated - either through feeding trials or through chemical analysis and testing. Depending on the method used to evaluate a particular food the AAFCO wording will vary slightly, but it should always be there, usually as part of the Ingredient List/Analysis


Basic Product Description - This is the obvious stuff, such as the brand name of the food, the manufacturer's name, the category (whether it's for weight control, puppy, adult, senior etc.), the recipe (ie 'Lamb and Rice) and the weight of the food contained.


Ingredient Information & Analysis - This is the most important piece of the puzzle and where you'll find the information to use with Sarah Irick's system above. The ingredients will be listed in the order in which they appear in the food, percentage-wise.

The first three ingredients in any dog food are the most important ones to look at as they are what constitutes most of the food. You want the first ingredient to be a good source of high-quality protein, preferably a specific meat (such as 'Chicken' or 'Lamb') or a meat meal. Even the meal should be a specific one though, such as 'Chicken Meal' or 'Beef Meal'. No generic 'meat' or 'meat meal' Other ingredients may include a second meat source of protein, grain, a specific fat source (ie 'Chicken Fat', 'Canola Oil' etc.), vegetables and/or fruit, and natural preservatives (such as Vitamin E).

The ingredients you DON'T want to see include generic protein or fat sources such as those mentioned above, any type of 'by-product', unspecified grain sources or grain hulls, artificial preservatives, colorings or sweeteners. Also avoid foods containing Menadione(aka 'Vitamin K3' or 'Dimethylprimidinol Sulfate').
If you're interested in learning more about feeding your dog, and how the right diet can dramatically improve his health, check out these great books....
you might also like...
FTC Disclosure: Some pages on this site contain affiliate links. I may earn on qualified purchases.