FYI: If you buy something through a link on this site I may earn a commission - at NO extra cost to you.
Choosing A Veterinarian
Choosing a veterinarian is an important task whether you are a brand new puppy owner or your dog has been a family member for years!
Keeping Fido healthy is at the top of your list of responsibilities, and your vet is going to be your partner in this, so it pays to choose someone that you like and trust.
Taking the time to choose wisely right now will be worth the effort!
A good way to start is to talk with local friends, colleagues and family members to see who they trust with their four legged family members.
If your dog is purebred, you may want to check with any local breed clubs, groups, organizations or owners.
Some veterinarian's are more knowledgeable about certain breeds (and their inherent health issues) than others.
Word of mouth recommendations are a great starting place.
Did you know that the AAHA (American Animal Hospital Association) is the only organization to offer accreditation to veterinary practices in the USA and Canada?
An non-accredited practice isn't necessarily an inferior one at all, BUT if you choose a veterinary clinic who is AAHA Accredited you can be sure that it has passed some pretty stringent tests and is committed to excellence in all areas.
Learn more about AAHA accreditation here... AAHA - The League of Champions
You can also look online for suitable clinics, then drop by to take a look around and get a feel for the place before you make an appointment.
If you do a casual drop in and your first impression is good, you can then move onto the second step - making an appointment to visit with the veterinarian/s.
This Veterinary Clinic Evaluation Checklist will help you cover all your bases.
Checklist for choosing a Veterinary Clinic
I've put together a quick check list that you can use when evaluating a veterinary practice.
Is the clinic clean and well organized?

Are equipment and furnishings well cared for?

Do the staff appear professional?
Are they friendly/welcoming, to you and your pets?

Are the veterinarian/s qualified with board certification in your state?

Are there licensed vet techs in the practice?
Is the location convenient for you? You'll be visiting often.

Are there plenty of safe parking spots?
Are you happy with emergency services and provisions?

Are the charges reasonable?

Are clinic hours convenient?
Are there same-day or emergency appointments?
How can appointments be made/confirmed. Phone/email/text?
What diagnostic tools or procedures are done in-house?
Are there any special/annual pet-care plans?
Which payment options are accepted. Is pet insurance accepted?
Are there any discounts ie student/senior/multi-pet etc.?
Are there grooming/boarding services on site?



Meet & Greet!

When you go to meet with the veterinarian, take your puppy or dog along with you if possible.
It's a good way to introduce him to the sights, sounds and smells of an animal clinic - without the trauma of shots or procedures.
The staff should be  willing to make a fuss of him, they may even have special treats for their doggie visitors and this will really help build up his self-confidence.

Feeling comfortable in the veterinarians office will reduce the stress and anxiety of future appointments.
When you speak with the veterinarian, be sure to ask all the questions you want - it helps to take a list with you so you don't forget anything! 
Things such as what puppy shots are recommended,  opinions on diet and supplements, what the clinic's approach to preventative and wellness care etc. are a good place to start.
If you're interested in holistic, homeopathic or complimentary treatments it's important to find out how the veterinarian feels about that.
When evaluating veterinarians you need to be sure that you pick someone who shares your philosophies.

If your process of choosing a veterinarian includes checking out Holistic Veterinarians you may want to take a look at the AHVMA (American Holistic Veterinary Medical Association)website.....
Click here to search for holistic veterinarians in the US and Canada
One other point worth mentioning, and that is to check the charges made for regular visits, vaccinations and so on, as costs can vary quite dramatically from one clinic to another. Obviously regional variations happen to. If you move from rural Oklahoma to California or New York for example, expect costs to be considerably higher.

Although you should expect to pay a reasonable amount (and NEVER make a decision based solely on price) when you're choosing a veterinarian make sure that you're not being overcharged for routine procedures and appointments.
How to recognize a good Veterinarian
If your new to pet ownership you may feel a little intimidated by a veterinary clinic, and all the things you feel like you don't know. So wondering how to tell the difference between a good veterinarian and a not-so-good one isn't uncommon for new pet parents.
Here are a few tips to help you!
These are the sign of good veterinarians.....
They take the time to explain tests, procedures, medications as well as findings and recommendations
They really listen to your questions and concerns and don't rush you
They realize that you know your dog best and trust your instincts 
They interact comfortably and confidently with your dog (or other pet)
They don't 'hard-sell' you on multiple products that you don't actually NEED, this includes dog foods and accessories
There are often multiple veterinarians in a single practice, so if the practice meets your needs but the vet you meet doesn't quite gel (for whatever reason), don't discount the whole clinic. You can always ask to meet with another veterinarian.
What if it isn't working out?
It's worth remembering that picking a specific veterinarian now doesn't lock you into a life-long relationship! 
Even with the best of intentions and preparation we can't see what might happen down the road.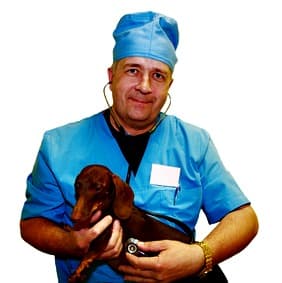 Changes of staff or policy, rising fees, inadequate care for serious conditions, relocation, changes to opening hours, even personality conflicts..... any of these (and many more) could make your choice of vet a poor fit somewhere down the road.

If that happens, don't be too worried, it's perfectly okay to go through the process again until you find another veterinary facility which better suits your needs.
It's also fine to get a second, or even third, opinion on any condition that you feel isn't being treated adequately, or on veterinary recommendation that you are not comfortable with.
Your dog is relying on you to keep him safe and healthy, so do what you feel is right, and necessary.
you might also like...
FTC Disclosure: Some pages on this site contain affiliate links. I may earn on qualified purchases.