FYI: If you buy something through a link on this site I may earn a commission - at NO extra cost to you.
Dog Rescue Organizations
There are many wonderful dog rescue organizations and groups around the country, and around the world.
If you're looking for a new furry family member, why not adopt and save a life?
Millions of homeless dogs rely on shelters, pounds and private dog rescue groups to help them find their forever home, and a second chance at love.

These facilities are staffed and run by amazingly dedicated people who spend their lives trying to 'make a difference' in the sad, lonely lives of abandoned, abused, homeless and generally unloved animals.
If you're thinking about adding a new dog (or cat, maybe even a small/exotic animal), to your family, please consider adopting a homeless puppy or dog from a local pound or shelter.
It could be one of the best decisions you ever make.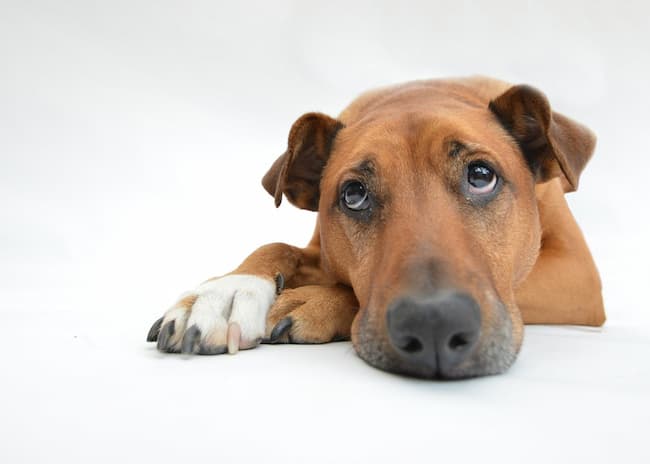 Find Your Next Best Friend Here!

It's pretty easy to find a shelter, pound or rescue society near you, these tools and links will point you in the right direction:
The ASPCA

The ASPCA has a database of nearly 5,000 community SPCAs, humane societies, animal control, and other dog rescue organizations.
You can use their 'Shelter Finder' national database to find an animal shelter in your area. You can search by state, city or zip code.
1-800-save-a-pet.com (Adopt a Pet)

The 1-800-save-a-pet.com website is a great resource if you're looking to adopt a dog (or any pet for that matter).
There are links to all kinds of dog rescue organizations, including humane societies, animal shelters and SPCA groups.
Browse through their huge database of dogs and pups available for adoption, you can even find pages of purebred rescues if you've got your heart set on a particular dog breed.
Petfinder.com
Petfinder.com has one of the best known websites and resource centers for people looking for adoptable pets.

There are currently over 124,000 dogs on their database, from thousands of different shelters, pounds and other dog rescue organizations.

Petfinder also has tons of great info. and advice about pet adoption, and some fun stuff such as featured videos, adoption success stories, Animal Planet TV program listings and lots more.
Purebred Dog Rescue Organizations

If you're looking for a purebred dog, or have a particular breed in mind, don't rule out your local pound or shelter.
A good percentage of dogs surrendered to shelters every year are purebreds, surprising huh?
Alternatively there are many, many purebred and breed-specific dog rescue organizations who are always searching for new, loving homes for homeless dogs and puppies.
To do a nationwide search for purebred rescues, check out the American Kennel Club's Breed Rescue Group page.
Greyhounds are a breed who are often in need of loving, forever homes.

These are gentle, friendly and intelligent dogs who love nothing more than to spend time with humans. However, when a racing Greyhounds' career is over, (if he/she is lucky enough to escape euthanization) they're abandoned or discarded. Thousands meet their death this way every year.
The National Greyhound Adoption Program is a dog rescue organization devoted to helping these graceful dogs find adoptive homes, and to educating the public about the tragic situation this breed often finds itself in.
Many breeds find it difficult to get a second chance, through no fault of their own. Rottweilers are one such breed. These awesome dogs can make wonderful family pets and companions if they're adopted by the right person and for the right reasons.
Click here to learn more about Rottweiler Rescue.

Special Groups

Until recently I didn't realize that one group of dogs is far less likely to get a second chance at happiness than the others!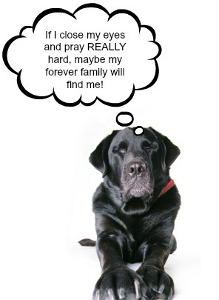 But sadly this seems to be the case, and black dogs are often overlooked, or rejected by prospective adoptive homes (especially BIG black dogs) so..... if you're looking to a adopt a homeless puppy or dog, would you please consider choosing a black one?

This may sound like a strange request but if you check out the website www.blackpearldogs.com you'll soon understand why it's important.
I had no idea that a black pup or dog was likely to be overlooked in favor of a lighter colored one - especially if it's BIG as well as black!

This website will touch your heart and I hope that in some small way we can help the plight of these abandoned dogs and puppies that so desperately need loving homes and families.
Color discrimination is a terrible thing in the human world, now it seems it also exists in the dog world, let's put an end to that, now!
Pet Guardian Angels of America is a national pet rescue and adoption assistance service. Their website ( www.pgaa.com )has tons of which also offers  general and health related articles and resources for all types of pets (including dogs, cats, birds, fish and other small animals). 
Plus a list of pet rescue organizations by state, resources for pet owners such as low cost spay/neuter and financial aid options, lost pet reporting and tons more.
UK Dog Rescue Groups & Organizations

If you're looking for UK dog rescue, here are two websites that list dog rescue organisations country-wide.
If you live in the UK, you can get a complete, up-to-date list of dogs available for adoption throughout the country, by clicking on the Dogsblog.com banner below.
Or, check out the directory of animal rescue web sites at AnimalRescuers.co.uk
This free to use, regularly updated site lists prospective 'adoptees' grouped by location and animal. You can also find pages for lost and found pets.
Also, the RSPCA (Royal Society For The Prevention Of Cruelty To Animals) is similar to the US-based ASPCA, and is very involved in the rehoming of abandoned and unwanted pets.
Check out this RSPCA webpage to find out about their adoption process, use the Petsearch feature, and learn how to choose the right adopted dog for your family and lifestyle.
Greyhounds in the UK are equally at risk as those in the USA, and the the Retired Greyhound Trust is the dog rescue group to go to if you're interested in adopting a retired greyhound who's desperately in need of a forever home and some TLC.
Dog Rescue Organizations Worldwide

Wherever you are in the world you'll find organizations who rescue and re-home dogs who are in need. Thank goodness for these people!
Pawesomepets is a popular dog adoption organization in the Netherlands, which focuses mainly on helping neglected, mistreated, sick and dumped dogs. If you decide to adopt a dog here, not only will you offer a dog a new, brighter future, but also new space becomes available so that the organizaton can keep more dogs off the streets.
you might also like...
FTC Disclosure: Some pages on this site contain affiliate links. I may earn on qualified purchases.