Bottle Feeding Puppies
Orphaned or rejected puppies (or a 'runt' who can't nurse) need you to give them the nutrition that will keep them alive. Bottle feeding these puppies can do just that.
If you're faced with a tiny puppy (or a whole litter of them) who aren't able to nurse from their momma, it can be a very scary situation.
You might be wondering how on earth you're going to keep them alive let alone thriving!
But don't panic, many (MANY) other dog owners just like you have learned to bottle feed puppies and hand-raise them successfully.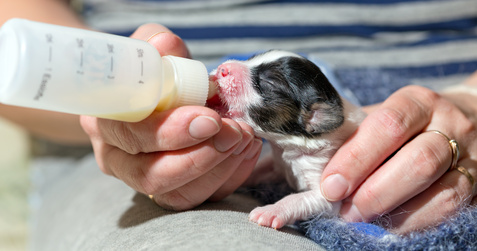 You can too, the advice and information on this page will help you get together everything you need, and show you how to make sure the pup/s get the nutrition they need.
I'd also strongly recommend that you get your own veterinarian involved too.
He/she will be able to give you the benefit of their advice and professional experience which is priceless.
How To Bottle Feed A Puppy

When you're bottle feeding puppies, it's important to use a puppy milk substitute that meets their special dietary needs.
Commercial puppy formulas that are carefully prepared to do just that can usually be bought at your veterinarians office or from large pet stores.
If your dog is pregnant, I would recommend getting some puppy milk in advance, so it's handy if you should need it.
Feeding new born puppies is very similar to feeding new born human babies in that they need to nurse frequently!
Every two hours during the day and probably once or twice during the night in the very beginning.
This adorable video shows a tiny French Bulldog being bottle fed...


Okay, so let's take a look at how to bottle feed puppies yourself, and the equipment that you need:
Newborn Puppy Supplies

Now you know HOW to bottle feed those puppies, you need the right supplies to do it with!
Here are some of the products that I'd recommend. Some of them you may be able to find at your local Pet Mega-store, others you will probably need to order online.
If your dog is expecting a litter of puppies it's a good idea to make sure you have these handy ahead of time....
Here are some excellent reference books that can help.....
| | |
| --- | --- |
| Nursing and Handrearing Newborn Puppies | Whelping Puppies For Non-Breeders |

| | |
| --- | --- |
| Whelping and Rearing Puppies | |
Home

›

New Puppy Care
›
New Born Puppies
› Bottle Feeding Newborn Puppies