Advertising: Myway LLC participates in the Amazon Services LLC Associates Program which allows the earning of advertising fees through links to amazon.com. A small commission is received from all affiliate links & third party advertising.
Complete Dog Care Guide
Although dog care isn't rocket science,  it can be confusing and challenging at times.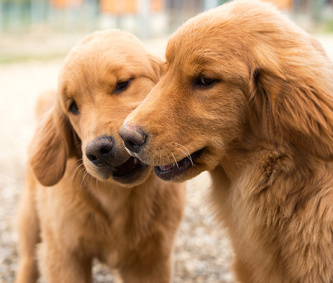 Your dog is your baby, best friend, snuggle-bug, jogging partner, bodyguard and so much more...
... so knowing how to take care of him (or her) properly is really important. 

My site is designed to help you keep your best friend happy and healthy, and to make sure you get the most out of the precious and unique relationship that only a dog and their human can share.
Find the answers to all your puppy and dog care questions, all in one place.
Taking care of your dog is easier, and more fun, when you're fido-savvy :)
MyWay LLC is a participant in the Amazon Services LLC Associates Program, an affiliate advertising program designed to provide a means for sites to earn advertising fees by advertising and linking to amazon.com  This site receives a small commission from all affiliate links and third-party advertising
Puppy Care
Puppies are irresistible, and those early months with your little furball are precious and magical.
But they pass surprisingly quickly.... and before you know it Fido will be all grown up.

Over the years (ahem, okay, decades) I've learned a few things about caring for puppies.
It's important stuff, and a lot of it most new owners have to learn the hard way - through experience and a lot of practice!

But I'm going to share it with you right here!

Dog Care
If you take good care of Fido while he's small, chances are good that he'll grow up to be a happy, healthy, confident dog. 

BUT your responsibilities don't end just because he's finally become a grown up!

Feeding, grooming, training, regular veterinary care, they're all equally important now.
These articles will help you keep on top of it all....
More Dog Care Articles:
There are just SO many things dog owners need/want to know about!
Some other pages you might want to check out include.... the true cost of dog  ownership, tips for adopting an adult dog,  learning how to understand your dog's body language, tips on choosing the dog right breed for your family/lifestyle... I could go on and on!
Then there's fun stuff like shared dog/owner activities such as agility classes, road trips, dog parties and dog-friendly vacations.

Plus the very best products on the market - including healthy dog treats, collars,  dog id tags, tough dog toys, gift baskets, personalized dog gifts, grooming aids and much, much more.

---
How To Keep Up!

Keeping up to date with all the latest news, submissions, photos and articles on my site (and there are lots!) is easy when you check out my Dog Care Blog..... you can also find the most up-to-date changes in the 'Recent Articles' block.

When you subscribe to my RSS feed (small yellow square, top right hand corner of 'Recent Articles' block) you'll get regular updates right to your PC or laptop!


Please feel free to share/pin/tweet/+1 pages from this site.

Social buttons are at the very top of each page (and I've added them here for just to make it even easier!)

So, come on over and join me on Facebook, Pinterest, G+ or LinkedIn....




I'm so happy that you've found this website and hope you enjoy your visit.

Please take time to browse through the many pages & articles, and if you have any comments, questions or suggestions (even criticisms!) please let me know.


I wish you lots of luck, love and slobbery canine kisses!

I love to hear feedback from my site's visitors... so why not join in and have your say about what you just read!

Use the Facebook comments feature below to share your views, ask a question, or just say 'hi'.


Thanks!


~ Sue

Featured Page:
Jun 19, 16 09:08 PM

I need help. I have an 18 month old Rottie puppy ( Samson) that I rescued at 12 months from death row. He's currently at 100 pounds. Right now, the only

Jun 13, 16 08:44 PM

How to choose pain medication for dogs. Information on prescription and over-the-counter options, plus dosage, side effects & more.

Jun 13, 16 08:03 PM

Using Aspirin for dogs as short-term pain relief can be very effective, but you need to follow some basic rules to keep Fido safe. Learn more here.