Practical Dog Care...
for 'pups' of all ages!
Your dog is your baby, your best friend, your snuggle-bug, jogging partner, bodyguard and so much more. 
And, whether he's 8 weeks old or 8 years old, Fido is totally dependent on you and there's nothing you wouldn't do to keep him happy and healthy.
Luckily dog care isn't rocket science, but getting it right is still important. That's where I can help.
Whether you need a crash course in crate training, an in-depth look at the confusing world of dog food, help with illness or behavior worries... or pretty much anything else canine-related, you'll find it here.
As a life-long dog lover/owner, I've been an unofficial canine trainer, nutritionist, social director, nurses-aide, groomer, midwife and pooper-scooper for decades.
So come on in... I can help you skip chunks of that learning-curve, and save both of you some headaches.
Taking care of your four-legged friend is more fun (and less stressful) when you're fido-savvy :)
Puppy Care
Puppies are irresistible!
Four short little legs, a round tummy, a black button nose, a tiny pink tongue and a tail that won't stop wagging - and those early months with your pup are precious and magical.
But they pass surprisingly quickly.... and before you know it your little Fido will be all grown up.
I've been a dog lover ever since I can remember and over the years (ahem, okay, decades) I've owned, raised, trained and loved dogs and puppies of all shapes and sizes.. and I've learned a few things about caring for puppies along the way.
These important skills include:
And there's tons more too. As it turns out, dogs are pretty good teachers too :)
But whether your pup is......
Mischievous

Shy

Lazy

Friendly

Energetic

Playful

Goofy

Just plain CUTE
He's going to be the love of your life!
Whether your pup is..... mischievous, lazy, energetic, goofy, shy, friendly, playful or just plain cute, he's going to be the love and light of your life.
Dog Care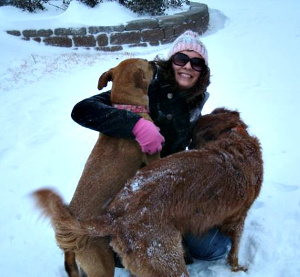 If you take good care of Fido while he's small, chances are good that he'll grow up to be a happy, healthy, confident dog. 
Not to mention your best friend, cheer-leader (and cheer-you-upper), confidante and snuggle-buddy.
BUT your responsibilities don't end just because he's finally become a grown up!
You'll still want to know which dog food is the best choice, which tough dog toys can stand up to adult-sized teeth, what illnesses Fido is at risk of developing, how to understand his body language and so on.
Then there's fun stuff like shared dog/owner activities, road trips, dog-friendly vacations and so much more.
How to keep up!
Keeping up to date with all the latest news, submissions, photos and articles on my site (and there are lots!) is easy when you check out my Dog Care Blog.
When you subscribe to my RSS feed (yellow block in the right hand column) you'll get regular updates right to your PC or laptop!
Please feel free to share/pin/tweet/+1 pages from this site. Social buttons are at the very top of the right column or come on over and join me on  Facebook or Pinterest
I'm so happy that you've found this website and hope you enjoy your visit.
Please take time to browse through the many pages & articles, and if you have any comments, questions or suggestions (even criticisms!) please do let me know
I wish you lots of luck, love and puppy kisses :)

This site receives a small commission from affiliate links and third-party advertising.