Myway LLC participates in Amazon Services LLC Assoc Program. A small commission is received from all affiliate links & 3rd party advertising.

Get Help Choosing A Veterinarian
Choosing a veterinarian is an important task when you're a new puppy parent... but do you know what to look for? Find out how to pick the perfect vet for you and your pet.

---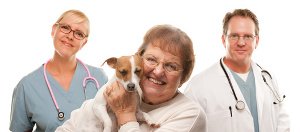 Your vet is going to be your partner when it comes to keeping your new puppy healthy and strong, so it pays to choose someone that you like and trust.
Taking the time to choose wisely right now will be worth the effort!
What To Look For In A Vet

Talk to friends, work-mates and family, see who they trust with their precious pets. Word of mouth recommendations are a great starting place.
You can also look through your local Yellow Pages or check online for suitable clinics, then drive over there and take a look. You can drop by to take a look around and get a feel for the place before you make an appointment.
Some important things to look at when you're choosing a veterinarian and visiting prospective clinics are whether or not the premises are clean and inviting, are the receptionists and nurses friendly and welcoming and whether or not the veterinary surgeon is properly qualified and if possible, affiliated with a professional organization such as the AAHA (American Animal Hospital Association).
If your first impression is good, you can move onto the second step - making an appointment to visit with the veterinary surgeon themselves.


Meet & Greet!

When you go to meet with the veterinarian, take your puppy along with you if possible. It's a good way to introduce him to the sights, sounds and smells of an animal clinic - without the trauma of shots or procedures.
The staff should be very willing to make a fuss of him, they may even have special treats for their doggie visitors and this will really help build up his self-confidence.
Feeling comfortable in the veterinarians office will reduce the stress and anxiety of future appointments.
When you speak with the veterinarian, be sure to ask all the questions you want - it helps to take a list with you so you don't forget anything.
Things such as what puppy shots he recommends and his opinion on diet and supplements etc. are a good place to start.
If you're interested in holistic, homeopathic or complimentary treatments it's important to find out how the veterinarian feels about that. When choosing a veterinarian you need to be sure that you pick someone who shares your philosophies.

If your process of choosing a veterinarian includes checking out Holistic Veterinarians you may want to take a look at the AHVMA (American Holistic Veterinary Medical Association)website.....
Click here to search for holistic veterinarians in the US and Canada
There is one other point worth mentioning, and that is to check the charges made for regular visits, vaccinations etc. as costs can vary quite dramatically from one clinic to another.
Although you should expect to pay a reasonable amount (and NEVER make a decision based solely on price) when you're choosing a veterinarian make sure that you're not being overcharged for routine procedures and appointments.
Your Choosing A Veterinarian Checklist

Ive put together a quick check list that you can use when choosing a veterinarian and evaluating a veterinary practice.
Feel free to add or take away anything you want, it's just offered as a rough guideline.

Clinic is clean and well organized


Equipment and furnishings look modern and well cared for


Staff is friendly and welcoming, to you and Fido


The Veterinary surgeon is qualified with board certification


The location of the clinic is convenient for you. You'll be visiting often, and you don't want to have to drive across town through traffic each time


You are happy with emergency services and provisions


The charges are reasonable


Clinic has convenient hours and same-day or emergency appointments
Online Veterinary Services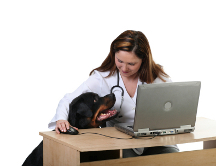 Although using a real hands-on veterinarian is absolutely vital to your puppy's health when it comes to vaccinations, serious illness, emergency appointments etc., it IS sometimes more convenient (and cheaper) to ask an online vet for the answers to routine, non-urgent questions that don't require a clinic visit.
For a small fee you can get a quick, professional answer without having to drive to the vet's office.
Click here to learn more about this service, or to contact an online vet.
BUT please remember, this is NOT the route to follow for emergency situations, serious illness or accidental injury, severe vomiting/diarrhea or for vaccinations and so on. For those situations you need to get your pup to your own vet right away.

Home

›

Puppy Health
› Choosing A Veterinarian
Home

›

Bringing Home A New Puppy
› Choosing A Veterinarian