FYI: If you buy something through a link on this site I may earn a commission - at NO extra cost to you.
The Best Lab Puppy Pictures!
I just adore puppies! All sizes, colors, breeds.... I'm a sucker for big puppy-dog eyes and sweet puppy-breath.
When it comes down to the 'Awww..' factor, lab puppy pictures are top of the list.
I mean, just take a look at Sadie here.....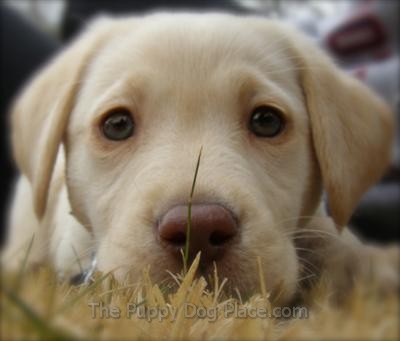 That photo will melt your heart in about half a second! If you love looking at labrador puppy pics you're going to really enjoy this page.
All the puppies featured on this page (and on my other Lab Puppy Pictures pages) have had their photos submitted to my website by their proud owners. One of my favorite things about owning this site is being lucky enough to look at little puppy faces every day :)

Labrador Retrievers are active, friendly and outgoing dogs who love to be with their people, no matter where that might be.
They make great hunting or fishing 'buddies', the perfect camping companion, or just a friend to take a walk with - no matter what the weather.
Take a look at little Drifter (photo below left), aptly named perhaps as he's seems to be on the beach. Or cute little Lola (photo below right) is enjoying what is probably one of her first snow days.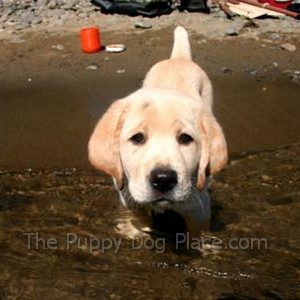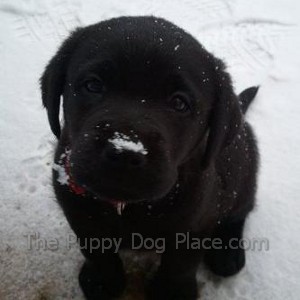 If you thought those were adorable, here's some more lab puppy pictures giving those ones a 'run for their money'! A sleeping lab puppy is just as irresistible as one who is wide awake.. but a lot less tiring...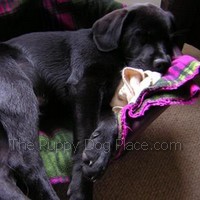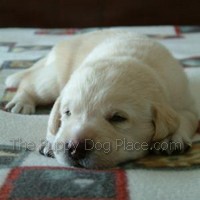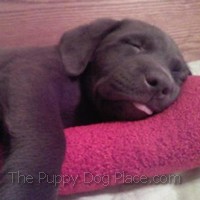 This breed is consistently top of the popularity lists when it comes to dogs. In the US, the AKC (American Kennel Club) ranked the Labrador Retriever at the Number One spot in 2011 (the most recent figure available), and has done so for the last 20 years.
In Britain, the corresponding club the KC (Kennel Club) also has the Lab at Number One, and they've held that position for the last 15 years there too.
Given how many dog breeds there are today - the AKC currently recognizes 175 different breeds and of course there are others which are not part of the AKC, but are registered by other organizations - this is quite an achievement!
Labs are working dogs (they were originally bred to help fisherman in Canada) and make wonderful gun and hunting dogs. But they also have their goofy, fun-loving side. Here are a few lab puppy pictures that prove it....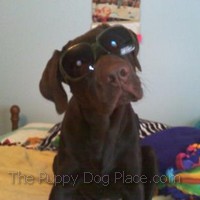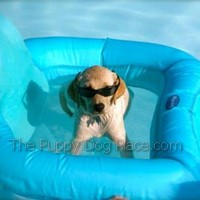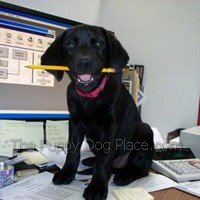 Mischief could be most puppy's middle name! They're so curious, full of energy and have no idea how to behave in a 'civilized' way. Take a look at these little guys and you'll see what I mean...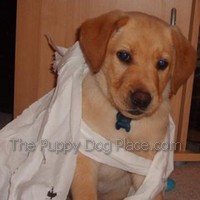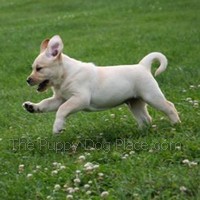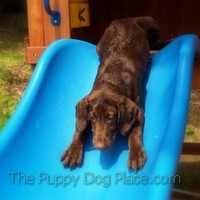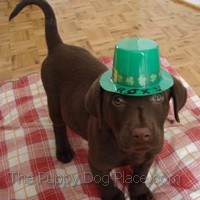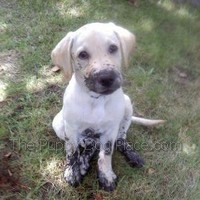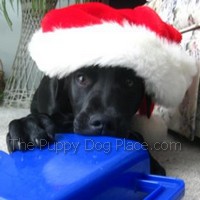 All the photos above are of black, yellow or chocolate labs. These are the 3 colors accepted by the AKC, and most often seen.
A 'Yellow' lab can be anywhere from pale cream (even white), to deep fox red. Other colors such as 'silver' or 'blue' are rare and a genetic flaw, but beautiful nonetheless. Here are 3 photos of Lab puppies that are unusual in their coloring.
The first pup is Maya, a gorgeous fox-red. Shila is in the middle, she's a gorgeous pure white. The third one is Cooper, a very rare silver lab...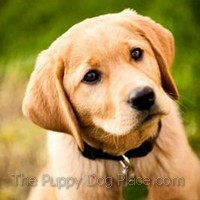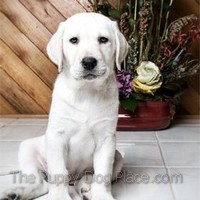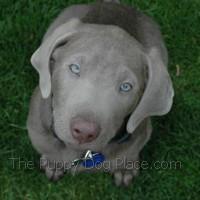 I hope you've enjoyed looking at all of these adorable photographs and will leave it to Bella Bleu to say 'goodbye'. Thanks for visiting... oh, and if you want to see a ton more lab pics just visit these pages....
Home

›

Cute Puppy Pictures
› Labrador Retriever Puppy Pictures