FYI: If you buy something through a link on this site I may earn a commission - at NO extra cost to you.
English Bulldog Puppy Pictures

These English Bulldog puppy pictures feature some of the most adorable little faces you'll ever see!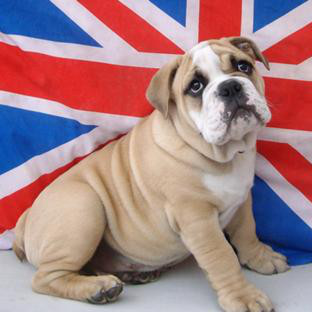 Today's English Bulldog is a descendant of the bulldogs used in England as 'bull baiters' (hence the name) as early as the 14th century. They're also sometimes called British Bulldogs.
The breed was first recognized by the American Kennel Club in 1886, and at that time their looks and personality had undergone a big transformation.
These changes were due to selective breeding put in place to protect the breed from dying out after bull baiting became illegal during the mid 1800's.
The resulting dogs were much more mellow, less aggressive, and less athletic than their ancestors.
Over the years the popularity of this breed has increased and decreased along with changing fashions and fads in dog ownership. But these distinctive and lovable dogs have never fallen out of grace, and consistently appear toward the top of the AKC's Most Popular Breeds list.
Take a look at this group of English Bulldog puppy pictures and you'll soon see why everyone loves these wrinkly little guys and gals. Let's start with the youngest ones....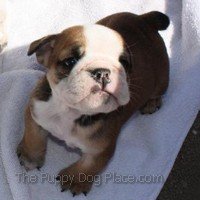 Aren't those babies just delicious? I just want to eat them up! Here are some more precious faces (and bodies) for you to enjoy....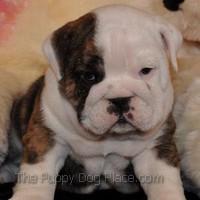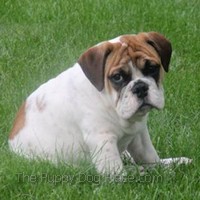 You can see from these English Bulldog puppy pictures that this breed has perfected the 'sad puppy face'.. and even when they're really happy, they can look quite sad!
A stoic, stable and pretty laid back breed, they might be a tad lazy and can gain weight quite easily but can't tolerate more than light exercise and are extremely susceptible to the heat - never leave one of these dogs outdoors (or even walk them outside) on a hot day.
The shape of their face means that they can have breathing difficulties, and skin problems also plague English Bulldogs because of their deep wrinkles.

But they have a happy, friendly nature and can crack a wonderful 'bully' smile too. As adults they prefer to sleep (and snore!) the day away.
As puppies they also love a nap, but they're playful and fun too....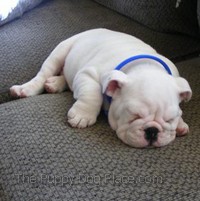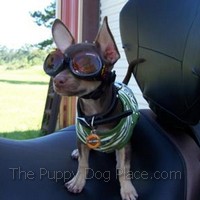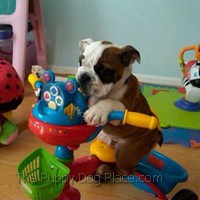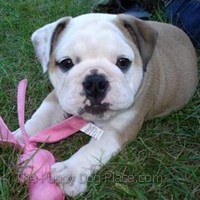 Oh, and did I mention that bulldogs love to dress up? There's a reason why they're on so many greeting cards... they're just too darned cute!
Here's one more set of English Bulldog puppy pictures, and they just might be the cutest yet....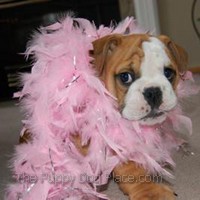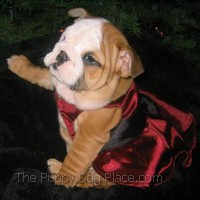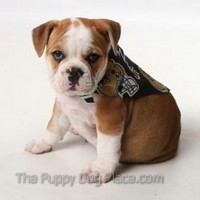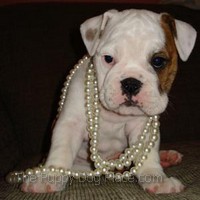 Every photo featured on this page was submitted to my website by the pup's owner and was also featured in one of my monthly photo contests.
I hope you've enjoyed them as much as I have.

Home

›

Cute Puppy Pictures
› English Bulldog Puppy Pictures