FYI: If you buy something through a link on this site I may earn a commission - at NO extra cost to you.
Fidosavvy's Dog Photo Contest
Who doesn't love a dog photo contest?  All those adorable furry faces, wagging tails and cheeky expressions. They melt our hearts.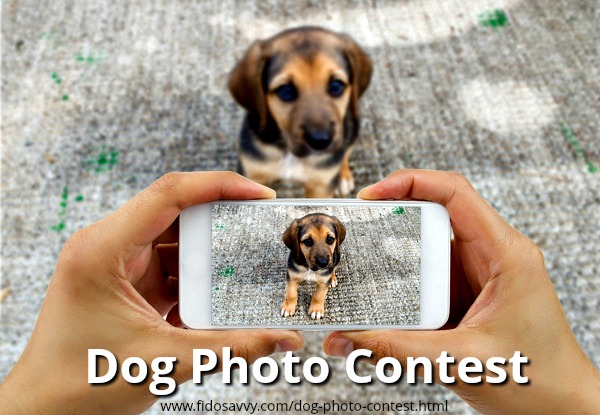 And of course your pooch is the cutest, smartest, sweetest and downright most adorable canine who ever lived right? You know it!

So, why not share some of that canine adorableness and give Fido or Fifi a chance to win our monthly Instagram photo contest?
There are two categories:
Puppies up to 1 year of age
Adult dogs 1 year and older
(because all that puppy cuteness can be a bit of an unfair advantage to the adult crew).
The contest is held on my Fidosavvy Instagram page.
With the viral nature of social media this means your pup/dog has the chance to become insta-famous :)  
Fidosavvy Dog Photo Contest - How It Works
The photo contest is being held on Instagram, so you'll need to visit Fidosavvy's Instagram page to enter.


Here's how it will all work....
Photos are submitted to Fidosavvy's Instagram page between the first and the twentieth of each month.
At the end of that period three finalists will be chosen from all entries.
The three short-listed photos will be featured on Instagram for seven days.
The photo with the most likes at the end of that period will be the winner.
Each month's winner will receive a 'Winners Certificate' with their name on it and a $10 gift card/certificate of our choice.
Plus the winning photo will be featured on this website for the following month... your dogs' fifteen minutes of fame!
Dog Photo Contest Rules
Super simple rules. Even if you're not an Instagram pro you can do this :)
Contest entries will be accepted between the 1st and 20th of each month.
Entries submitted to Fidosavvy's Instagram page
Submit only one photo per month, per dog/pup
Photo must be taken by you
You can enter every month, or however many months you choose
Tag us on each photo using @fidosavvy
Our judgement on the short-listed photos is final
Winner is chosen by popular vote (ie Instagram likes)
Specific hashtags instructions for this contest:
For puppy entries use #fidosavvy[month]puppy
For adult dog entries use #fidosavvy[month]dog
Obviously the 'month' needs to be adjusted for whichever month you are submitting your entry for :)
Just to make this crystal clear... a puppy photo contest entry for October would look like this #fidosavvyoctoberpuppy
Okay, that's it. First contest goes live September 1st, 2017
I can't wait to see all those adorable doggie faces!
Home
› Fidosavvy Dog Photo Contest