The Perfect Dog Gift Basket!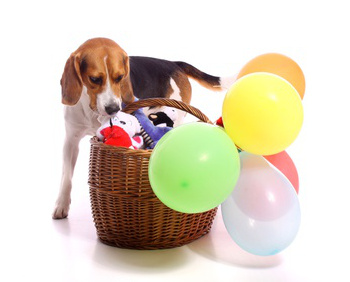 Want a dog gift basket that's as unique and wonderful as the dog you're buying it for?
Of course you do.... your Fido is no Mr. Average, so don't settle for a 'ho-hum' basket that's full of cheap toys and filler.
This page has everything you need to create custom-built gift baskets.
They can be tailor made to suit any dogs age, size, breed, taste and personality.
And at a price that won't stop your heart!
Short on time? Temporarily mislaid your creativity gene?
If you'd prefer a ready-made dog gift basket, I have those too!
Click here to see gorgeous baskets for every occasion.
Three simple steps to the perfect dog gift basket:

Choose a container


Pick out the goodies you want to fill it with.


When it's all delivered arrange items in the container.



Wrap individual items, or entire basket and/or top with a bow!
Container Ideas
Okay, a basket is the obvious choice here, and you'll find a selection of the most affordable options below.
But, if you feel like being a little more creative, there are some clever options you can explore... you can even make an item do double-duty as gift AND container......
Gift Basket Ideas For Adult Dogs
Full grown dogs appreciate a good gift as much as puppies do, so why not make Fido a happy boy by filling your chosen container with the stuff dogs of all ages love?
Here are some ideas to get you started. Click on any product link to learn more, to find other similar items, or just to browse the full range of dog products....


Your Dog Gift Basket - The Finishing Touch
Once you've picked out the container and goodies to go inside it... it's time to give some thought to making the whole creation look beautiful too.
You could conceal individual gifts with colorful wrap or tissue paper. Or nestle them in crinkle-cut paper strips or tissue.
Then wrap the whole container in cellophane, or attach ribbon or a colorful gift bow... you'll find lots of options right here....


Ready-Made Gift Baskets For Dogs
If you really want to give a dog gift basket to some lucky pooch, but you don't want to make it yourself, there are some ready-made options to choose from.
They're a great way to make any dog happy!
Got a new puppy, or know someone who does? Create the best puppy gift basket here.
Want to treat the dog-lover in your life? Here are tons of wonderful ideas for unique dog lover gift baskets.
For that really special, unique and personalized gift for any dog, check out this page..... you'll love what you see!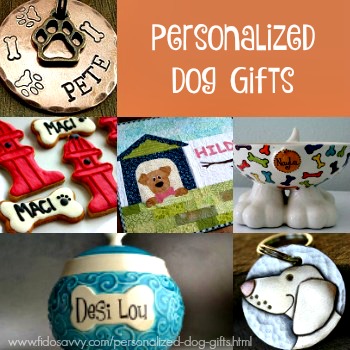 Home

›

Dog Supplies Index
› Create A Dog Gift Basket