FYI: If you buy something through a link on this site I may earn a commission - at NO extra cost to you.
Chihuahua Puppy Photos

Chihuahua puppy photos are always adorable, and the ones on this page perfectly showcase the cute, spunky and lively Chihuahua breed.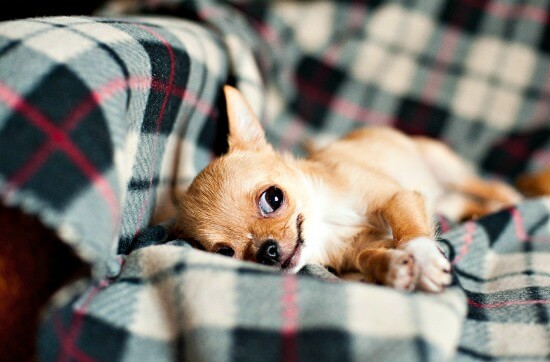 The Chihuahua breed originated in Mexico, and these tiny dogs are as 'spicy' as you would expect!
The photo of little Peanut here on the left pretty much sums it up, just look at that little face. You'd almost swear he's smiling :)

Although they're in the AKC's 'Toy Breed' classification, chihuahuas tend to be terrier-like in their personality, which means alert, active and confident.... with the tendency to be stubborn or willful at times.
Their personality may be robust, and they're often tiny bundles of energy, but chihuhuas are also fairly delicate simply due to their being so small.
The teeny-weeny 'Teacup' variety are especially at risk of accidental injury or health problems because of their size. Getting stepped on, or dropped, can cause serious damage and that means although they might seem to be a 'child-sized dog', Chi's are usually not a good choice for families with young children.
Chihuahuas come in a HUGE variety of colors, and in any color combination, and I've put together some adorable chihuahua puppy photos that show a few of the different possibilities.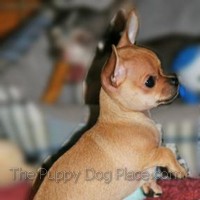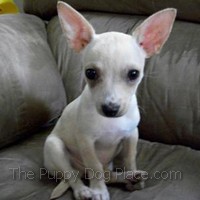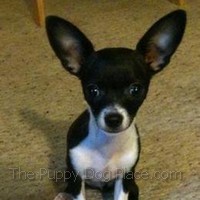 These tiny dogs also come in both short coats and long coats. The long coats obviously need a little more grooming, but otherwise it's just a matter of personal taste when choosing your Chi.
The first row of pictures above shows short-coated pups, here's a look at 3 with those beautiful long coats......

Being so small makes chihuahuas the ultimately 'portable' pup, and it's also easy to find really cute clothes for them!
Overall these little ones don't seem to mind being dressed up and sometimes they even like to show off their outfits......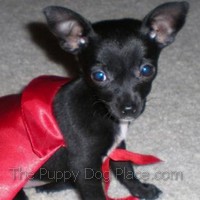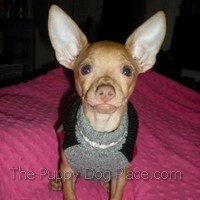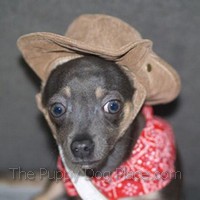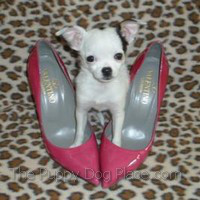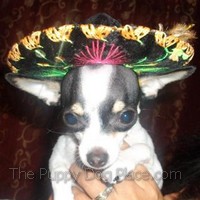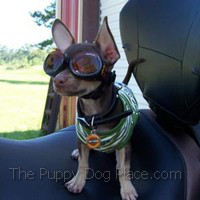 Talk about pocket sized, how cute are these little ones?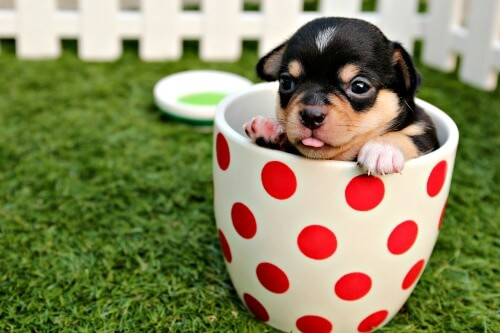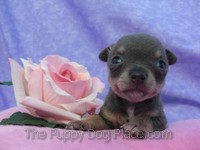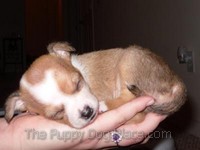 Let's finish up with one more photo of a super-handsome little Chihuahua puppy. He stole my heart for sure.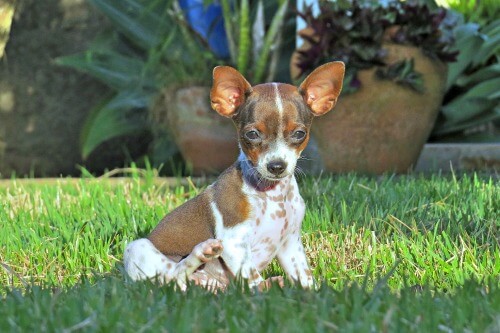 If you're interested in finding out more about this breed, or thinking about adding one to your family, you can hop on over to my Chihuahua Puppy Care page to find out everything you need to know.
I hope you've enjoyed all the great photos on this page.
If you're a proud new puppy owner (or about to be one) you might want to check out these pages, I think they'll come in very useful!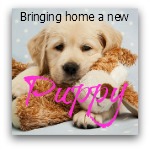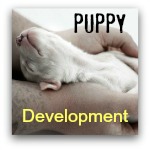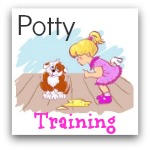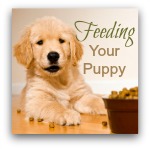 Home

›

Cute Puppy Pictures
› Chihuahua Puppy Photos