FYI: If you buy something through a link on this site I may earn a commission - at NO extra cost to you.
Boxer Puppy Pictures

These Boxer puppy pictures are just too cute! Boxers are lively, lovable and goofy - take a look at these adorable little faces, their expressions say it all.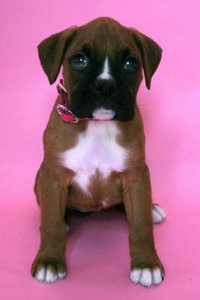 If it's cute puppy photos you're after, this page is a great place to start!
ALL puppies are irresistible, and I could look at puppy pics every day - luckily for me, owning this website means that I get to do just that :)
Every breed has it's own special characteristics, and the Boxer is no different. Puppies are endearingly bouncy (and clumsy), they're smart, extremely loving and always ready to play.... or get into mischief.
Luckily their sweet expressions can get them out of all sorts of trouble.
Just look at Lilli here on the left, who could be mad at that face?

Here's my first set of Boxer puppy pictures, you're going to love them.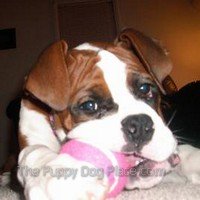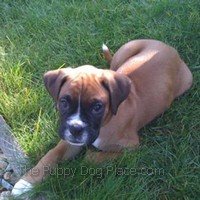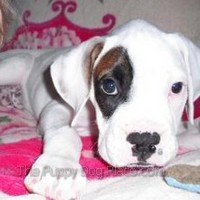 The Boxer is one of America's Top 10 Favorite Dog Breeds (according to the AKC's annual figures) and this will come as no surprise to anyone who's been around one of these happy, outgoing and affectionate dogs.
This breed's personality is as irresistible as their expression, and their behavior is 'puppy-ish' throughout their lifetime. Never losing their sense of fun, or exuberance, if you own one of these dogs life is always going to look much sunnier!
They LOVE people and usually get along great with other dogs. They have a protective streak to their nature and can be very effective guardians if the need arises. Because they're big and bouncy, Boxers need early, and ongoing, training and they need to be socialized regularly as well.
Here are some photos of Boxer puppies demonstrating their classic 'Oops, sorry mommy!' look....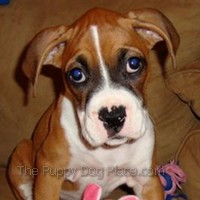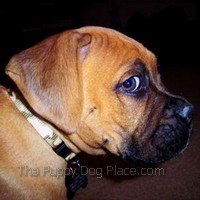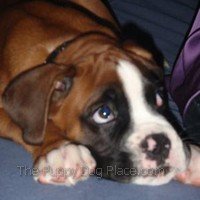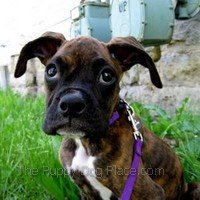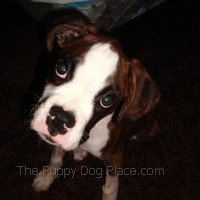 An athletic breed, the Boxer need lots of exercise. This makes it a good choice for active families or singles. They can be clumsy as puppies and their life-long exuberance means that they're about as bouncy as Christopher Robin's 'Tigger'... so you need to be careful around very small children or frail/elderly adults.
As you can see from the above photos, the most common colors are fawn or brindle - - and these can range from very pale tan to deep mahogany, with a black mask or black markings on the face Both solid colors and those with white markings, usually on the face and chest are acceptable.
White patches that cover more than 30% of the dog's body (and obviously all-white dogs) are not allowed to be registered with the AKC but that doesn't mean they're not beautiful dogs in their own right.
A white Boxer may have more skin problems (sensitivities, sunburn, cancer) and partial or complete deafness isn't terribly rare, but they're just as smart, loving and lovable as their darker-colored siblings.
Here are some more puppy pictures some showing the white coat color variations - and all of them displaying more of the trademark Boxer personality!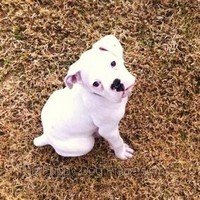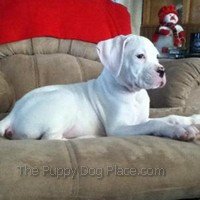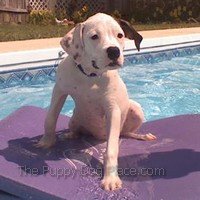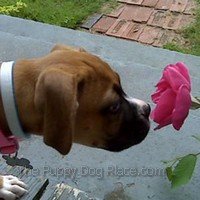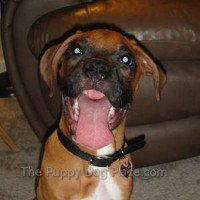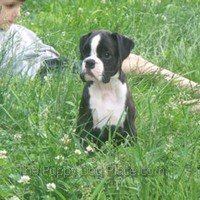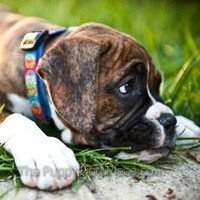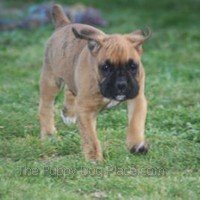 I hope you've enjoyed the Boxer puppy pics on this page.
If you'd like to learn more about this breed, visit my Boxer page.

Home

›

Cute Puppy Pictures
› Boxer Puppy Pictures