FYI: If you buy something through a link on this site I may earn a commission - at NO extra cost to you.
Cute Black Lab Puppy Pictures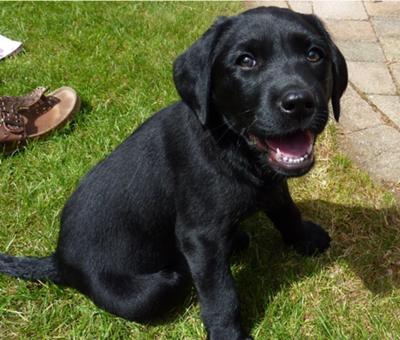 Labrador Retriever puppies are always photogenic and this page has some of the most adorable black lab puppy pictures around!
You could say that black Labs are the 'original' Labrador Retriever.
Back in the 19th century, it's believed that this breed originated in Newfoundland (a Canadian province that sits just south of the province of Labrador), and in the beginning all of the dogs were black.
In the 1800's travelers brought 'Labrador' puppies and dogs to England, and that's where the breed continued to be developed. In the late 1800's the first yellow Lab was born, and the chocolate color appeared during the 1930's.
Black Lab puppies should have a thick, solid black coat. Their noses, gums, and paw leather should be black too, and their eyes brown.
Look at little Poppy's photo above, she's a beautiful example of what a well-bred Labrador Retriever puppy should look like.

More Adorable Black Lab Puppy Pictures

Lab puppies are chunky, chubby little bundles of love! Even as babies their expression is gentle and trusting.
But don't be fooled by that 'butter-wouldn't-melt-in-my-mouth' look... your little Labby will need lots of exercise, firm guidance and a ton of sturdy chew toys to play with. If he gets bored, he's going to get into mischief!

But of course, he's got that cute little face to save him, right?
Take a look at these black lab puppy pics, they'll melt your heart.......

This breed is usually calm, loyal and loving. Labrador Retrievers love to be with their people... and they also enjoy all sorts of indoor and outdoor activities... from hunting, fishing or camping to playing tug-of-war, or hide-and-seek.... or just lying on your lap watching TV.
You can see little Angel below even wants to help her mommy and daddy at work, and Mitzi (first of the 3 photos above) is ready for some cuddle time.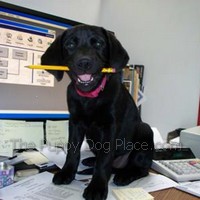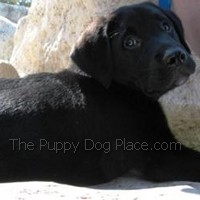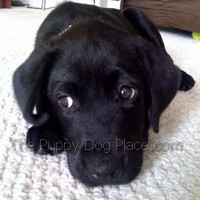 This breed is great for the 'outdoors-y' person, or family. They're hardy, sturdy and strong and love to walk and swim. If you're an avid camper or hunter, a Lab makes the perfect companion.
But you don't have to live in the countryside - or even spend time there regularly. A Labrador Retriever will be happy with one brisk walk per day... but it will need to be further than just once round the block!
If you take your pup to the local park, or on any outing that he can participate in, you'll be rewarded with a huge Labby smile. It's worth the effort and you'll both have fun.
Check out these black lab puppies enjoying the great outdoors, whether it's the beach, the woods or the snow.....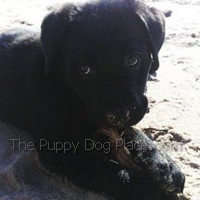 All of the photos on this page have been submitted to this website by their owners, and each puppy has been featured in one of my monthly Puppy Photo Contests.
They're ALL adorable, and one of my favorite part of my 'job' is looking at all these precious puppy faces. If you want to see more photos of Labrador Retriever puppies, check out these pages...
Home

›

Cute Puppy Pictures
› Black Lab Puppy Pictures