Myway LLC participates in Amazon Services LLC Assoc Program. A small commission is received from all affiliate links & 3rd party advertising.

Please Share This Site
If you're a puppy-parent, the chances are that you know lots of other puppy owners too.
After all how else would Fifi enjoy all those playdates, puppy classes and romps in the park!
If you've enjoyed this site and found all the tips, advice and information helpful could I ask you a small favor?

...Would you please share this puppy dog site with your friends, family and any other puppy-parents you know?
I designed The Puppy Dog Place as a user-friendly resource center for puppy owners everywhere - and the more people that are aware of it, the more people we can help!

It's really easy to tell a friend/relative about this site.
You can use any of the social networking buttons at top right, just below that adorable header photo, or 'Pin' any of these images....



Or try one of these options:
If you have a website or blog......
If you've enjoyed your visit to my site and have a blog or website, please let others know about the-puppy-dog-place. It's easy to share this puppy dog site by using the links below. Simply choose the text or image link you prefer, then copy the HTML code and paste it into your webpage/blog. Each code will allow the link to open in a new window and your page will still be open underneath.
The Puppy Dog Place: If you're a proud puppy owner, or simply love dogs, you'll enjoy visiting The-Puppy-Dog-Place.com! There's lots of tips and advice to help you raise a happy, healthy puppy. Covers housebreaking, feeding, grooming, training, health care and much more. Tons of fun stuff for dog lovers too!.
The Puppy Dog Place
: New owners guide to puppy care. Everything you need, all in one place.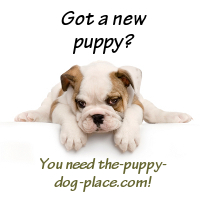 And here's one more great interactive way that you can share this puppy dog site with your own visitors...... Simply add this Puppy Blog Widget to your site or blog.
That way your visitors will be able to benefit from the regular updates on my site blog....
I hope you've enjoyed my website and that you'll visit again. Have a wonderful day.
Thank You!
Back To Top Of Page