Myway LLC participates in Amazon Services LLC Assoc Program. A small commission is received from all affiliate links & 3rd party advertising.

The Best Pink Leather Dog Collars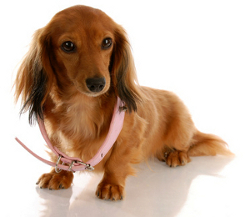 Your precious little 'Princess' deserves only the best.... and getting her a gorgeous pink leather dog collar is a great place to start!
There are literally thousands of different styles and designs to choose from, but you usually won't find those unique and special items in your local pet store.
Luckily, there are some great online stores which carry a fantastic selection of the very best quality collars for dogs and puppies of all ages, sizes and breeds.
You can browse through the selection of beautiful pink leather dog collars on this page and then order from the comfort of your own home.
Click on any collar to learn more or to order. Have fun :)
Featured Products
Here are some of my favorite pink collars - all made from quality leather and decorated with a variety of accents including beads, buckles, crystals and more.
No matter the color, size or personality of your pup, you'll find a collar that's uniquely 'her' right here.

Click on the links to learn more about each one.....
More Beautiful Pink Leather Dog Collar Designs

There are so many gorgeous designs that it's impossible to feature them all on just one page, but here are some more unique collections.

Again, click on the links to learn more.

Once you've chosen the perfect collar for your little girl, don't forget to fix an ID tag to it!
Puppies and dogs can slip through the door, or run off at the park and suddenly your precious pup is lost!
If she has a dog ID tag on her collar she stands a much better chance of getting home safely.
Check out the this page to see some id tag designs that won't let that beautiful collar down.... Cool Dog ID Tags