How To Find The Perfect Petsitter

We love vacations, and business or emergency trips can be a fact of life... but our pets usually prefer to stay home! A petsitter makes it all possible. Learn how to find the perfect match here.

---
If you have to travel but your pet needs to stay at home, a petsitter is a great alternative to a boarding kennel.
With a sitter, your pup gets to stay home where he feels comfortable and safe. He isn't going to be exposed to the stress of being in a strange environment and surrounded by other dogs.
Of course, the majority of boarding kennels are safe, well-run establishments and some dogs enjoy their 'vacation time'.
My son's dog goes to the local 'Pet Resort' when business trips take his owner out of town. Bosco is totally spoiled, has tons of one-on-one playtimes and is always happy to get to his 'hotel'. But it's not an inexpensive retreat!

Here are 5 situations where having someone come into your home and take care of your pets can be the answer you've been looking for:
Do you worry about leaving your precious puppy in a crowded boarding kennel?


Are business trips, overnight stays or other travel plans a regular part of your life?


Is is difficult, or impractical to take little Fido along most of the time?


During family vacations do you fret that your pooch will be miserable, or think that you abandoned him?


Does your pup come home from the boarding kennels hoarse from barking, hyper-active or depressed?
Of course, you wouldn't leave your children with someone you had never met, who had no experience or was dubious in any way, would you?
For much the same reasons it's not a good idea to leave your dog/cat or small pet in the care of a totally unknown stranger (even if they do have a nice advertisement and snazzy business cards) - without doing your homework first.
Your pup is your precious 'furbaby' and a petsitter is the canine equivalent of a nanny - so why not let me show you how to find that perfect Mary Poppins? Someone with experience, references and a background check!
The Advantages Of Using A Dogsitter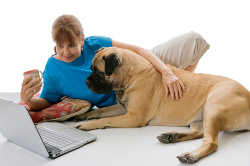 This route has some significant advantages over traditional boarding kennels, especially for dogs who are too young for boarding, or who are older or tend to be anxious or nervous in strange places.
The comfort of being in familiar surroundings, with their own bed, toys, bowls and backyard can be priceless.
Finding a dog sitter isn't difficult, but finding the right one can take time and effort, but it's more than worth it to make sure that your pet is happy while you're gone.
Any petsitter should be able to provide references relating to their experience, training and background.
The best petsitting services conduct background checks and screen their sitters - this gives you invaluable peace of mind and one less thing on your 'to do list'.
The sitter may need to stay in your home while you're away, or just stop by 2 or 3 times a day.
Usual duties include making sure your pooch has food and water, walking and exercising, socialization, giving medications if necessary, and cleaning up any dog-related messes.
Any additional duties such as watering the plants, bringing in mail/newspapers, turning lights on and off etc. are all negotiable (and no, asking her to take old Aunt Martha to her podiatrist appointment is not appropriate!).
All duties should be discussed and agreed on before you sign a contract!
Petsitter Q & A

If you possibly can, arrange a face-to-face interview with your prospective sitter so you can find out if they, you and Fido are all in agreement. Even if you like him or her, if Fido takes an instant dislike to them (or vice versa) it's not going to work out well.
Obviously some puppies and dogs are more shy around strangers than others, you know him best and can decide whether it's natural timidity that will get better once they're acquainted or not.
But it seems that some dogs sense something when they decide whether a person is acceptable to them or not. If Fido refuses to come around or openly dislikes the first candidate, don't be afraid to try someone else.
There are certain questions that you should ask any potential petsitter so we've given you a list as a starting point. Feel free to add or subtract questions depending on your needs, personal preferences and situation.

Are you accredited?
Are you licensed and bonded?
Can you provide references?
Do you have a written contract?
What kind of experience and training do you have?
What specific services do you provide and what are the charges?
Are you willing to give Fido his medecines if necessary?
Do you have any first-aid training?
Do you have your own transport (important if an emergency should happen)
Are you willing to provide live-in services or only daily care?
Your petsitter should also ask you questions! They'll most likely want to know Fido's regular mealtime and 'walkies' schedule, where everything is kept, what you expect them to do in an emergency, where to contact you, your veterinarians phone number and address etc.
If you want to find a petsitter that you can feel confident is experienced, reliable and trustworthy, I'd really suggest using a Petsitting Agency. They will check the references of the sitters on their books and often provide background checks (or the ability for you to do so). A good agency will have a large pool of sitters for you to choose from, so you can be sure that you've found a good 'match'.
They'll also generally have lots of tips and advice to help you ask the right questions, and provide your chosen pet sitter with all the information they'll need in your absence.
All this makes finding a dog sitter so much easier, and less stressful... and the peace of mind you get knowing that your pup is in safe hands is priceless!
There are other situations and circumstances where being able to find a reliable petsitter quickly can be invaluable.
For example, a Pet Sitting Agency can also help you :
find a dog walker/sitter to give your pet a break and some much needed attention and exercise during those days/weeks when work/family commitments keep you away from home for extended hours.


find a petsitter who can help you out if your dog needs to be given medication at regular intervals, or has veterinary or grooming appointments that it's difficult for you to keep.


if you get sick, or are injured and have trouble taking care of your pup, you could find that having a petsitter to rely on in those first few days/weeks makes life a whole lot easier.
Providing The Info. Your Sitter Needs
It's important to leave a written list for your petsitter that includes things such as:
Your contact numbers, including cell phone, for where you are staying. Also, the number of a close friend/relative who lives nearby and who can be contacted if you can't be reached.


Your veterinarian's telephone number and office location.


Alarm codes for security system, password and contact number for the alarm company.


Where all the dog supplies are kept. Don't forget things like the leash, treats or the frisbee.


Where cleaning supplies are kept.


Important extras such as - how your dog lets you know he needs to go 'potty', if he tends to guard food/toys, if he's allowed on the furniture and so on.


Let the sitter know about people who have a key to your home and who may drop by (that way he/she won't have a heart-attack when your cousin Johnny walks through the front door!)


Whether you have regular tradesmen who might have a scheduled visit, such as the pool cleaner, housekeeper, pest control contractor etc.


If you have more than one dog, a sheet of paper with a photo of each with their name, individual preferences, quirks etc. is really helpful too :)
Reliable, Professional Pet Sitters Available...

Sittercity is one of the biggest and best 'sitter' agencies in the USA.
They provide a very thorough and professional service, and have sitters all over the country.
I live in a small rural town, but was able to find 16 prospective dog sitters within 10 miles of my home, and if I extended that to 15 miles there were over 70 possible choices!
You can take a free website 'tour' of their services, and take a look at the pet sitters available in your area before registering.
If you need a sitter, I seriously suggest you check them out. (PS. If you're a mom and have the need for a babysitter, they have a totally superior and comprehensive babysitting service, it's their original business actually - petsitting came later!)
Home

›

Puppy Potty Training
› Finding A Petsitter
Back To Top Of Page