Myway LLC participates in Amazon Services LLC Assoc Program. A small commission is received from all affiliate links & 3rd party advertising.

Natural Dog Food and Products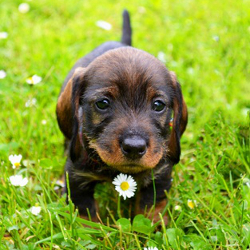 Using natural dog food and products doesn't just help keep Fido healthy, it's beneficial for us all... and for the world we live in.
Avoiding harsh chemicals, artificial additives and flavorings, medications that can cause side-effects which sound worse than the affliction itself... all of that is just good common sense.
Of course we all know that 'natural' products are usually better for us, and for the environment.
This also applies to the stuff we buy for our pets and the 'natural pet product' industry is growing bigger every year. This is a good thing.
Why Choose Natural Dog Food and Products?
There are many reasons why choosing natural dog food and natural pet care products is so beneficial... not just for Fido, but for all of us.
Here are just a few of those reasons:
Chemicals and synthetic compounds can cause skin irritation, hair loss, and allergic reactions.


Pesticides can cause allergic reactions as well as have side-effects which range from digestive upset to neurological damage and even death.


Natural products which don't leak toxins or poisons into the earth, or our water supplies.
 
Natural products are generally not tested on animals and are cruelty free


Dangerous chemicals, pesticides and other harmful ingredients in pet care products (flea/tick meds, shampoos and so on) can be transferred from your dog to human family members. 
Today we are lucky enough to have a whole range of natural pet care products and health protocols to take advantage of.

These include natural dog food, all natural dog treats, natural pain relief for dogs, natural flea control, natural remedies for all sorts of health conditions, natural dog shampoo and grooming products, dog aromatherapy and much more.
All Natural Dog Food

Natural dog food, made with fresh, wholesome, human-grade ingredients provides superior nutrition for your puppy or dog.
This type of food doesn't contain any substances (such as chemicals or additives) which could harm Fido, or the environment.
Preservatives are natural rather than synthetic. Ingredients are of a superb quality, often all organic or human-grade. 
There are several benefits for Fido when you feed him a natural dog food.


Natural dog food....
Is easier for your dog to digest
Reduces his risk of experiencing allergies
Strengthens his immune system
Helps balance his digestive system
..... and can even help him to live longer.
There are several excellent natural dog food brands to choose from.
These include:
Wellness
,
Orijen
,
Acana
,
Solid Gold
, and
Castor & Pollux
In addition to the above manufacturers, there are some other excellent all natural dog food product lines:
Only Natural Pet's own range of dog food which consists of their Easy Raw dehydrated dog foods, Canine PowerFood, Grain-free MaxMeat, Power Stew canned dog food, freeze-dried Niblets and more.
You can learn more about all of these, plus other all-natural dog food options by clicking on the link in the above paragraph.
Freshpet pet food which includes both Freshpet refrigerated meals and rolls. Made fresh daily with high quality ingredients and without chemicals or artificial preservatives. A new approach to quality natural dog food.
Earthborn Holistic dog food which offers a range of holistic formulas with natural, high quality ingredients and no chemicals or added synthetic ingredients.


If you're interested in feeding Fido a healthy organic diet, check out this page to learn more about your options All About Organic Dog Food.
You can also see a huge selection of the very best organic formulas and find the best 'fit' for your pet here... Best Organic Dog Foods.
Of course, when you take the time to feed your dog a healthy, natural diet it's important to make sure that the treats you're giving him are also good for him.
Many dog treats are highly colored and flavored, and designed to appeal to the human eye rather than focusing on being nutritious.
Luckily there are also lots of healthy treats that taste good too.
My Healthy Dog Treats page features some of the best options and a list of my Top 25 choices.
Here's a look at just three of them.....

Natural Flea Control

Fleas and ticks are can be a big nuisance, and make your dog absolutely miserable.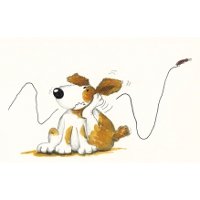 Flea bites make him itch, and if he's is allergic to flea saliva (and LOTS of dogs are) then he could end up with some nasty skin allergy problems.  Plus, fleas can carry diseases that might make him very sick.

There are lots of very effective flea & tick preventatives which contain chemical insecticides, and if your dog has a severe flea infestation then they may be a good choice, in the short term.
But for young puppies, dogs with allergies or sensitive skin, or for those who just have a mild to moderate flea problem  or simply need a little extra flea-repellent help on a hike or camping trip, their risks may outweigh their benefits.
For all but the most severe flea problem, natural flea treatments are a safe and effective choice.
Like other natural dog food and products they're considerably safer than more chemical-based formulas and better for the environment.
To find out more about protecting and treating your dog and your home/yard naturally, check out my Natural Flea Control for Dogs page.
It has detailed information on the products featured above plus a whole lot more great choices, there's something for every situation.
If you'd like to try some home-remedies for dog fleas that include everyday items and household products, you'll love my page on Home Remedies For Fleas.

Natural Remedies For Dogs

We all do our best to keep our pets healthy and happy, but it's not always easy.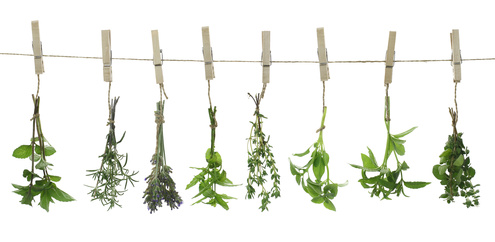 There are all sorts of things that can impact Fido's health, including 'normal' stuff like disease, parasites, accidental injury, chronic or degenerative conditions etc.

But there are a lot of other, less obvious, threats as well.
These include stress, pollution, toxins and chemicals, among others.
If your pet is sick or hurt, you obviously need to get him examined by your veterinarian and follow his/her advice and recommendations.
But, for minor health issues such as constipation, flatulence, skin problems, or for behavior problems like anxiety, or as a preventative measure to improve immune function or give joint support, natural remedies can be both safe and effective.
These three natural dog health remedies  are just a tiny taste of all the options available to you...
Check out these pages to learn more:
Natural Dog Shampoo & Grooming Products
You might not even have thought about the chemicals and synthetic ingredients which lurk in so many pet grooming products.
If you're trying to help Fido stay healthy by monitoring what goes into or on him, grooming products have to be considered too.

The pet grooming product industry is largely unregulated, and manufacturers can make all sorts of claims... so it's up to you to make sure what you're putting on your dog's skin is safe.
Remember, anything which is applied to the skin can be absorbed into the bloodstream.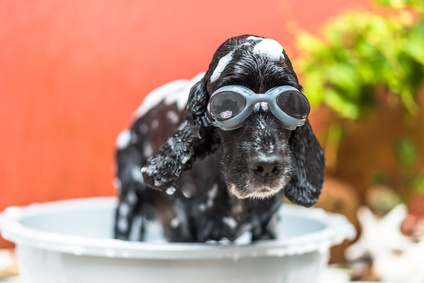 Natural products have much less impact on the environment and bathing/grooming products like this won't leach chemicals into the earth or our water systems.
Using products which contain natural, herbal and plant-based ingredients just makes sense. 
Here are a few natural dog shampoos and other grooming products that you may like to take a closer look at:
Home
› Natural Dog Food & Products