Myway LLC participates in Amazon Services LLC Assoc Program. A small commission is received from all affiliate links & 3rd party advertising.

Best Natural Dog Food & Products

Using natural dog products like organic food, healthy treats, herbal/holistic remedies, natural flea control & grooming supplies can help keep your pup healthy and reduce his carbon pawprint!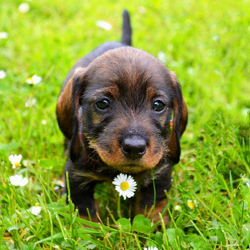 We all know that 'natural' products are usually better for us, and for the environment.

And avoiding harsh chemicals, artificial additives and flavorings, and medications that cause side-effects which sound worse than the affliction itself, is just good common sense.
Of course, this applies to the stuff we buy for our pets as well as for ourselves, and the 'natural pet product' industry is growing bigger every year.

If you want to feed your pup an all-natural dog food and healthy treats, choose gentle natural remedies for minor health issues, or keep him and your home flea-free without dangerous chemicals, then you'll find what you're looking for right here.
All Natural Dog Food

Natural dog food, made with fresh, wholesome, human-grade ingredients provides superior nutrition for your puppy or dog.
This type of food doesn't contain any substances (such as chemicals) which could harm your pup or the environment.
It's easier to digest, maintains good health, reduces allergies, strengthens immunity and can even help your pet to live longer.
All-natural dog food formulas are made using organic or human-grade natural ingredients, and don't contain dangerous or unnecessary chemicals or additives.
There are several excellent natural dog food brands to choose from. My favorites include:
Wellness
,
Orijen
,
Acana
,
Solid Gold
,
Precise
and
Castor & Pollux
To learn everything you've ever wanted to know about feeding your dog a healthy organic diet, check out this page.... All About Organic Dog Food.
You can also see a huge selection of the very best organic formulas and find the best 'fit' for your pet here... Best Organic Dog Foods.
Here are six products from the premium ranges:

Of course, when you take the time to feed your dog a healthy, natural diet it's important to make sure that the treats you're giving him are also good for him.
Many dog treats are highly colored and flavored, and designed to appeal to the human eye rather than focusing on being nutritious.
Luckily there are also lots of healthy treats that taste good too.
My Healthy Dog Treats page features some of the best options and a list of my Top 25 choices. Here's a look at three of them.....

Natural Flea Control

Fleas and ticks are can be a big nuisance, and make your dog absolutely miserable. 
Flea bites make him itch, and if he's is allergic to flea saliva (and LOTS of dogs are) then he could end up with some nasty skin allergy problems.  Plus, fleas can carry diseases that might make him very sick.

There are lots of very effective flea & tick preventatives which contain chemical insecticides, and if your dog has a flea infestation then they are probably your best bet.
But for young puppies, dogs with allergies or sensitive skin, or for those who just have a few fleas or need a little extra flea-repellent help on a hike or camping trip, then natural flea treatments can really fit the bill.
They're generally considerably safer than more conventional products and better for the environment. Here are three of the most popular choices...

To find out all about treating your dog and your home/yard naturally, check out my Natural Flea Control for Dogs page.
It has detailed information on the products featured above plus a whole lot more great choices, there's something for every situation.

Or if you'd like to try some home-remedies for dog fleas that include everyday items and household products, you'll love my page on Home Remedies For Fleas.
Natural Remedies For Dogs

We all do our best to keep our puppies and dogs healthy and happy, but it's not always easy.
There are all sorts of things that can impact his health, including 'normal' stuff like disease, parasites, accidental injury, chronic or degenerative conditions etc.
But there are a lot of other, less obvious, threats as well. These include stress, pollution, toxins and chemicals, among others.
If your pet is sick or hurt, you obviously need to get him examined by your veterinarian and follow his/her advice and recommendations.
But, for minor health issues such as constipation, flatulence, skin problems, or for behavior problems like anxiety, or as a preventative measure to improve immune function or give joint support, natural remedies can be both safe and effective.
Related Pages:

Home
› Natural Dog Food & Products