My most-loved pet, Panda, is now in the rainbow bridge
by Mariz
(Philippines)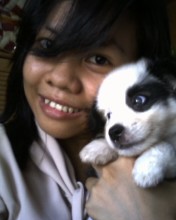 it's very painful. i lost him just last december 8, 2010..

i can't help myself from crying..i always remember all the moments we shared..i feel guilty for not taking care of him like a pet owner must do..

now, i don't want to have any pet,not because i don't have time or money, but because no one can ever replace my pet..i love him so much..he will be forever in my hearts..but i can't stop myself not to cry..

how can i overcome this feeling?? please help me..my heart is still breaking..
Join in and write your own page! It's easy to do. How? Simply click here to return to Woof Rainbow Bridge.
Back To Top Of Page