My Maggie May
by Kathy J. Kirby
(Naples, FL)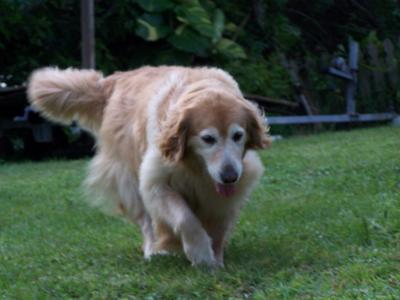 It's been three weeks since my girl moved on to a better life. Seems like yesterday.

Maggie was twelve and laced with terrible "old dog" ailments. Although smart, pretty and personality plus, she had arthritis and heart conditions she couldn't fight any longer.

Being the doting mom I am, I held on for one last day of enjoyment, a ride on the pontoon boat. Her favorite thing in the world to do. She sat up, paws at the edge and rode next to her sister, Gracie for a fantastic, "take your mind off all your trouble" three hours. She had a fantastic time. We had a smooth breezy ride along the 12 mile coastline. The water was calm and warm. There was an abundance of things a dog likes to see.

A beautiful, perfect day. Maggie was in heaven already.

Monday afternoon came much too quickly. We sat in the Vets office waiting to be called. I knew and so did she, this was no regular vet visit. All our attempts at rehabilitation had been exhausted. My girl was put to rest in my arms as gently as the day she arrived.

It's been three weeks and so hard to write this, but all those wonderful friends we attach ourselves to are worth every tear.

I visit Maggie every night at her gravesite. In her own way, she talks to me and lets me know she is ok. I sit on a little log pile next to her and pour out my heart. Each and every time, a gentle breeze appears without fail. If it's windy, a gust of wind appears around me. I know she is talking to me.

Hope and a big warm feeling in my heart lets me know she is ok.
Join in and write your own page! It's easy to do. How? Simply click here to return to Woof Rainbow Bridge.
Back To Top Of Page