House Training Your Puppy - Q&A

If you're a new puppy owner, then house training your puppy is one of your first (and most important) tasks!
It's no fun living with an adult dog who thinks your entire home is fair game in terms of his bathroom habits, so it's important to start potty training a puppy just as soon as you get him home.
Crate training is the simplest and quickest way to teach your pup what you expect from him and it works with a pup's natural instincts in terms of keeping his 'den' clean.
Consistency and patience are the keys to successful housebreaking - as is having realistic expectations!
Your puppy has no idea that the living room isn't a perfectly acceptable 'potty spot', and unless you show him what is acceptable to you and what isn't, he will never know any better.
If you're consistent and patient, your puppy will most likely be fairly reliably trained by the time he's 6 months old, and that would be normal.
Don't expect overnight miracles, or believe that you can accomplish house training puppy in 7 days, it won't happen!
See Real Questions From Real Puppy Owners!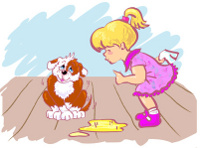 This page has lots and lots of Questions & Answers about potty training and I'd recommend that you scroll through the whole page as you're bound to find one of these questions mirrors yours!
All the questions were submitted by visitors to this site and I've done my best to give them the benefit of my experiences!
There is a link where you can add your own comment or advice to individual question pages, so please feel free to do so.
What you've learned may be very valuable to someone else, so do share!
If you'd like to search my entire website for pages/articles about a specific topic, you can do it quickly and easily by using the searchbox below.....

House Training A Puppy Q & A
Click below to see contributions from other visitors to this page...

crate-training-questions

Greetings, SO happy to have found this site; Thank you for being here. We are bringing home our Standard Poodle puppy, Jet, in three weeks, (when …
puppy-housetraining-questions Not rated yet
My 3 month old yorkie female dosen't always potty on her potty pad. My husband allows her to roam the house and she potties in other places other than …
<< Housetraining Your Puppy
Back To Top Of Page