Myway LLC participates in Amazon Services LLC Assoc Program. A small commission is received from all affiliate links & 3rd party advertising.

How To Choose Dog Toys
It's easy to find dog toys.... even the local dollar store has them! But finding a safe toy that's suitable for your pet, and value for money, isn't so easy. This page will help.
---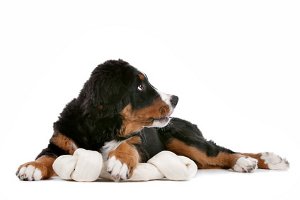 There are so many toys for puppies and dogs that you can spend hours just looking at them - and a lot of $$$'s buying them!
Of course buying 'stuff' for our babies is one of the fun parts of being a dog owner.
But none of us want to waste our hard earned money on dog toys that are destroyed inside 5 minutes, or put our pet's health at risk with inferior materials, toxins, loose pieces, sharp edges and so on.
To make it easier for you to pick out the best playthings for your puppy or dog, this page has lots of info. on the different types of toys on the market and will help you choose ones that match your pet's size, personality and playing style.
Let's get started........
Dog Toys - the Good, the Bad & the Ugly
There are lots of excellent toys out there, but there are also some bad ones (and a few very bad ones).
When choosing playthings for your pet you need to avoid the cheap, thin rubber ones, and anything made of poor quality, brittle plastic. These are dangerous for all pups and dogs, regardless of size/breed/age.
What toys you choose will depend on several things -
The breed of your puppy
The age and physical size of your puppy
Whether or not he will be supervised during playtimes with this particular dog toy.
If it's an outdoor or indoor toy
How houseproud you are ('edible' toys can be pretty messy)
Your budget!
Certain breeds have more aggressive chewing tendencies than others. This is often the larger breeds and the bull breeds. They have very powerful jaws and need very tough toys.
Smaller dog breeds, and more moderate chewers can enjoy a wider variety of toys but you still need to make sure that you don't pick a flimsy, low quality item or one with small parts that could come off during Fifi's chewing-fest.
However, lots of dog toys come in a range of different sizes, and there are more coming onto the market every day so there's something for everyone.
Best Toys For Puppies
Puppy toys are plentiful and so much fun to look at and choose, but be careful not to choose something that looks good but doesn't have much substance.
Puppies are Chewers (notice the capital 'C'), and any toy you buy for your pup needs to be sturdy enough to stand up to a lot of chewing, soft enough not to hurt delicate gums or break off baby teeth during that puppy teething phase.
Plus pups have very short attention spans so a toy needs to be interesting, preferably multi-textured, maybe with squeakers... and if it has an 'edible' or even a flavored element so much the better.
Choosing the best teething toys isn't too difficult because there are lots to choose from. Here are some pages packed full of safe, durable, fun toys for your pup. I've focused on the manufacturers that I trust and who produce the toys that my pups have consistently enjoyed...
Tough Dog Toys For Power Chewers
Large and giant breed puppies need bigger toys that are super-tough and can take a lot of abuse. Other breeds such as gun dogs and terriers can also be very hard on their playthings and need something with a bit extra.
There's no such thing as a totally indestructible dog toy, but there are some that come close. 
As an owner of big dogs who love to chew (including Rottweilers, Pitbull and Olde English Bulldogge) I know which toys are truly up to the task, and which aren't. 
Luckily, there are lots of really good options to choose from, and manufacturers are catering to this end of the market more and more.
From sturdy canvas and double-stitched seams, to industrial-strength rubber and almost bullet-proof natural bone or antlers, there's bound to be a toy or two that will work for your big guy 9or gal).
Click on the image above left to go straight to a page that has some of my favorites, many of them tried-and-tested by my own dogs.
Popular Dog Toys
For all the pet dogs who fall somewhere in between 'puppy' and 'power chewer' on the scale, there's an almost dizzying array of options. 
Many of them are classics and all-time favorites for good reason. Balls, bones and soft-toys are in this group. 
Balls for dogs
Most dogs LOVE balls and just about any shape, size, texture or design will be a big hit. Avoid small balls that could be swallowed and large, blow-up balls or rubber balls that are likely to be punctured though. All can be potentially dangerous. Tennis balls are usually very popular but don't let Fido chew off the fabric covering.
Heavy duty rubber, vinyl or polymer balls are great dog toys and come in a huge variety of sizes and textures. Footballs are lots of fun but don't choose an expensive one as it will get damaged by Fido's sharp teeth. Always take it away once it's torn or starts to deflate.
Bones as dog toys
The nylon or polymer type bones (such as Nylabones) are very strong and wear down slowly. I'd recommend buying the flavored variety as they're more interesting to your puppy.
These kinds of bones come in a variety of sizes and strengths as well, so you're sure to find one that's just right for your dog.
The cornstarch based bones are fairly long lasting if your pet isn't a heavy-duty chewer. The same can be said for the 'edible/digestible' bones.
They can both be pretty messy though and you probably don't want your dog to be chewing one while lying on your Persian rug.
Natural bones make really long-lasting toys, and if you buy the ones that have been sterilized and aren't flavored, colored or stuffed with some tasty treat, they aren't messy at all. It might look boring to you, but your pup will not be of the same opinion.
Another similar type of toy that's hugely popular in our house are natural antlers. These are usually antlers that have been naturally shed by deer or elk, they're cleaned, sterilized and cut into pieces.
Take a look at American Antler Dog Chews Antler Dog Chews
and Doggie Delicacy All Natural Shed Premium Dog Treat and Chew, Deer Antler Splitz
to see what I mean.
These stand up to a huge amount of chewing without getting messy, smelly or breaking. They have a subtle built-in natural flavor that all dogs seem to love and provide almost unlimited play value.

Rawhide dog chews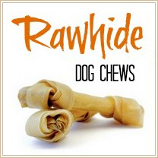 There's a lot of strong feeling surrounding rawhide and whether or not toys and chews made from this material are safe.
Personally I support both camps because I believe that rawhide CAN make a great chew-toy but that it can also be dangerous if you choose the wrong kind, or don't supervise your pet while he's playing with it.
If you click on the image on the right you can find out everything you've ever wanted to know about rawhide dog toys including which ones are the safest choice and how to allow your dog to have fun with them, without putting him at risk.
Dog rope toys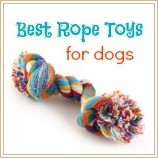 Another firm favorite is the rope toy.
These come in all shapes, sizes and disguises.... from straightforward lengths of rope knotted at each end, to a multi-textured toy that combines rope, plush, canvas and rubber (not necessarily all at once) into an enticing and absorbing plaything for your pet.
The thicker and sturdier the individual strands in the rope, the more durable the toy. So look for quality materials. 
The abrasive action of the rope can help keep your dog's teeth clean and his gums healthy, and some of them ropes are even infused with flavors such as mint to freshen his breath at the same time.
Booda Fresh N Floss in Winter Mint
is a good example.
One of my dogs favorites are the ones that have natural bones threaded onto the rope, like Flossy Chews Natural Tug with 2 1-1/2-Inch Bones for Dogs
Soft or stuffed dog toys
And last, but definitely not least, comes the beloved soft toy!
I've yet to meet a puppy, or a dog of any age, who doesn't just LOVE fabric toys. If they have squeakers, crinklies or rope limbs so much the better, but even un-stuffed soft toys are usually a huge hit.
The only problem with this category is that there are almost none that can take the wear and tear of all the love (and chewing) that our dogs will subject them to. I know when I buy one, even the super-duty ones, that it's most likely to be a short-lived pleasure for my Rottie... and my son's mixed-breed rescue who can quickly destroy just about any, even vaguely-soft, soft toy.
But they get so much enjoyment out of them that I willingly choose to fork out the dollars anyway, because they have so much darned fun with them!
Smaller or older dogs can get much more mileage out of this type of dog toy, but you still need to look for well-stitched seams and sturdy fabrics. Try pulling on the limbs or other attachments to make sure they don't rip off easily, and beware of small things like eyes or buttons.
Make sure they're integral to the design, or firmly attached or they can be a choking hazard. 
If you're in the UK and are looking for a good online resource for dog toys, training supplies and other goodies, check out Doggie Solutions.co.uk
Back To Top Of Page